If I may indulge my current amusement for Regatta designed watches, I couldn't think of anything better than the newly released H1 Air collection by HYT. Yes, these babies are practically limited to a few dozens and if you happen to have one then there is a likely chance that you're an official timekeeper of Regatta events. So what's the fuss about these collectibles? Remember HYT's traditional hydraulic watches? You guess it right, the new H1 Air collection features three versions all using the hydraulics technology of HYT.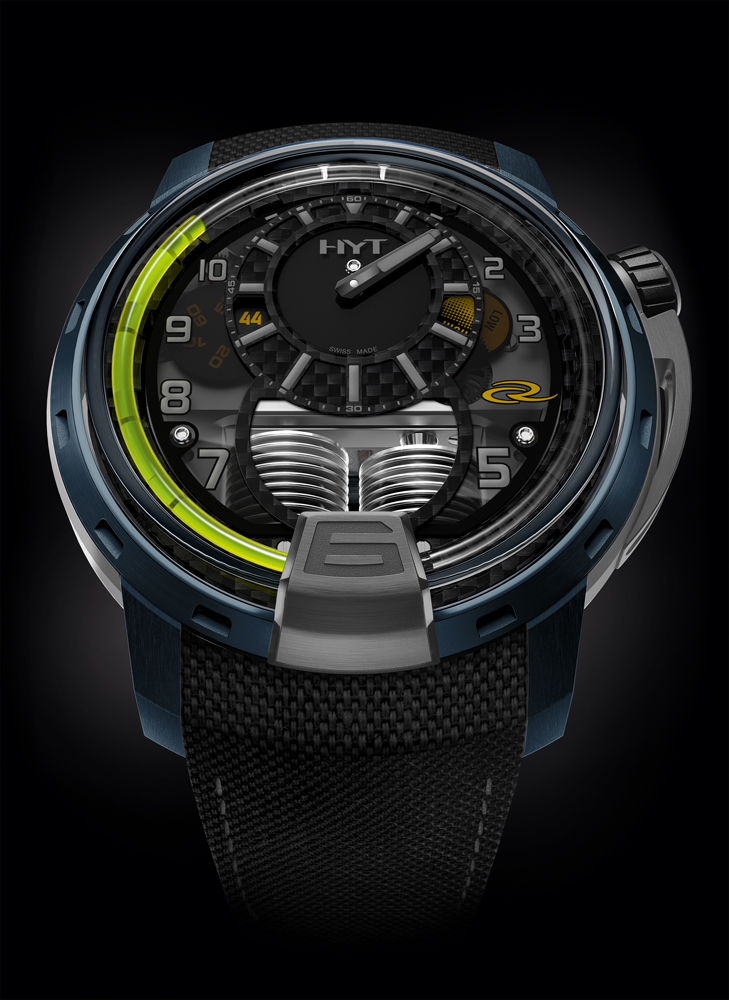 HYT H1 Air RC44
Interestingly, there's an H1 Air watch for everyone and as for me, since I'm a sucker for sporty beauties, I prefer the more robust look of the H1 Air RC44 for its strict adherence to HYT's Regatta tradition with superb visibility and simple yet ass-kicking clean dial filled with carbon fibre highlights all over. The other two variants are the HYT Classic and the HYT Air Pixel. Not much difference underneath, just the presentation and of course how you intend to use the watch.
Let's talk about the generally large 48.8 mm by 17.9 mm Alun 316B (aluminum composite) case featuring a rubber clad screw-down crown with a distinctive titanium crown guard.
The H1 Air RC44 has a meaner look thanks to its carbon fibre highlights which is visible on the bezel too. The combination of bluish and carbon fibre colors make this watch perfect for those who want to have that excitement from precision timings. After all, the H1 RC44 is built for the Regatta people. As for the other case designs, it's either coming in gold or black cases. Mind you, they're tougher than nails and they can surely take any beating.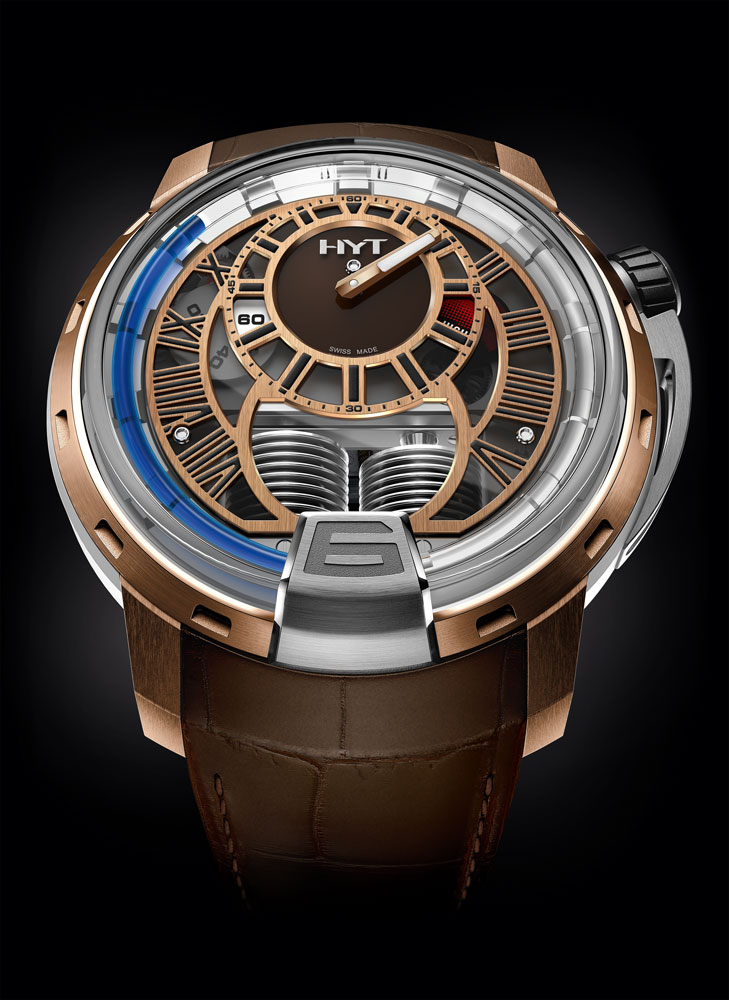 HYT H1 Air Clas­sic
The H1 Air dial seems playful and serious on each variant. For the RC44, urgency is highlighted by the yellow liquid hour indicator and an applied carbon fibre chapter evoking a racing spirit through the red power indicator. As for the HYT Classic, it features a large roman numerals and a combination of brown and gold tones for an elegant appeal. The blue hour liquid marker is complimented by the red power indicator at the seconds dial.
HYT H1 Air Black
Then the H1 Air Black Pixel relishes with its powerful camouflage verging into a rather monochromatic appeal. The combination of the grey pixelated applied chapter, the green liquid and the green power reserve indicator almost signify a 3D environment. What you must know is that the dial has a multilayer layout that allows you to have a glimpse of its internals thanks to un-tinted parts on its sapphire crystal. The most prominent part is the exclusive calibre displayed at the 6 o'clock.
As for the power, it is provided by an in-house hand-wound movement capable of providing a whopping 65 hours of power reserve considering the watch's unique display featuring proprietary hydraulics showing the hour through a liquid in a especially designed capillary and the minutes at a regulator-type dial at the 12 o'clock. Overall, the watch is water resistant up to 100 meters. The movement can be seen through the smoked exhibition case back but I bet you won't have to look behind since you can already see some of the major components from the sapphire crystal display.
Finally, you get to wear these watches on either sporty black strap in black sail-type canvas for the RC44 or the more professional looking brown and black alligator strap for the classic and Air Pixel models and they're all fitted with matching folding clasp in black DLC titanium. For more info, please visit hytwatches.com
JOVAN KRSTEVSKI – FOUNDER, PROPRIETOR & EXECUTIVE EDITOR
Watch collector, aficionado and an Event profile in the Swedish nightlife. He launched Watchgeek back in 2011, which is now known as WristReview and is one of the most widely read watch blogs on the Web. He quotes 'WristReview is a site to help people find, explore, discover and enjoy wristwatches.'  His passion jump started in his early teens when he was given his first mid-range wristwatch which was an Omega Seamaster. Since then he has always been in love with wristwatches! Besides WristReview, he also writes for a number of publications. Read his articles here.