The Mille Miglia has long been described as the most beautiful motor race on Earth, although I expect Italians to say that about every race they have. I also expect the French might have something to say about that, given that motor racing and, indeed, the car developed from infancy there. And yet, Chopard's Mille Miglia remains a key reminder that historical motor races have a place in today's world of 8K television and TikTokers with personalities as real as my self-confidence.
The Mille Miglia has been Chopard's key watch model for over 30 years, and Chopard's co-president, Karl-Friedrich Scheufele, has participated in every Mille Miglia race since 1989. Today, Chopard remains the timing partner for the race, and Chopard continues to pay tribute to that fact with its re-sized Mille Miglia Chronograph.
On the face of it, you might wonder what's changed apart from the downsizing of the piece. Well, to be honest, not much has changed. The Mille Miglia remains a classy and distinctive chronograph watch with nothing else on the market looking quite like it. The extruded steering wheel motif on the crown and the texture on the pushers, similar to a car's pedals, remain hallmarks of the model. The 40.5mm case, down from 42mm, also has a brushed centre section which provides a pleasing contrast of finishes. Three of the four models are made of Lucent Steel A223, which is recycled and also much harder than regular steel with light green, cherry red or racing black dial colours. The other model is a two-tone variant of Lucent Steel A223 and 18k rose gold, which is particularly classy with its grey-blue dial. All cases are water resistant to 50m.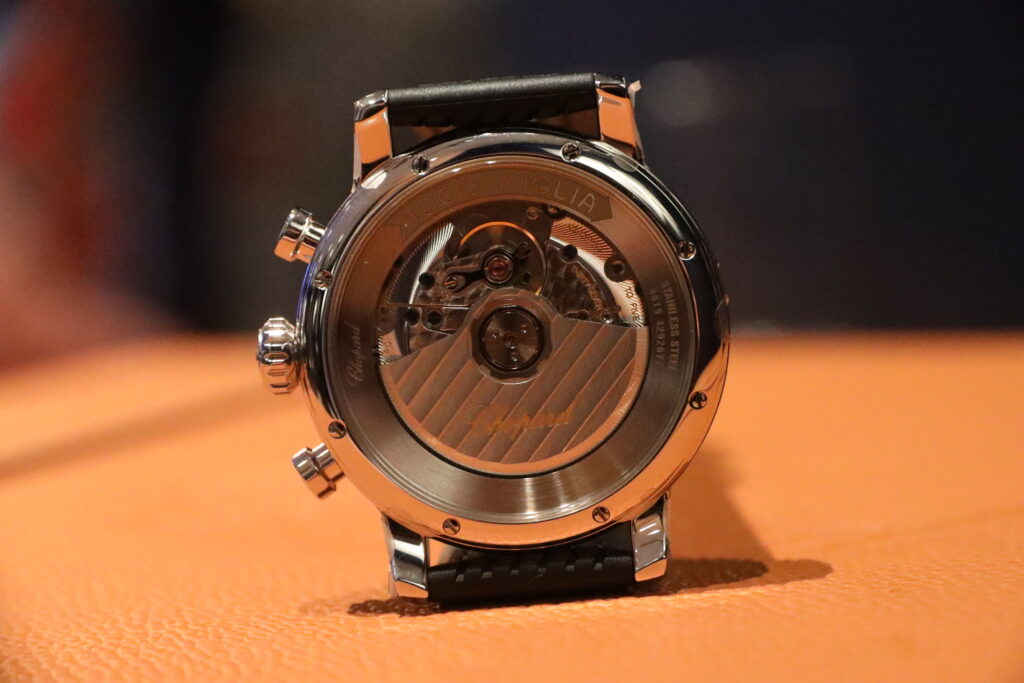 Inside the new watches is a self-winding calibre based on an ETA 2894-2 calibre, but this is the very top level of movement that ETA makes. It features perlage and Côtes de Genève, and it has a 4Hz beat rate and 54-hour power reserve.
The new watches remain classy while keeping that racing heritage alive, it's good to see a stalwart of the watch industry like the Mille Miglia continue to develop as time moves on. The price of the steel watches is $9,030 USD and for two-tone it's $10,700 USD.