Oh my good Lord another limited edition Ome-wait, is that a Seamaster?! Yes, yes it is. Think back to all the times people have complained that Omega makes too many special editions (it does, but they sell out exceptionally quickly), too many limited runs of watches which seemingly celebrate whatever they fancy, all the times people didn't like what was being produced. Perhaps the Biel based firm has taken notice now and changed tack to provide us with genuinely interesting and attractive limited editions that we all want to buy.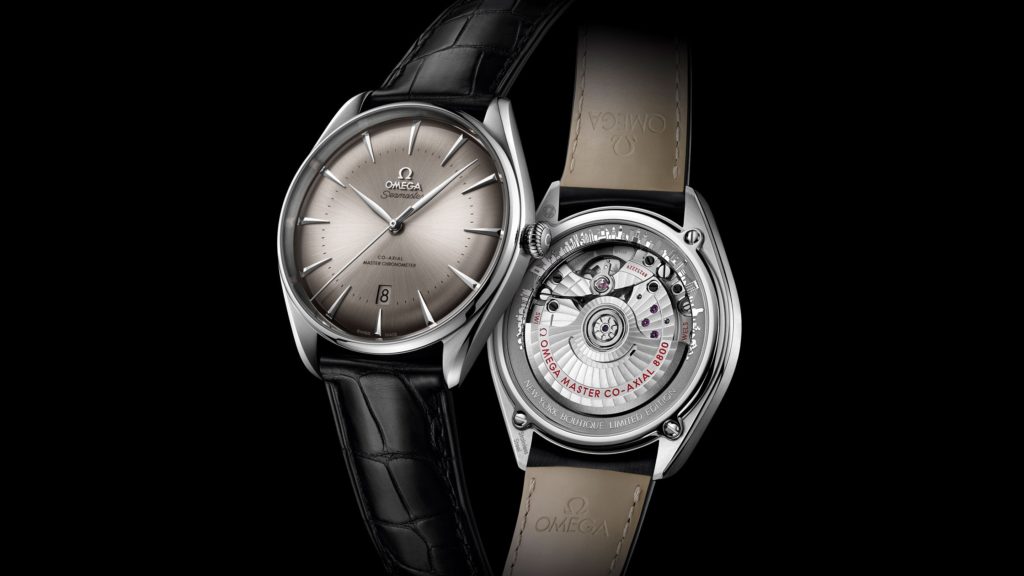 This watch looks, in a word, stunning. I genuinely mean that, even though for now we only have press photos, I'm impressed by what's been done here. Following on from their design language that draws from their heritage for inspiration like the quirky Globemaster, the same appears to have happened here with a draw from the vintage Seamaster watches. The case is 39.5mm in diameter with classic Omega style lugs, a small crown and a thin bezel leading to an attractive dial.
The dial itself has been given a lacquered sunburst finish with a domed shape, note there is no pie-pan styling like you'd find on the Globemaster, or indeed the vintage Seamaster. The hands are thin ahd shapely, so too are the markers. There's a small and subtle track for the minute indicators, and the date has been placed at 6 O'clock, but coloured in the same tone as the dial, so it doesn't stand out.
If you check out the caseback of the watch, you'll see the classic modern Omega look we've come to know and love. Why change something that works, right? Despite being machine finished and looking the same across every line of watches, the silvery rhodium plated waves that ripple with the light seem excellent here. The Master Co-Axial 880 calibre has been surrounded by a grained silver ring, similar to the design that I praise Chopard for doing. It makes the movement look bigger than it is, and much more impressive too. In this case, that grainy ring has been decorated with a skyline of all the iconic features from New York City's skyline, such as Manhattan Bridge, Waldorf Astoria Hotel, the Rockefeller Centre, the Statue of Liberty and, of course, the Empire State Building. Although not the principal focus of the watch, or indeed this article, the Calibre 8800 is METAS Master Chronometer certified (click here for our Jargon Buster on what that means precisely) and will run for a total of 55 hours, so just enough to take you through the weekend and still be ticking on Monday.
If you are after one of these, you need to fly to or live in New York City, as the watch is only available through NYC based boutiques. Further, there are just going to be 399 of these in total. Though, if this one isn't to your fancy, I can reveal that this watch is a part of a series of watches from Omega which incorporate big and important places. The Big Apple is one of them, and the others are Singapore, Paris, Switzerland and London of course. But, because this watch is made of stainless steel, if you do plan on travelling to buy it, it's actually going to be quite affordable (sort of) as the price is $7600.
Visit Omega here.