The Oris Aquis is a popular watch for those who want a fun, no-nonsense timepiece that can stand up to the rigours of everyday life. It's why we cover them highly here at WristReview. They're an honest working watch that happens to look rather good too. The problem for most people is that, at 43.5mm, the majority of the Aquis collection is rather large. In my experience, there are plenty of watch fans out there who prefer something nearer to 40mm, and it's a strong market too. With that in mind, Oris has updated its small-but-growing 39.5mm Aquis range and added a midsized 41.5mm version.
41.5mm on steel – 01 733 7766 4135-07 8 22 05PEB
The new 41.5mm Aquis looks almost identical to the rest of the collection, and so it should, as I've said before the Aquis is a handsome timepiece with good proportions and it's no different here. With the introduction of the new case size, Oris also updated the distance between the lugs, which can make or break it for a watch's visual appeal. The gap between the lugs on the new 41.5mm Aquis is 2mm smaller than the 43.5mm version, at 22mm wide. And that's pretty much the only change in that regard. The watch still features a chunky crown guard and a sunburst blue dial, inside the chunky case is the same Sellita SW-200 powered Oris calibre 773 which has a 4Hz beat rate but a meager 38-hour power reserve.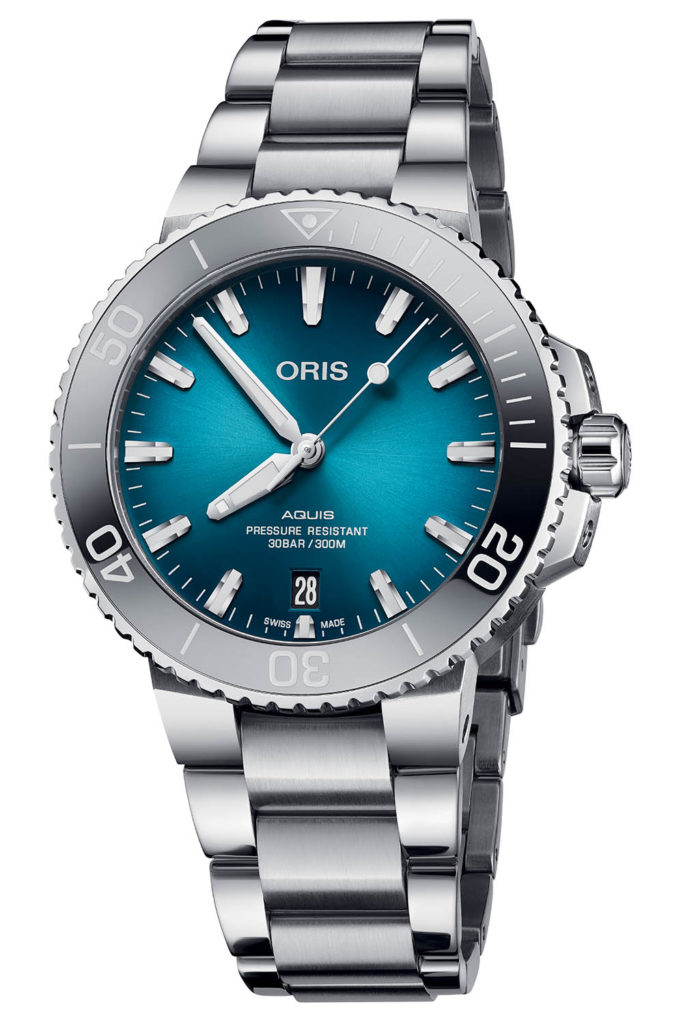 39.5mm on steel – 01 733 7732 4155-07 8 21 05PEB
The other update I mentioned comes to the 39.5mm Aquis, and it comes in the form of a new dial colour. The watch can now be bought with an 'Ocean Blue' coloured sunburst dial, which is lighter than the standard blue found on the Aquis. The bezel also provides intrigue thanks to its unusual use of tungsten, normally bezels are made of either an aluminium insert prone to patina or a "shatter-possible" ceramic insert, with sapphire crystal being a rarity indeed. I'm not sure of many other brands that use tungsten in their bezels, I suspect because of the cost (it's a rare metal, and it has the highest melting point of them all which will surely drive the bills up) and the fact that there isn't much benefit beyond hardness. Still, it's different, and the watch does look good.
Just like the other two sizes, the 39.5mm has the same SW-200 based movement and 300m of water resistance as well. Interestingly, there are no pricing disparities between the sizes, all models of the Aquis cost €1950.
[button color="black" size="big" alignment="center" rel="follow" openin="newwindow" url="https://www.exquisitetimepieces.com/watch-brands/oris-watches.html"]BUY YOUR ORIS HERE[/button]