So, what's a cool and modern watch that most people might have heard of that wouldn't come up in conversation but has a long history? This oddly specific requirement is certainly a niche, I suppose you could fit Blancpain in there, just, but this article is not about them. It is about Perrelet, which has been going in one form or another since 1777. While they produce quite a broad range of watches, their key design theme is the use of a turbine on the dial which usually spins freely with the motions of the wrist, this is the tenth anniversary of it, but I forgot the candles for the cake.
The new Turbine EVO watch is set to take that design and bring it to a viral market segment: dress sports (or smart casual sports, sports dressy or something else, take your pick). I'd say this watch is on the border of sports and smart casual sports, as you can only get it on a metal bracelet or a rubber strap, and the chunky 44mm x 13.82mm case is going to stick out, not forgetting, of course, the star of the show: the turbine dial.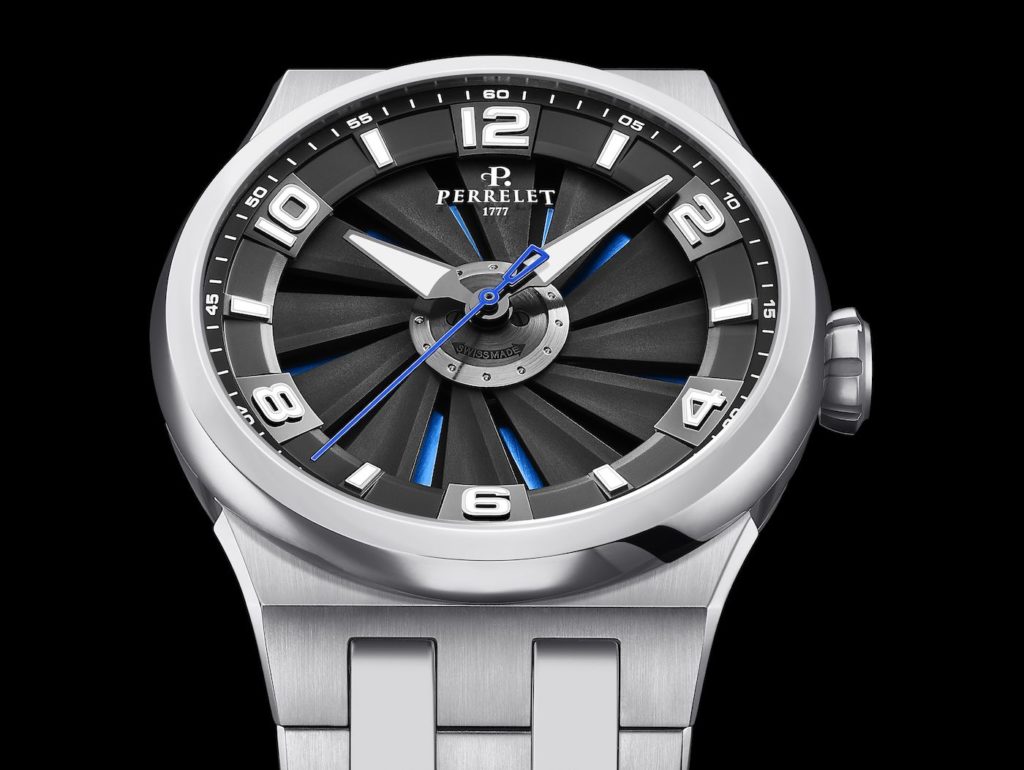 The dial comes in three colours, 'electric blue', red or gold. The back plate of the dial is coloured, along with the seconds hand, while a black anodized turbine spins freely above the colour, creating the fresh look. The shape of the case isn't entirely unfamiliar, though, it seems a little reminiscent of the current Defy range from Zenith, not that there is a particular issue with this, Perrelet has taken the basic outline and made it their own with new designs for the crown and lugs, as well as a fluted case flank.
Inside the watches sits an in-house made movement. The calibre P-331-MH is a part of the P-331 family, which goes into most of the other three handed Turbine watches such as the Turbine Diver and Turbine Yacht watches. The movement runs at 4Hz, has 25 jewels, a 42-hour power reserve and even a COSC chronometer rating as well. It's on display through a sapphire caseback.
The overall design seems to have had a little bit of an attitude adjustment compared to previous Turbine models, which were huge and full of intricate details. This new Turbine Evo shows some maturity in its design, which we like a lot. You can get it in either stainless steel with a steel bracelet or rubber strap, black PVD or 4n gold PVD, that last one comes with a 4n PVD gold bracelet as well if you want to bling it up.
The price ranges between 4380 Swiss Francs and 4780 Swiss Francs.
Visit Perrelet here.