Breguet is one of the most historied watch brands out there, having been around since roughly 1775. It's earned its nickname as 'the innovator' for the watches made when Abraham-Louis Breguet, the founder and namesake, was around. As much as I love Breguet watches, it's difficult to know where Breguet is heading these days. Their collections seem a little all over the place, and their collections, while definitely gorgeous, don't feel like they're really "going anywhere". It's quite unusual for Breguet to unveil a brand new model in a collection (except for the recent Type 20 and Type XX watches), so to have two is excellent.
While Breguet, along with most watchmakers, has a collection that one could mostly associate with being targeted at men, their ladies' watches are often something to behold. Their high jewellery, or haute joaillerie, watches have always been incredible to look at and really capture that 18th-century jewellery feel in all the right ways. Better still is that Breguet has been able to carry that over to wristwatches faultlessly.
Both new watches are a part of the Classique Complications collection, and rightly so. These 'Grande Complication' watches both feature a tourbillon on the dial, which is suspended from a diamond-covered bridge, it floats over an open caseback and appears to be weightless.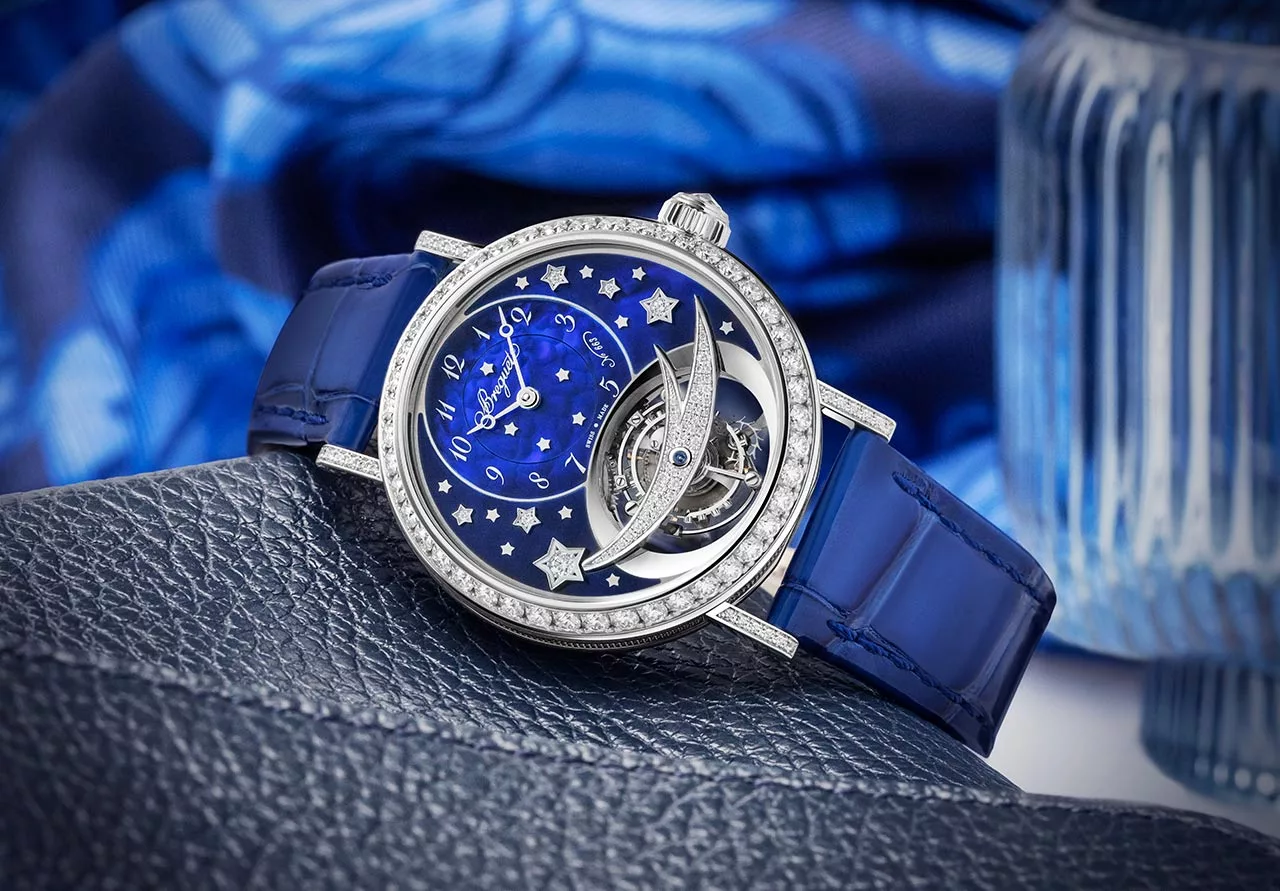 The first model is the 'Starlit Night' ref 3358BB/VD/986/D0. It has a striking blue mother-of-pearl dial which has been decorated with 21 white gold stars, 6 of which are set with diamonds. The tourbillon bridge resembles the tail of a shooting star (a meteor, technically) which has a further 45 diamonds on it. It comes with a blue leather strap and a white gold clasp set with diamonds.
If that's not your thing, there's the 'Stunning Sight' ref 3358BR/8D/986/D0. This one has an 18k rose gold case, it has a diamond set bezel and crown just like the 'Starlit Night', but its dial loses the mother-of-pearl finish for 281 hand-set diamonds radiating outwards from the tourbillon cutout. It does still have some mother of pearl, and it's used as the hour marker plate for the hands. This one comes on a crimson alligator strap.
Both watches have a 35mm diameter case (water resistant to 30), inside which sits the hand-wound calibre 187, which has a stately 2.5Hz beat rate and a 50-hour power reserve. Of course, the main draw is the tourbillon. I think we're very lucky that we have the original maker of the tourbillon still making them today. Sure, other makers have taken it to new extremes, but there can only be one original.
I'm not sure if these are limited edition watches or not, but as with all watches this complex, production will still take time. The price is $143,400 for the 'Starlit Night' and $153,600 for the 'Stunning Sight'.