I rarely get to cover something from Roger Dubuis, one of our favourite brands, so when I do, I savour the moment. The latest watch from this brand of mad designs is called the Excalibur Twofold, and it certainly doesn't hold back.
Following the brand's style of wild designs with chunky cases, flashy tourbillons and movement's that appear to have been designed by Frank Gehry, Roger Dubuis' lineup is something to get excited about. Unlike their sister brands under the Richemont umbrella, Roger Dubuis doesn't need to make any watches that hold back on design, they're excessive and mad, and that's why they're the perfect partner for Lamborghini (sorry, Blancpain).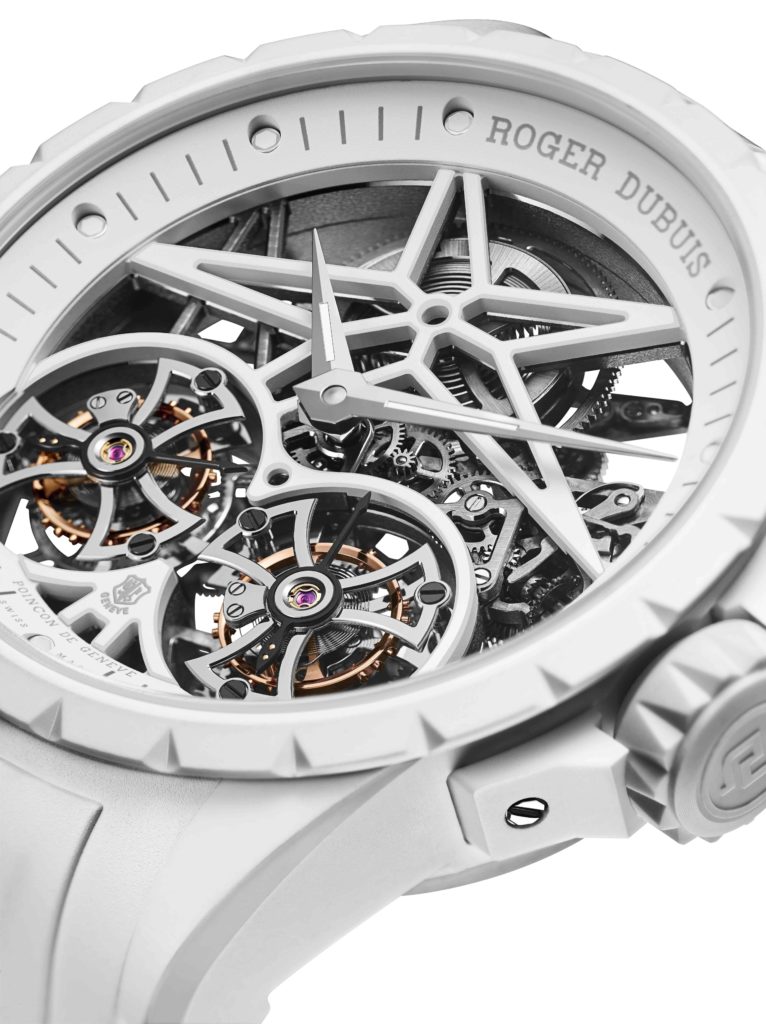 The movement is one we've seen before, the RD01SQ. It's featured in their Excalibur Skeleton Double Flying Tourbillon watches and is a work of art. Minimalist to the max, this movement looks excellent and features a 50-hour power reserve and the Poinçon de Genève. Not to mention, the twin flying tourbillons, truly a work of art in the watch world. As if that wasn't enough, the bridges of the skeleton movement and around the tourbillons glows in the dark, along with the rubber strap, which is made of something called LumiSuperBiwiNova™.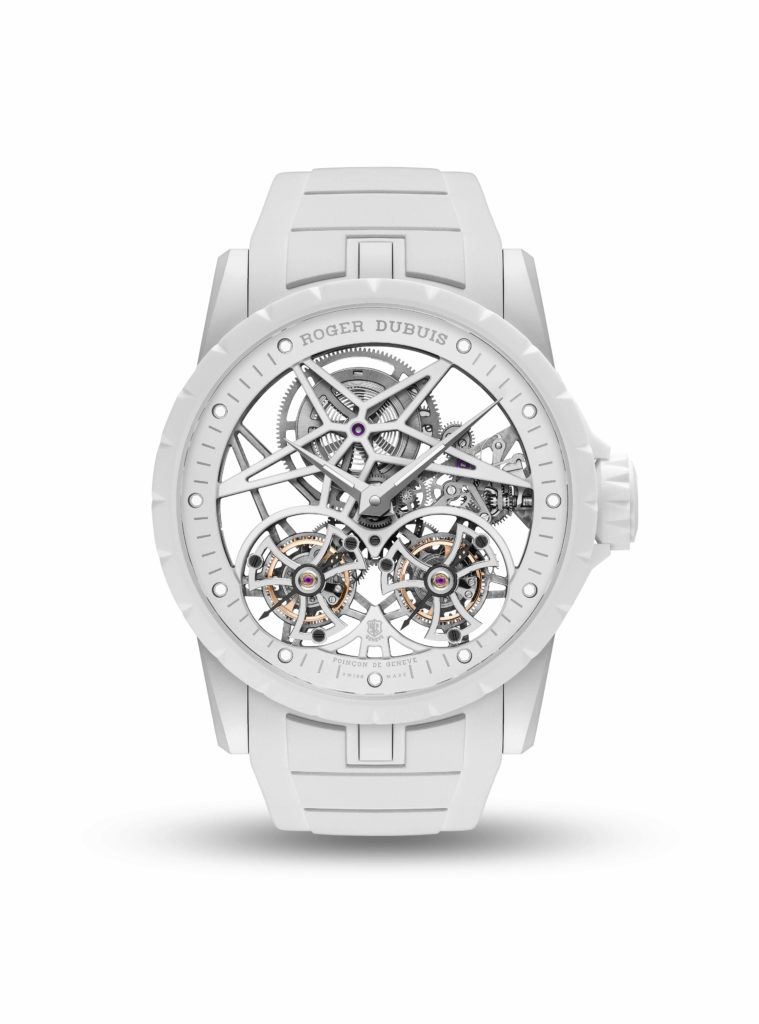 But, if all their watches are already extreme nearly to the point of vulgarity, what's this new one going to offer? Well, you can have it in any colour you want, as long as it's white. The reason the case is white is because of the metal it's made of, not ceramic, but a new material called MCF which stands for Mineral Composite Fibre. It's 99.95% silica, but unfortunately, Roger Dubuis hasn't exactly been able to tell us how that benefits the watch. Seriously, their marketing goes on about the hard work put in by their research team and how "Roger Dubuis embraces its disruptive attitude transcending trends and mass appeal", but it doesn't give us any benefits to this new MCF stuff whatsoever. They might as well have carved the press release onto a block of cheese, and then I could at least eat it.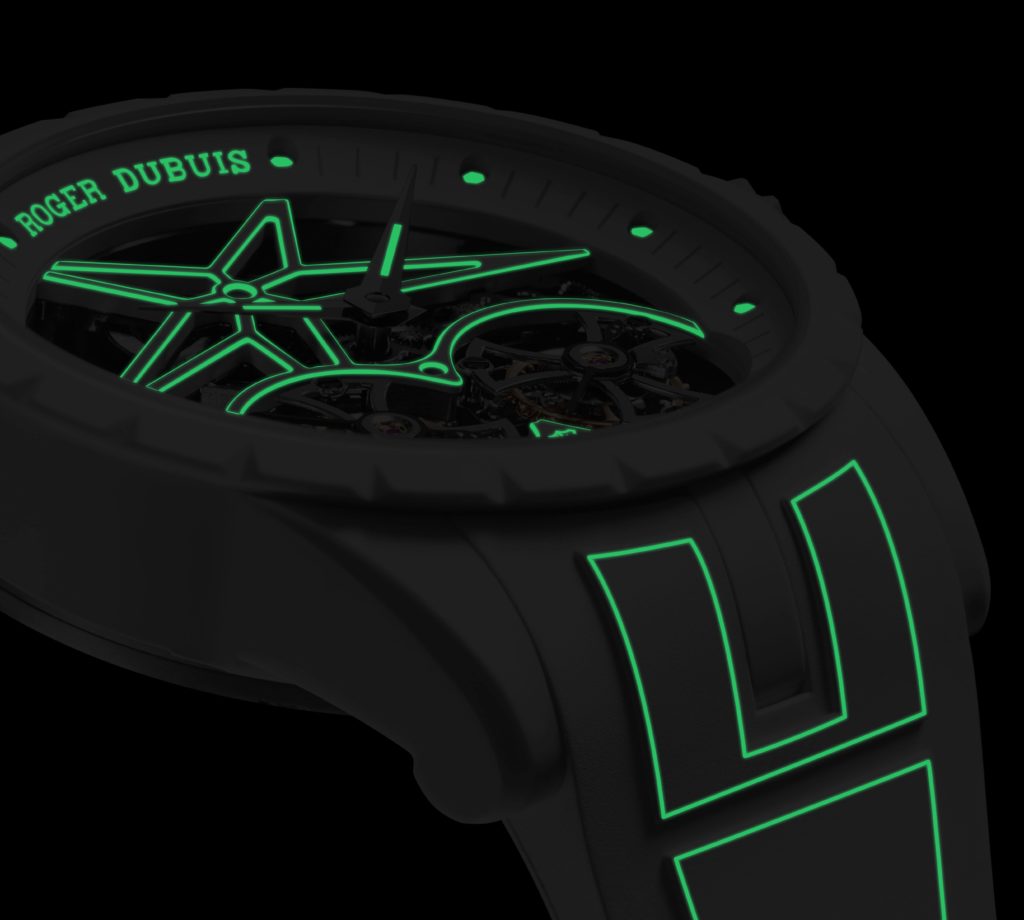 I think I know where the problem lies, and it's not the fault of the watch. In fact, I like the watch, the clinical madness of the design and the bonkers glow in the dark strap and glow in the dark movement appeal to me. I reckon that Roger Dubuis had a look at what Richard Mille was offering and decided they needed a new case material too. I think this watch is an answer to Richard Mille's latest creations, both of the brands make extremely complicated, futuristic and extravagant watches, and I believe this is the result of Roger Dubuis firing back. I'm not sure of the benefits of the new case material, but what do I matter, it's not as if I can afford to buy one of the eight ones they're making anyway.
Visit Roger Dubuis here.