First thing's first, I love Swedish writing, even though I dont understand it. Names aside, this is the next Swedish creation and it isn't powered by an ETA or even a Miyota movement.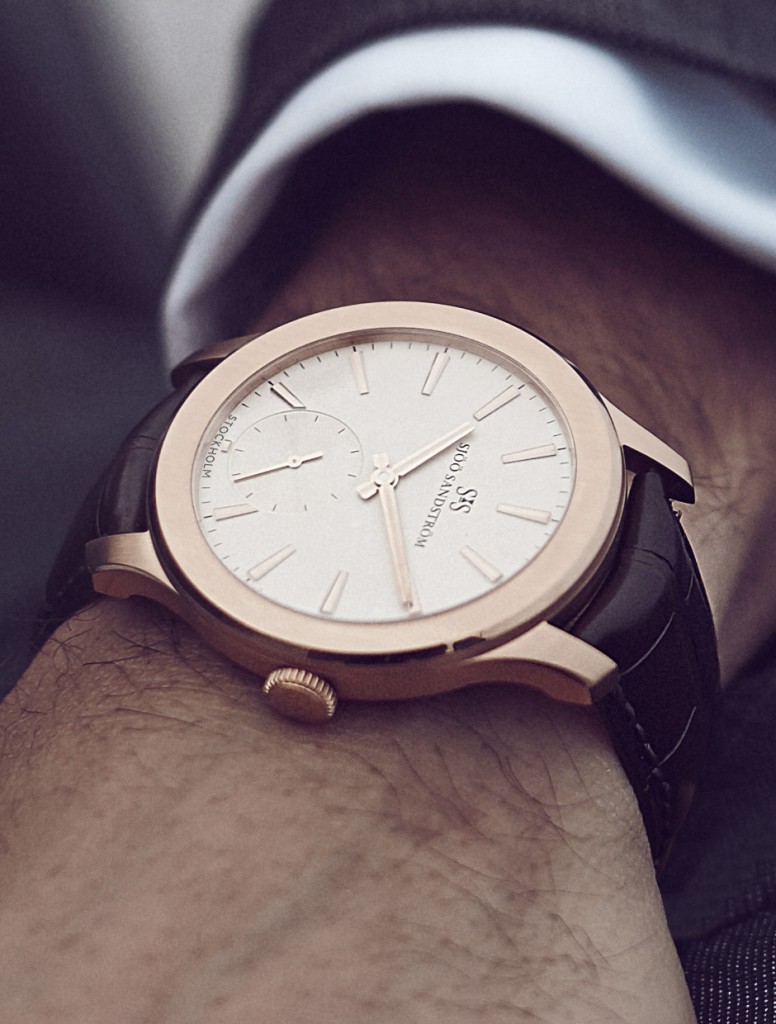 Christer Sjöö and Mikael Sandström gave their names to these watches out of a passion so let's just see what they can do. Perhaps the most interesting thing about this watch is the Swiss Vaucher 5401 movement, as not only is it displayed on the back of the watch, but it's got a micro rotor. Micro rotors aren't an actual complication in themselves but due to the fact that certain parts that hold the rotor in place are much more fragile and smaller. This means that there's a little more credit in the movement as it's harder to make and it looks cool but you have to be way more careful.
How can you tell it's Swedish? The only real reminder is the word Stockholm written on the dial, the Swedish names on the dial and the word Sweden written on the back. It's a little sad that there's no real defining features that make it look Swedish, but the micro rotor is something I guess.
Just like the Volvo adverts we've seen recently, it's certainly got some Swedish curves. It's less than 8mm thick but has enormous lugs. Then there's the hands which are by no means thin at all. In fact, they don't even get thinner the further they go on. They are pretty much the same width as the markers on the dial. There's also a sub seconds dial at the 6 O'Clock position with a circular pattern that isn't anything new. It's good to see a dress watch that's just a dress watch with no date windows or rotary date indicators or anything else that isn't an ultra thin watch. It's just a dressy piece, no extra complications for the fun of it. It's certainly good planning as there doesn't look to be much space on the dial anyway even though it's a 40mm piece.
Even the crown is rather large in diameter. It's not particularly wide so it wouldn't need crown guards, it's just large in actual size. For the steel version of this watch you'll need to drop around $8,700 and for the solid 18k rose gold around $21,000. That gets you a solid watch with a visible micro rotor, and ivory coloured dial and your choice of metal plus  42 hour power reserve.
The only disappointment is that it's a bit bland to be honest. There's nothing there that makes it looks Swedish, no crazy gizmos that aren't really necessary but are there anyway. Let's hope it doesn't end up an asset of Swatch or Richemont and be sold off. For more info, please visit sjoosandstrom.se
Harlan Chapman-Green – Contributing Editor
First introduced to horology with the Patek Philippe Calibre 89 by his father two years ago, Harlan enjoys his passion for fine horology. He prefers to spend his time in the boutiques of upmarket brands, trying out new pieces constantly. His preferred 3 brands are A. Lange & Söhne, Breguet and Vacheron Constantin. Although not much for the smaller brands, he still finds the complications intriguing and wishes to own one watch from each of his three favourites. Read his articles here.