The Lambda, first introduced by NOMOS Glashütte roughly a year ago was met by both praise and a little shock. People loved the familiarity of the Lambda but were stunned at the price point for this particular piece. Whatever your feeling on the Lambda range, there's no denying that it is a beautiful timepiece and presents the best of NOMOS Glashütte and the new Deep Blue addition to the Lambda range is no exception. Retaining it's same familiar round case that NOMOS lovers around the world are attracted to, the case is kept much the same with a 42mm diameter and an overall thickness of 8.9mm.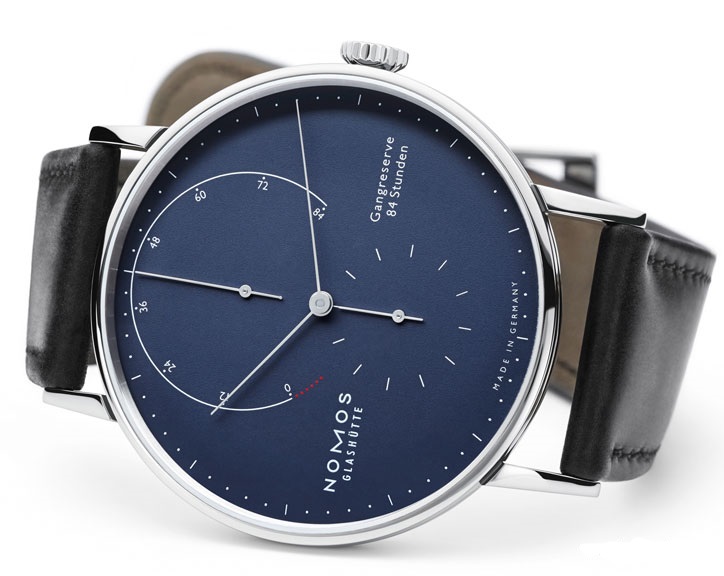 The Lambda also retains the same features with a massively oversized power reserve indicator at 12 o'clock with a small seconds indicator situated right underneath at 6 o'clock. The power reserve indicator traces an immense 297-degree arc and is one of the unique features of the Lambda range measuring from 84 hours right down to 0 across the arc. The movement housed underneath the dial is the calibre DUW 1001 with its unique swan neck fine adjustment, exclusive fine sunbeam polishing and hand-engraved balance cock. The detail that goes into the various parts of the movement is a very important and underlying feature of all NOMOS timepieces. For this particular piece, the various parts are held using Eldenflower pith and then individually polished, which can take up to a day to complete.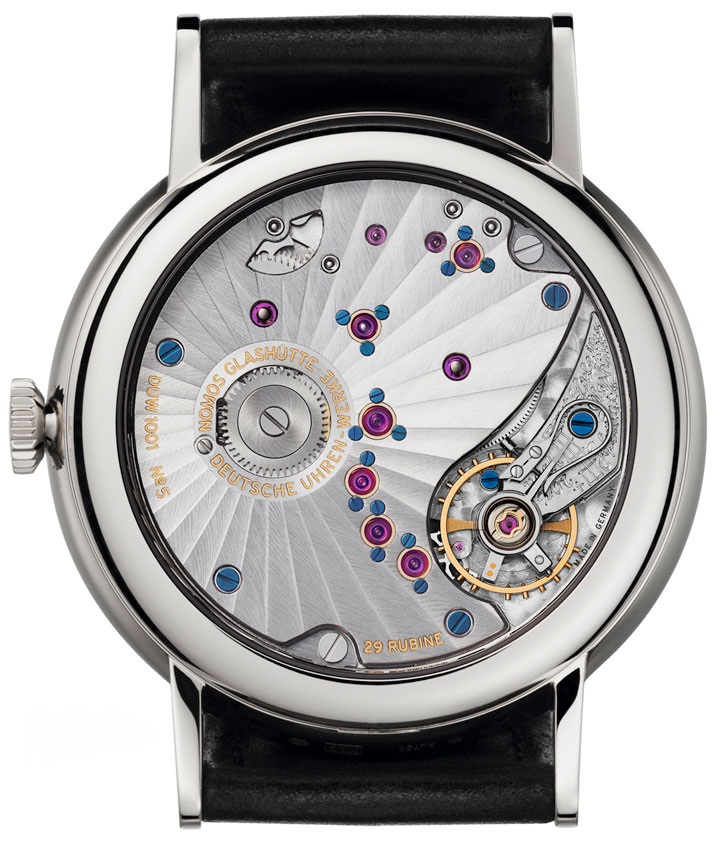 But what makes this timepiece different from its counterparts is the introduction of a beautiful deep blue dial combined with the 18 ct white gold case making the timepiece look that much more elegant overall. The contrast of the deep blue dial against the white gold and white detailing on the dial makes for a fantastic looking timepiece that stays true with what NOMOS Glashütte is all about.
Available through select retailers from November 2014. For more info, please visit nomos-glashuette.com
Technical Specifications
The watch
Case: white gold 18 kt, tripartite; diameter 42 mm; curved sapphire crystal glass, anti-reflective coating on inner side, sapphire crystal glass back, height 8.9 mm
Dial: lacquered, deep blue
Hands: rhodium-plated
Water-resistant: to 3 atm
Strap: Horween Genuine Shell Cordovan black, remborde, hand-stitched; pure white gold 18 kt buckle clasp
Reference number: 935
The movement
DUW 1001—in-house built NOMOS caliber with manual winding. DUW stands for 'NOMOS Glashütte Deutsche Uhrenwerke'
Diameter: 14 ¼ lines (32 mm)
Movement height: 3.6 mm
Power reserve: approx. 84 hours, or three-and-a-half days
Characteristics: 29 jewels, of which six in hand-polished and screwed gold chatons, twin mainspring barrels, hand-engraved balance cock, screw balance, 21600 a/h, adjusted in six positions (equivalent to chronometer standards), balance spring Nivarox 1A, swan neck fine adjustment, rhodiumplated three-quarter plate with fine sunbeam polishing, edges beveled and polished by hand.

Osheen Arakelian – Contributing Editor
Drawing on a lifelong love of horology and a more recent introduction to appreciation of fine whisky, Osheen brought the two together with watch & whisky. He is proprietor of the site, which covers everything related to watches and whisky. In between completing a degree in commercial law and supporting a rich social life, he is out and about attending all the latest watch and whisky events Sydney has to offer. His passion has also taken him around Australia attending a number of events and he hopes to continue his career in the watch industry on a more serious level after he graduates. Read his articles here.