As we all know, most brands these days have specific themes which they follow when designing something, if you wanted to remove all the fun from it, we should probably say it's their "corporate identity". I'm simply not that dreary, I promise. Anyway, you'll probably have noticed that brands like Breitling tend to stick to pilot's watches, although they make diving watches too. I was thinking about using Omega as another example there, but then I realised they have split their "identity" down the middle with their equal promotion of the Speedmaster and Seamaster. Back to watch school for me!
TAG Heuer is an interesting one because it gets most of its lineage from association with the world of motorsport, think models like the Monaco, Formula 1 and even the Carrera model range (carrera being one of many Spanish words for race). Today's offering from TAG Heuer pays tribute to the most extreme form of motor racing, one which has the ability to unite friends and also break them up. I'm, of course, talking about Mario Kart.
You may remember the TAG Heuer Connected X Super Mario limited edition smartwatch from last year. We didn't cover it because we were on holiday or something, but we liked the creativity of the watch. This new version is clearly designed to appeal to the mechanical watch aficionado who has a youthful and playful side. I doubt people who've never played any Mario games will care, but the man's been around for over 40 years at this point, so that's been enough time I think.
I like that TAG Heuer hasn't gone too overboard with the whole Mario Kart theme, even though they could have done. Indeed, the main parts that stand out are the 'Mario Kart' writing on the bezel. For the tourbillon cage, things are a little more interesting, with a depiction of Mario driving his racing kart while being chased by the two most feared objects in Mario Kart: the Spiny Shell, which tracks down the player in first place and obliterates them, meanwhile a Bullet Bill chases that and is used to give a player near the back of the pack a break by rushing them forwards a few places. I almost feel sad for Mario, knowing he'll never escape the Ferris wheel of doom which is also the tourbillon, but at least the things never catch him.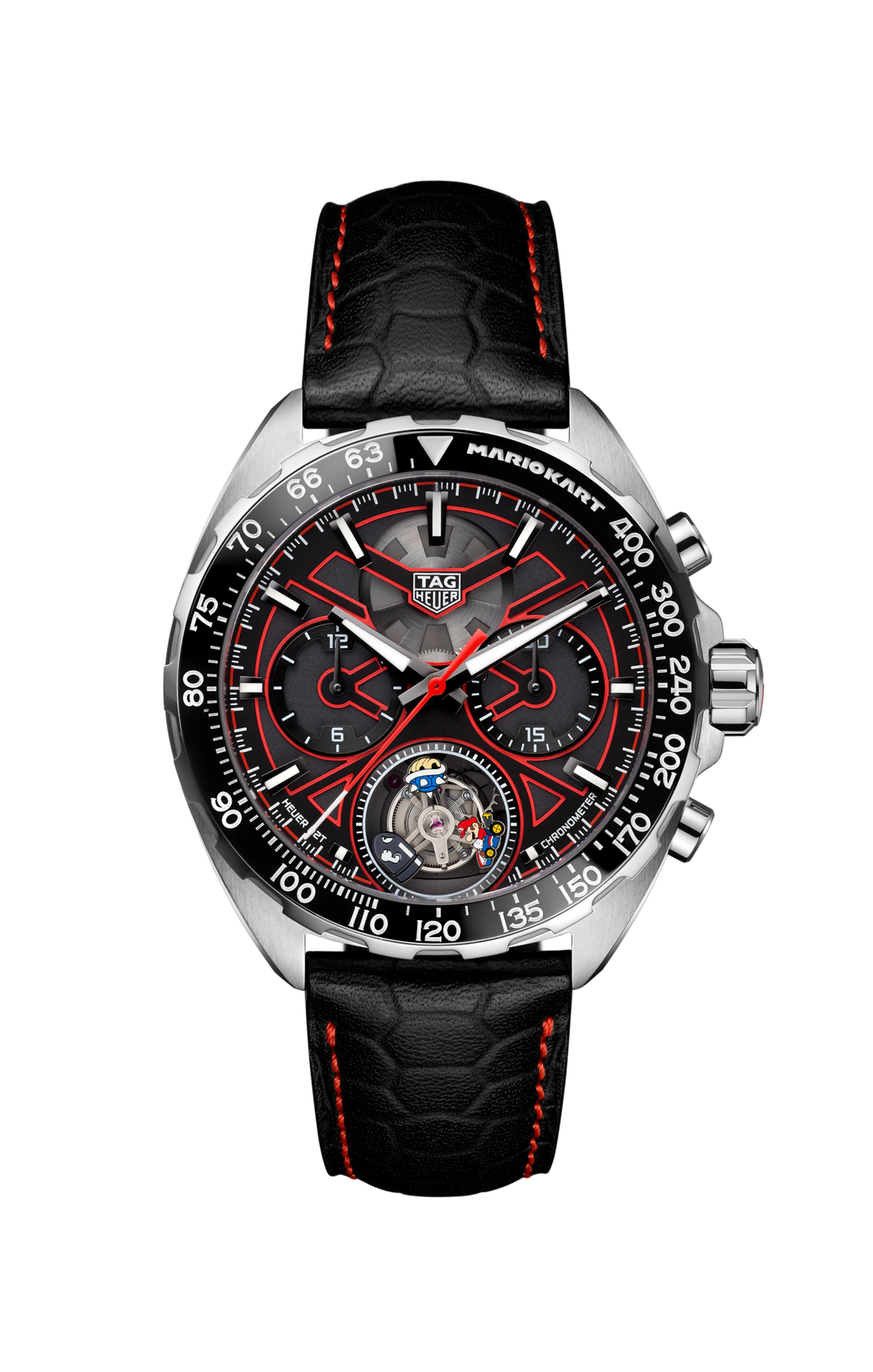 A black dial with red accents gives off a modern and sophisticated look. Black and red go together very well already, and continue that partnership here. Twin subdials allow the user to time up to 12 hours with the chronograph, making this a thoroughly usable flying tourbillon watch. It is a little bulky. It's 45mm across, but it is made of titanium, so it should at least be fairly unnoticeable when strapped on.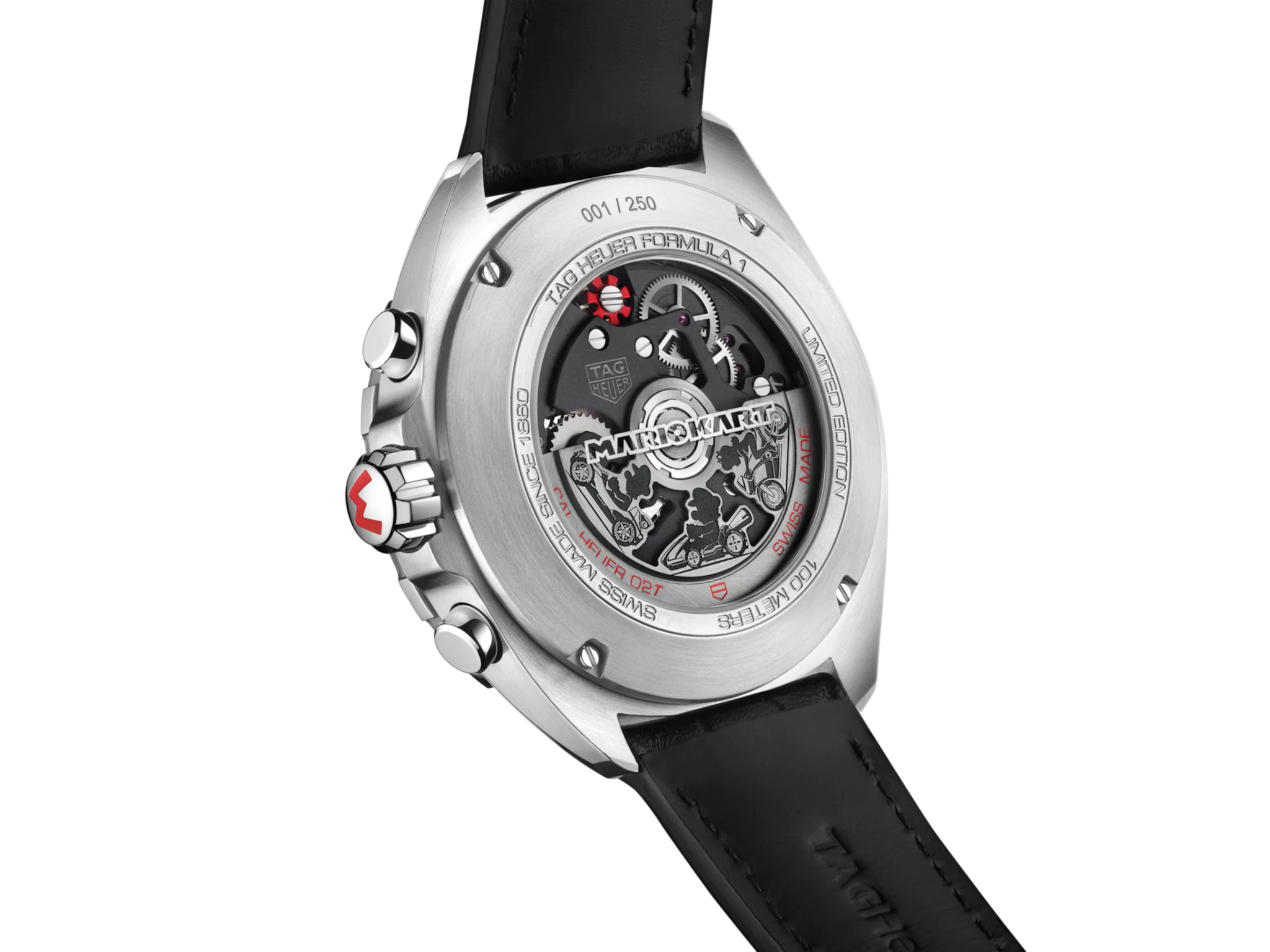 Around the back of the watch is a custom rotor for the Mario Kart edition watch, with depictions of Mario, his scaredy-cat brother Luigi and Princess Daisy, one of the recurring characters from the franchise; I guess Princess Peach had been kidnapped by Bowser again. A red column wheel stands out from the primarily black plates of the movement. This is the calibre 02T. It's a COSC-certified chronometer movement with a flying tourbillon regulator, a chronograph with a column wheel and vertical clutch, and a power reserve of 65 hours. The beat rate is 4Hz. The watch is limited to 250 examples at a price of $25,600, which is pretty low for what you're getting.
If that's a little too much for your wallet to stomach, but you still want to satisfy your Mario Kart-themed watch craving, then it's good news as there's a Formula 1 version which has been given the Super Mario treatment as well.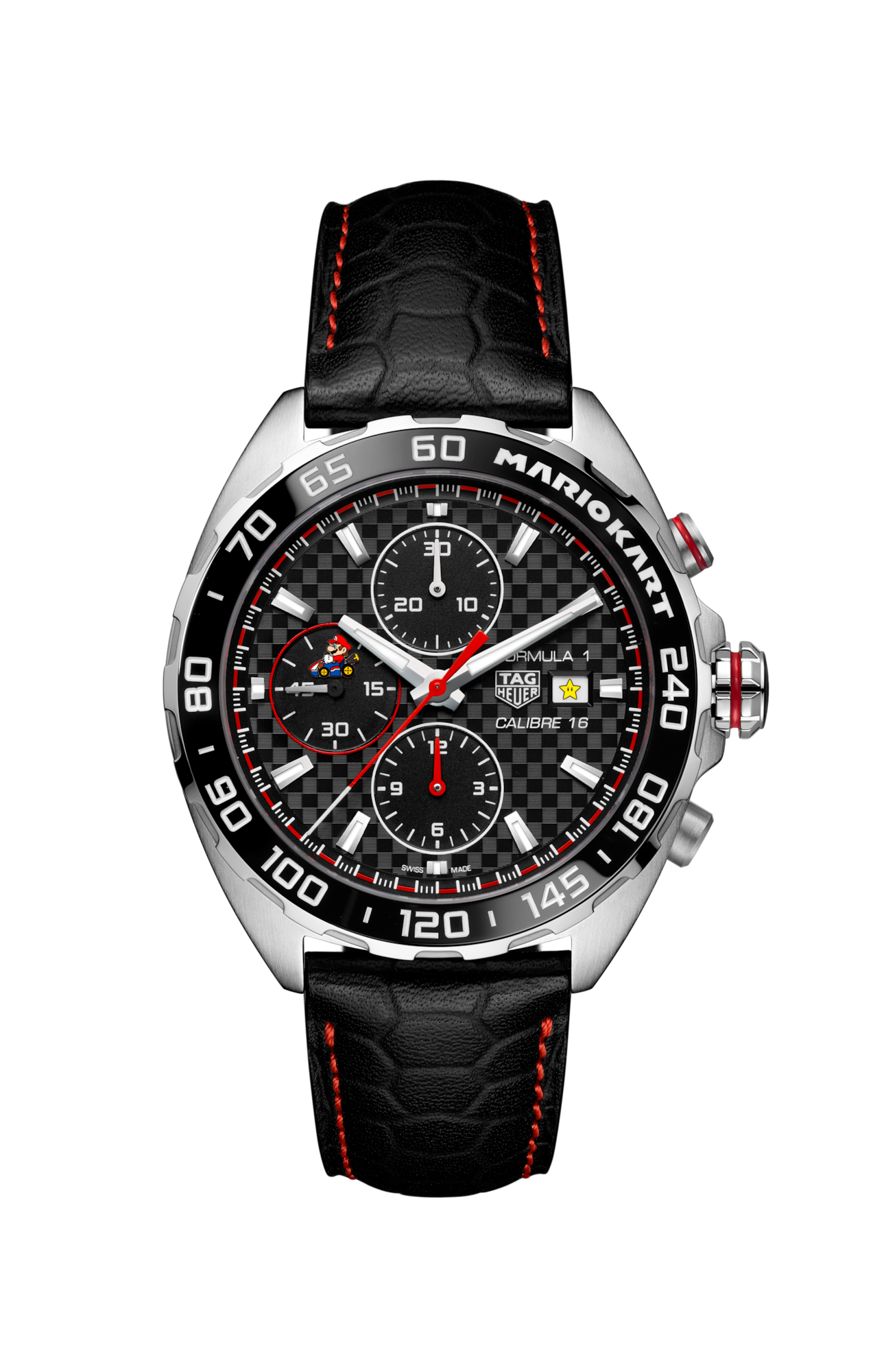 It has a black dial with chequered-flag texture for that racing feel and a print of Mario driving his racing kart, only this time without the entourage chasing him. Touches of red make the details stand out, and there is a 12-hour chronograph, as with the tourbillon version. One feature the tourbillon version doesn't have is the unique date window, which has replaced some of the numerals with the symbols of various items available from the mystery boxes scattered around the racing tracks. Does this make the date window unusable as a date window? Yeah, on certain days. Do I care? No, check your phone for the latest date. I like the fun of the items appearing in the date window; it reminds me of the good old days when I played Mario Kart (if only I hadn't discovered Halo).
While this has a 44mm stainless steel case instead of titanium, the Formula 1 x Mario Kart does share the ceramic bezel of the tourbillon version, complete with lume applied to the Mario Kart logo. It also has the red lacquered details on the chronograph pushers and the red M on the crown, replacing the TAG Heuer logo. The leather strap is black with red stitching and a shell-like texture. Inside the watch is the Calibre 16, based on a Sellita SW500 or Valjoux 7750 calibre. It's hidden behind a closed caseback. The price for this version is $4,300, and it's limited to 3000 examples.
So, here we have two fun watches from a usually serious watch brand. With the timing of these being just after the release of the trailer for The Super Mario Bros. Movie (coming in 2023), I wonder if we'll see the famed Italian plumber wearing a TAG Heuer. I hope we get more of these, I think some variant of the Mario Kart collection using a Rainbow Road theme would be cool, and we haven't seen anything of the plumber's mortal enemy yet. I think a Bowser-themed watch would be very cool.
Visit TAG Heuer here.