You might remember back in February and March, we showed you two different watches from a brand-new watchmaker called Sherpa. The Sherpa OPS and the Sherpa Ultradive created quite a buzz in the comments sections of their respective articles, with readers enjoying the historical inspirations for the watches coupled with modern designs. Plus, there's always something fun about a brand-new watch company on the block. It reminds us that this world we live in isn't solely about the big-name brands and super pricey independents. There's room for all.
For a few months, we at WristReview have been working hard to get our hands on some Sherpa models for a Fortnight Review article so we can drill into the details and give you some proper insight into the OPS and Ultradive watches. Alas, it seemed that the forces of nature were against us. I won't go into all the details, but most of it started when I was on holiday in Toronto last month. Martin Klocke, Sherpa's founder, emailed me saying he was having trouble getting the watches sent to the UK. Fast forward a couple of weeks, and we found that it would be impossible to get the watches sent over from Germany without forking out a fortune on import duties. As neither of us fancied that, we decided to meet up while Martin was in London a couple of weeks ago; luckily, he'd brought some watches for me to try out, and I remembered to bring my camera.
Please note that the watches shown may not reflect the full production watches. However, any differences will be minor, so you can treat these as if they were the finished products. Please check Sherpa's website, or contact them, for the full details.
What you see here are two versions of the Ultradive, and one all-black OPS watch. As you'll have noted, all of these watches look different to the traditional diving watches we're used to seeing. This is because they're of a type called a super compressor diver. We won't dive into all the details (sorry for the puns I really can't help myself sometimes) of super compressors here, but we can say that these watch cases were made from the 1950s to the 1980s by Ervin Piquerez SA (EPSA) and use water pressure to make them more water resistant. The deeper you dive with a super compressor, the more the water pressure squeezes on the case parts and seals the watch tighter, in layman's terms. Both the OPS and the Ultradive are water resistant to 200m which was what many super compressors from way back in the day were reaching. 
Enicar was one of many brands purchasing super compressor cases from EPSA, and would use these cases for its Sherpa watches, hence the Sherpa OPS and Ultradive using them. We should note that these are genuine super compressor watches. Many modern dive watches aim to recreate this look using the twin crowns without going the distance of using the super compressor case, which is more complex than the case of a standard diver. You'll note that while the OPS and Ultradive take a lot of inspiration from the Enicar Sherpa, Martin and the team at Sherpa Watches have added their own details and design cues into the mix. I asked Martin about his design process, and here's what he had to say:
"Firstly, I had to find out what was so special about the vintage models. The first stumbling block was in this phase that both the brand Enicar SA Lengnau went bankrupt in the 1980s, as well as the legendary case maker Ervin Piquerez SA, also known as EPSA, which supplied cases to virtually ALL big brands of the 1950s-1980s. EPSA invented the "compressor "and "super compressor "water resistance technologies and many innovations more, like the dual crown and inner dive bezel setup. So, the main task at the beginning was researching and finding spots somewhere in Switzerland and elsewhere where I could encounter material about them.
One important step was to meet Martijn van der Ven, the author of "Time for a Change ", the reference book about Enicar SA and its history. The second important step was to encounter an archive in Switzerland where many technical documents of EPSA were stored, and finally, I could use my engineering background to look intensely at and understand the technical details of the watches. With that knowledge, which to a major part was lost until now, I could venture on to re-design the watches. I had an industrial designer at my side to do the detailed styling of the watch and then an excellent watchmaker/engineer to recreate the technical side. As an engineer, I knew precisely what I wanted – the bayonet compressor case back closure system and the compressor crown system.
The latter was challenging to create, it took quite long and was a big risk. This crown technology by EPSA is unique, so it was uncertain at the beginning if we could revive it successfully. It involves a high-precision miniature injection moulding tool. To fine-tune it, I needed to approach Zeiss Germany to measure the part with a computer tomography machine with down to 0.001mm precision. Maybe you can understand our relief when the first prototype passed the 25bar water resistance test! Now our watch is the only complete compressor watch for over 50 years. Together with the move from vintage plexiglass to the highly domed, very complex sapphire box glass, this was the biggest challenge from the mechanical side."
Remaking designs from the past using modern technology is something that the industry loves right now, but it's pretty hard to convey how determined you need to be to go through all kinds of old records and designs to find out the information you need. It takes real dedication to the product, something only a true enthusiast would understand.
"I started my adventure into watches with the search for a present for my wife. Back then – it must have been 2010 or 11 – eBay was still a valid source, so I was searching there and stumbled upon a tiny Enicar Sherpa Lady dive watch with an internal dive bezel. I fell in love with it and gave it to my wife as a birthday present, fortunately, she also liked it. Then I started researching more into Enicar Sherpa watches and found out that they had a whole series, especially for men. That series from the 1950s to 1970s is legendary, and I appreciate them so much that I started asking myself why they are not around anymore. Then the urge started to bring them back to the market; the rest is history. I wrote to the current owners of the Enicar brand in Hong Kong but never got a response, so I started investigating ways to achieve this, and then I went step after step into one of the biggest adventures of my life."
When looking at the OPS and Ultradive watches side by side, I was struck by just how different they are, given that they are more or less the same watch underneath. Of course, the OPS watch receives black DLC coating on its 40mm case to give it a stealthy look, and it has an all-black dial which introduces some military tool watch vibes to the design. A vintage-inspired triangular orange seconds hand stands out but matches the orange appliqués on the inner-rotating diving bezel.
Now contrast that with the Ultradive models with shiny cases, white inner bezels and their applied stick markers. They're still unique and easily readable, but something about their design seems more modern. I like to think that the white inner bezel makes it seem like the watch is wearing black tie, but maybe that's just me. I asked Martin which he preferred to wear, the Ultradive or the OPS, but given that he has access to both, his answer made sense:
"Pretty much 50/50 Ultradive and OPS since they have been available as prototypes to me. Interestingly, there are weeks when I prefer one over the other, but when I switch after some weeks, the appreciation of the other watch is there again. I can't decide between them, so I strongly advise to buy both, of course!"
On the wrist, the Ultradive and the OPS felt very comfortable with their 40mm diameter, and they had a hefty quality. In nearly every hands-on/Fortnight Review I've written, I mention that I like a watch to feel suitably weighty, a certain amount of mass in proportion to its size makes it feel like a quality item, so I'm pleased to say that both watches felt very high quality indeed. They sat nicely on my wrist, although due to the constraints of the hands-on review format, the shots you see are of watches on Martin's wrist. 
One limitation of our hands-on reviews is the amount of subtle details I can capture on camera. In the studio, I get the luxury of very bright lighting, the super macro lens and a camera on a tripod, but these are bulky and not suitable for lugging around London (trust me, I've done it before), and lighting is up to whatever the location available had. So it's a shame that my photos didn't quite capture the subtle dome of the watches' black dials or the sapphire crystal's unique curvature. The café we ended up in did have a fabric stool with an interesting texture, as you'll see from the photos, which I felt made a nice backdrop.
Back to the watches. Interestingly, Martin mentioned that extra work went into creating the black ring around the dials where that domed crystal meets the case. I asked him how he did this and if that gives customers some potential to have some customisation of their watches:
"When we switched from plexiglass to sapphire in the design phase, I was always afraid to have this "white glow of death" around the perimeter of the glass, as even some big brands have when switching a heritage model to sapphire. My design engineer, Cyrano Devanthey, and I took a lot of care to avoid this. Finally, the glass producer in Switzerland and the Swiss coating company suggested black metallisation to reduce the possible glare/glow further.
We achieved this in a brilliant fashion and now even have a "deep piano black "kind of look at the perimeter of the glass. Of course, this technology also allows us in the future to adapt the colour scheme of this feature to new designs and colours. Maybe we will use this option very soon."
So, dear reader and potential customer, there could be more options for you in the future. For now, the "deep piano black" ring blends in well and shows the amount of care that went into these watches.
This care and attention to detail doesn't stop at the outside of the watches either. One of the more fascinating details of these watches is the specialised engraving which happens on the inside of the case, specifically on the wheels of the movement. These symbols, which appear on prayer wheels around the Himalayas, have special meaning to Buddhists like Martin.
"It is no secret that I am a practising Buddhist myself. While I wanted to give back to the Sherpa people for using their name and thus support two foundations in the Sherpa regions, I felt the need to do something more to connect to the Sherpa heritage.
During one meditation session, I had the spontaneous idea that I could maybe implement the tradition of turning prayer wheels in the Tibetan and Sherpa region into a watch movement. So, I made some plans and approached one of our high Tibetan Lamas (teachers, masters) with a catalogue of questions, not knowing if he would appreciate and approve of this idea in the Buddhist tradition. But in fact, he did approve and even corrected my plans. This gave me confidence and motivation to follow through with the plan to engrave the wheels and convert the movement to a "Mantramatic "movement. Now the movements in our watches make > 30 Mio mantras per year, featuring the first "spiritual complication "in a watch ever."
The MM01 "Mantramatic" movement inside the OPS and Ultradive watches is based on the self-winding Sellita SW200-1. This modern-day workhorse movement is reliable and easy to service, with a 4Hz beat rate and a power reserve of roughly 38 hours. On two of the wheels of the movement, a laser-engraved mantra can be found, similar to the prayer wheels mentioned earlier.
"To get these working, we also had to invest many months and find a way to laser engrave at the verge of the physically possible a micro Tibetan Buddhist mantra onto the tiny wheels of the movement. Also, here we needed many steps and extremely competent partners, one of which is laser engraving by the highest class of German knife makers in Solingen.
By the way, we name our partners on our web page – which is quite unusual in this industry."
Of course, all this is all well and good if you're a Buddhist, but folks like me have absolutely no idea what all these symbols mean, luckily I thought to ask Martin this:
"The symbols are Tibetan letters, forming a mantra (sound of enlightenment), stemming from Sanskrit: OM MANI PEME HUNG.
The "Swiss army knife "of mantras in the Himalayas and widely used to clean disturbing emotions and foster positive tendencies in the mind.
Wishing good for all beings. It is widely recited in the Tibetan-speaking area and other regions culturally connected to Buddhism.
There are many aspects to this mantra, but the best would be to summarise it as a medicine for the mind which reduces disturbing emotions:
OM removes pride
MA removes jealousy
NI removes attachment
PE cuts through confusion
ME removes avarice and greed
HUNG destroys anger
These are the emotions which are said to generate harmful effects later when you follow them and let your actions be dictated by them. When using the mantra, the tendency to take these buggers seriously will decrease, and other means of reacting will be easier to take. Usually a good idea. This mantra is mostly engraved on and inside the prayer wheels, big and small, which you can find in the Himalayan region."
It's quite fitting that the movement has "may all beings be happy and free" on its rotor, and while I can think of many watches that make me feel nice when I see them, I can't think of any others that go to this extent to wish me, the wearer, a life of good fortune without pride and anger. I'm not religious, but if I were to be, then Buddhism would be my chosen route, and it's for reasons like this. It also helps that the sturdy base of the MM01 movement will be ticking accurately for years to come.
Both watches come with a high-quality vulcanised rubber strap with embossed textures reminiscent of straps from the 1960s. As you can see, there's more than just black available, and I took a particular liking to the white version, which I felt made the watch stand out a little more and would be especially good for the sunnier days.
When you purchase a Sherpa watch, the box included with it is unique because it doubles as the perfect travel companion. Made with genuine leather in the EU, the box is also a high-quality watch roll which protects your watch while in a case or backpack.
"Nicholas Lange, the founder and owner of this brand (Lange and Berkeley), met with me, and I have to say that the chemistry fit really well immediately. We have a similar sense of quality, eye for the details and a general ethos, so it was a natural fit to cooperate. Lange and Berkeley make our fantastic custom Sherpa double watch roll out of 100% Italian leather inside out, and they make it in the EU. I am delighted with this solution, and I am sure the customers with love this core of our package as they will be able to use it for many years. The leather feels amazing and is stitched everywhere, not glued, to ensure the longest-lasting quality."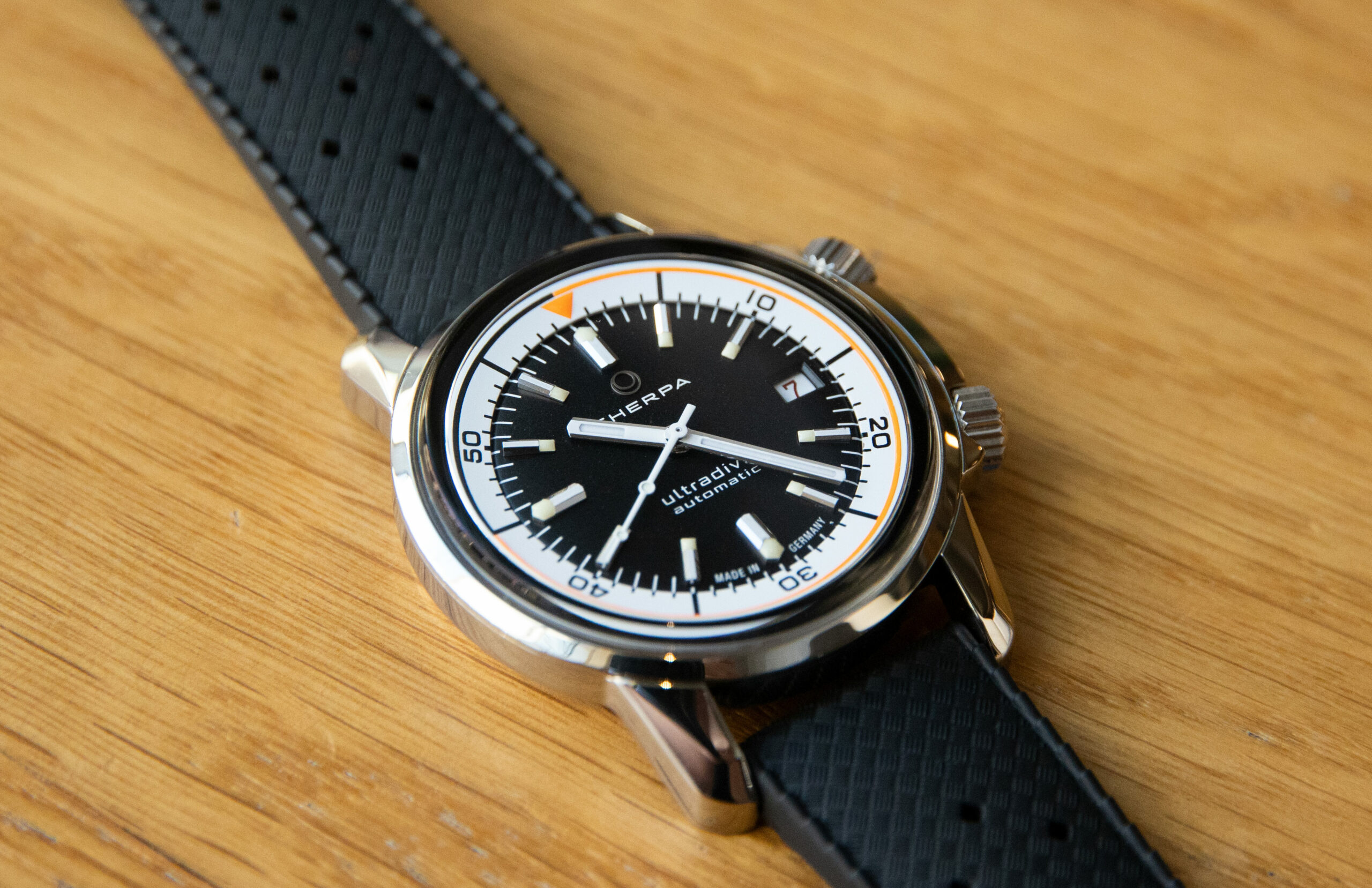 So, there you have it. That's our take on Sherpa's two current models, the OPS and the Ultradive. There isn't much difference between the physical wearing of the watches as they're both using the same case as a starting point. For me, the OPS gives a stealthy look which is cool for weekends and holidays, while the Ultradive has the classy looks of a sporty daily which can be treasured for life whether that's 200m down in the sea or in an office 200m up, at least, that's how I see them. Remember that having one of these in your collection provides you with a cool diving watch and Buddhist good and also wholesome vibes.
Don't forget to check in on Sherpa Watches – who have successfully married historical design with modern manufacturing expertise to create two very rounded pieces – in the future. Enicar's back catalogue of Sherpa models was massive before the brand went under at the hands of the Quartz Crisis, I like the Sherpa Jet myself, and there's little doubt that Sherpa Watches will make use of other designs in the future:
"The current 40mm case gives quite a few options out of the dual crown Sherpa range, with few changes. But in the first step, there are some possibilities with the given models and colours. And I love GMT watches, of which Enicar had a few with the most legendary GMT hand ever to be made.
There are so many more brilliant models within the Sherpa range that I will have many adventurous and happy years ahead of me bringing them back to life! And, of course, evolving them over time."
The price of the OPS as presented is €5,800 (including VAT), and the Ultradive is priced at €5,900, also including VAT. Please visit their website to learn more about the team behind Sherpa Watches and place an order.
Special thanks to Martin for meeting me in London and the team at Solstice restaurant, St Paul's Riverside, London, for allowing Martin and I to use their dining room before opening for the day.