When I hear the name Vacheron Constantin, it makes me think of superb and, of course, high-end watches. But for this one, please hold on to your butts, this is not for show since we are going to delve deeper into the discreet world of the Vacheron Constantin Patrimony Ultra-Thin Minute Repeater. It always had its specialty which all watch enthusiasts have in common when it comes to comments or reviews, its utter thinness. Although there are other watches that are as thin or even thinner than the Vacheron Constantin Patrimony Ultra-Thin Minute Repeater, nothing beats its superb movement which we will discuss a bit later at the end of this article. Join me as I gladly introduce this incredible piece of engineering.
First of all, this watch is among the novelty releases of Vacheron Constantin such as the Cabinotier collection and the 2015 Edition of Watches & Wonders that included one of the best watches in the world ever made by the watchmaker. The watch we are talking about is a minute repeater which is remarkably wonderful considering its sheer power and beautiful craftsmanship that can be easily reflected on its thin case design. Plus it now comes in platinum which for me is not only more masculine but more authoritative considering its small size after all it is made to be understated and discreet for dressed occasions. As usual there is that little problem with the subsidiary dial between the 7 and 9 o'clock position. Isn't the 6 o'clock a more appropriate position for a superb alignment or perfect symmetry?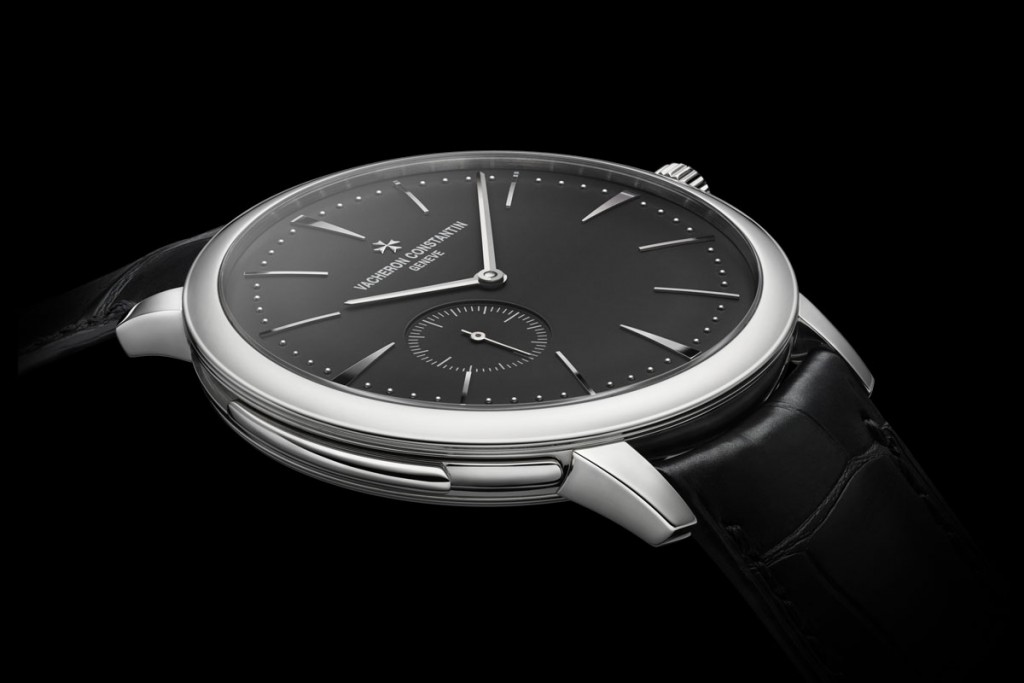 Again, the 41 mm platinum case is only 8.1 mm thick which is astonishingly small for a superb minute repeater. The lugs and the bezel are just absolutely brilliant and very harmonious along with the crown and the subtle target at 9 to actuate the chime. Now if you are wondering if the watch makes enough noise, well it does. The dial comes in slate-colored or silvered opaline which is refreshing on both instances. Personally, the silvered opaline is more discreet and more readable than the darker dial. You will love its 18 k white gold hour markers and the pearl minute track is pretty much dandy.
Perhaps what is so special about this watch is the impressive Calibre 1731. Oh yes at 3.90 mm it is indeed very thin for a minute repeater. There are so many innovations that Vacheron Constantin has exemplified over time and with this watch you can find things like the ultra silent flying strike governor courtesy of the 2007 ultra-complicated caliber 2755 and the superb finishing touches of Vacheron Constantin such as the circular-grained main plate, black polished hammers, and Côtes de Genève patterned bridges featuring beveled and polished edges. And with 65 hours of power reserve, it is nothing but perfect. Personally, I kind of like the remarkable hand finishing touches to the 7 bridges which is indeed very time-consuming and is totally worthy to slap that Geneva Hallmark of excellence.
Moreover, you get to wear this watch on an alligator strap complete with several other features such as Platinum 950 buckle. Plus it comes delivered with a magnifying glass and a sound resonator to the tune of "La Musique du Temps."
For more info, please visit vacheron-constantin.com
JOVAN KRSTEVSKI – FOUNDER, PROPRIETOR & EXECUTIVE EDITOR
Watch collector, aficionado and an Event profile in the Swedish nightlife. He launched Watchgeek back in 2011, which is now known as WristReview and is one of the most widely read watch blogs on the Web. He quotes 'WristReview is a site to help people find, explore, discover and enjoy wristwatches.'  His passion jump started in his early teens when he was given his first mid-range wristwatch which was an Omega Seamaster. Since then he has always been in love with wristwatches! Besides WristReview, he also writes for a number of publications. Read his articles here