Apple, Samsung & LG move aside! The technology companies may have had the edge in the smart watch race due to their technical expertise and the frankly enormous budgeting for the projects, but now Switzerland has come out of its daze, got to work designing it's own smart timepieces/accessories and now we're here with the TAG Heuer Connected Smart Watch which was unveiled on Monday this week in New York City. 
To help arm themselves for this technical offensive, TAG Heuer sought backing from Intel and Google, two of the world's leading software/hardware companies. Back at BaselWorld they unveiled to us that they were working on something new: a smart watch which offers all the expected features that combines Swiss craftsmanship.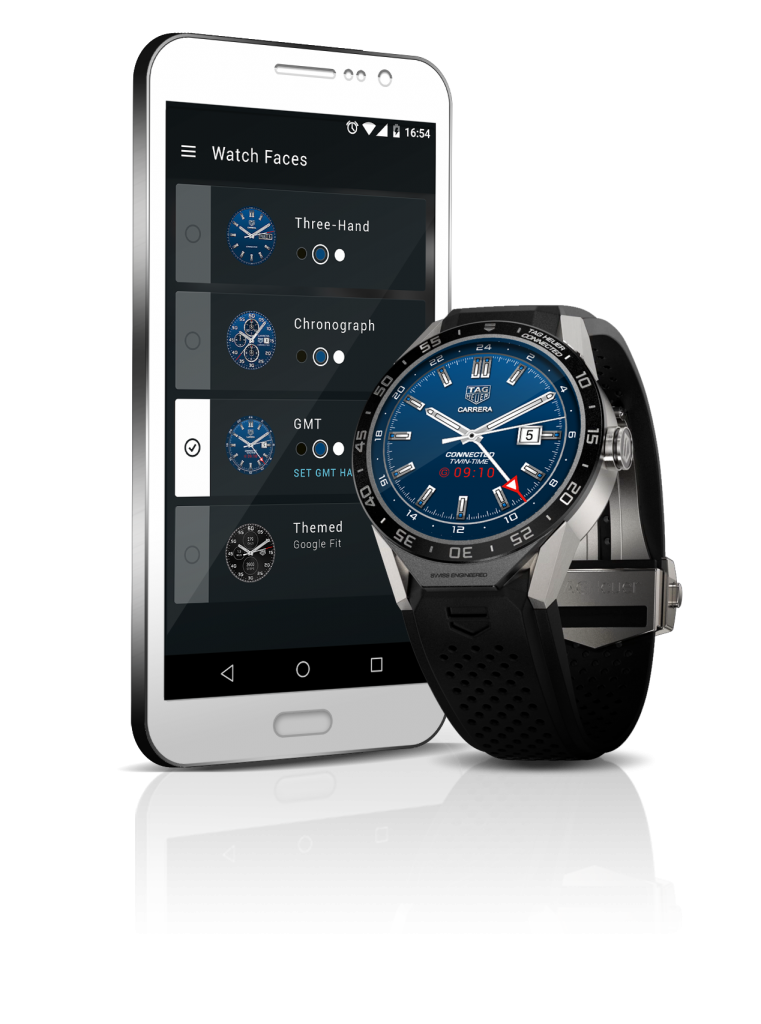 Despite taking only 9 months to fully design, the new Connected Smart Watch really does look the part. LVMH watch department head Jean-Claude Biver mentioned the idea that a luxury watch company making a smart watch which looks nothing like the rest of the range would be a real disappointment. So instead, the case of the watch has been designed to look exactly like that whip you'd find on the Carrera Heuer 1 timepiece, a watch which is most definitely not a smart watch.

Of course, the case is not the only part of a watch which needs consideration, the dial of the watch matters just as much. Apple is well known for it's large array of dials as standard on the Apple Watch with many more designs made by independent designers. Each dial has three main colours: black, blue and white with the dial mimicking a sunburst guilloché which you might find on a more traditional TAG Heuer piece. You can choose from a simple three hand day/date dial, a GMT dial or a full on chronograph date dial, all of which mimic a shadow from the hands as you might find on a mechanical timepiece. The advantage of a smart watch is that you can switch between all three at any time. Yet another very important feature of this watch is the always on system, unlike other smart watches which involve a flick of the wrist or a tap on the screen, the TAG Heuer Connected SmartWatch screen is always on, even when it's running in "ambient energy saving mode". It's a very interesting addition which would please someone who's transitioning from a mechanical or quartz timepiece, as they don't simply stop when you look away from them, so why should your smart watch?
The 1.5" diameter screen runs on Google's Android Wear operating system and can be synced to either an Android phone running 4.3 or later, or an iPhone running iOS 8.2 or later and uses a dual core Intel Atom processor to run all of the functions which include not only timekeeping, but also apps that have been customised for TAG Heuer.
The watch case is made of titanium, so expect a very strong and sturdy feeling watch which offers a splash proof IP67 rating. Each piece is presented on a perforated rubber strap (which most will be delighted to discover comes in many bright colours including my personal favourite, bright yellow).
The TAG Heuer Connected Smart Watch will cost $1500 (£1100, €1350) but you can expect this to double if you opt for TAG Heuer's new system which aims to combat the main drawback of the smart watch, obsolescence. By paying another $1500 on top of the purchase price when the smart watch does become obsolete TAG Heuer will send you a mechanical version of the watch with the same design, so you can continue to enjoy the watch as you did with the smart version. For more info, please visit tagheuer.com
HARLAN CHAPMAN-GREEN – CONTRIBUTING EDITOR
A keen bass guitar player, Harlan enjoys all the perks modern watchmaking technologies the industry has to offer. Although you might catch him sampling Omegas or the odd Rolex, Harlan loves all things Haute Horology, with his three favourite brands being Breguet, A.Lange & Söhne and Vacheron Constantin. He hopes to study timekeeping more in depth someday and will never be able to thank his father enough for introducing him to the industry. You can follow him on Instagram Read his articles here