Vacheron has finally showed us its masterpiece. We spoke about it a little while ago and gave you some hints as to what complications it will contain, but now we can finally reveal them in all their glory, all 57 of them.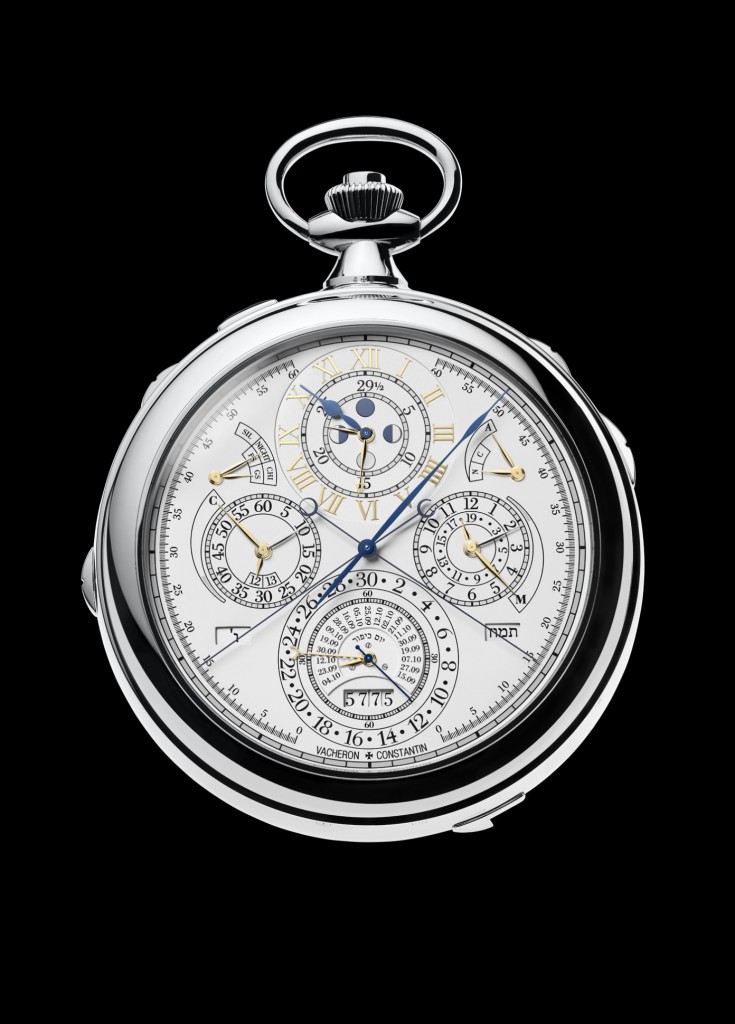 This is the newest watch to attain the title of "Most Complicated Watch Ever", the previous holder being Patek Philippe's Calibre 89 pocket watch which held over thirty complications. It had held the record since, well, 1989 and it took the title off Patek's Henry Graves Super-complication piece. If you want to read more about super-complicated watches we have a whole article dedicated to them which you can read by clicking here, we also have a grand complications article which you can read by clicking here. Now, onwards to our newest dream timepiece!
Vacheron Constantin proves to the world, with dramatic fashion I must add, why they are more than worthy of a place as one of the best watchmakers on the world alongside the aforementioned Patek Philippe, Audemars Piguet, Breguet, A.Lange & Söhne and Jaeger-LeCoultre, not that we ever doubted them truth be told. The watch was commissioned by an anonymous person who will no doubt be over the moon that Vacheron went the whole way with their new watch. It just so happens that when they finished up work on the piece they'd be in time to celebrate their 260th anniversary of non-stop operation. 260 years is immense, OK so Blancpain was started in 1735 whereas Vacheron Constantin was in 1755, however they have never stopped making watches since the start, even the outbreak of war across the globe didn't stop Vacheron from making watches.

It's a daunting watch to try to understand, heck it's daunting to write about too. You can just tell that every single year of work has been fully utilised with this watch as every detail is exquisite, complicated and beautifully integrated into the piece itself. From things such as the very discreet yet still clearly visible slider for the minute repeater such as the dedicated spot for the tri-axis tourbillon. So without further ado, let's see the entire list of complications inside the new Vacheron Constantin piece:
Regulator hours, minutes and seconds
Day/Night indication
24 city world time
Second time zone
Spherical Tourbillon with spherical spring
Tri-axis tourbillon
Season indication including equinox, solstice as well as signs of the zodiac
Sky chart
Hours of sunrise
Hours of sunset
Length of the day indication
Length of the night indication
Age and current phase of the moon, only requires correction once every 1027 years
Leap year indication
Four year cycle
Equation of time
Sidereal time hours
Sidereal time minutes
Gregorian days of the week
Gregorian months
Gregorian retrograde date
Gregorian perpetual calendar
Hebrew name of the day
Hebrew name of the month
Hebrew date display
Indication for the number of months within a Hebraic year
Hebrew secular calendar
Hebrew year, decade and century indication
Hebrew perpetual calendar with a 19 year cycle
Golden Number indication with a 19 year cycle
Indication for the number of the day within the week
Indication for the number of the week within the year
Date of Yom Kippur
Fifth of a second chronograph featuring one column wheel, retrograde display
Fifths of a second rattrapante chronograph, one column wheel, retrograde display
60 minute counter
12 hour counter featuring one column wheel
Alarm with one gong and striking hammer system
Alarm sound / silence indicator
Choice of grande or petite sinner for the alarm
Alarm system attached to carillon striking alarm
Indicator for choice of normal or carillon striking alarm
Westminster chime featuring five hammers and five gongs
Passing strike for the grande sonnerie
Passing strike for the petite sonnerie
Minute repeater
Striking barrel disengaging system when fully wound
Indication for grande or petite sonnerie
Night silence mode
Indicator for the striking mode (silence / strike / night)
Going train power reserve indicator
Striking train power reserve indicator
Winding crown position indicator
Winding system operates for both barrels
Concealed alarm system winding crown
Hand setting system with two directions and two positions
Striking locking mechanism
You must be wondering how they fit it all into the case of a pocket watch? Does the Swiss have some sort of miniaturisation ray? Maybe they have a crack team of really tiny space aliens who run all of the complications perhaps? The answer, I'm afraid, is no. Although in the case of the second idea, putting space aliens to work like that wouldn't be very kind. The key to the watch is simple, the case is actually enormous. It's close enough to 10cm in diameter (it's 98mm to be precise), it's also 50.5mm thick and a total of 131.7mm tall from base to the tip of the hook on the main crown.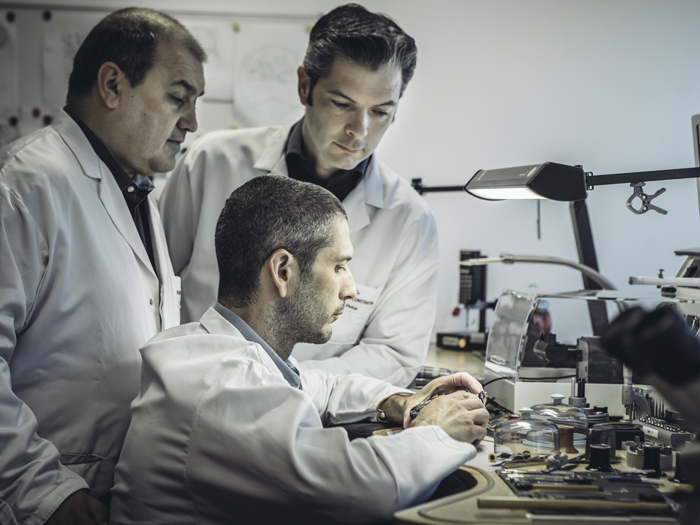 The ultra-complicated movement inside the new Reference 52760 watch has also been given the Seal of Geneva, a feature that a lot of Vacheron Constantin pieces now bear. It's a recognised standard in watch-making that has a stringent set of rules which must be followed to the very last word in order for the watch to be approved. The most obvious requirement is simple, the timepiece must be assembled, timed and case within the city of Geneva in Switzerland. It also guarantees that the movement is (up to a point) very durable and long lasting. The watch is also guaranteed to be very accurate thanks to the amount of testing that goes into it and that the watch itself has been constructed to the highest standards possible to be in-keeping with fine watchmaking. All 2800 parts of the watch have been designed, manufactured and tested in-house by just 3 people who have been totally dedicated to the piece, the parts have then been placed inside a modern-looking white gold case.
The Reference 52760 watch is the latest in a long line of extremely complicated pocket watches from Vacheron, the others are the Packard (1918), the Fouad (1929), the Farouk (1946) and the Boisrouvray (1948).
A truly astounding piece from a fantastic company, we can't wait to see what they'll do for their 275th anniversary. Perhaps this will prompt other companies such as Breguet or A.Lange & Söhne to make their own even more complex watches? I certainly hope so, do you?
For more info, please visit vacheron-constantin.com
HARLAN CHAPMAN-GREEN – CONTRIBUTING EDITOR
A keen bass guitar player, Harlan enjoys all the perks modern watchmaking technologies the industry has to offer. Although you might catch him sampling Omegas or the Rolex, Harlan loves all things Haute Horology, with his three favourite brands being Breguet, A.Lange & Söhne and Vacheron Constantin. He hopes to study timekeeping more in depth someday and will never be able to thank his father enough for introducing him to the industry. Read his articles here.