Have you heard of Wencia before? Maybe, maybe not but this brand has a long history.
The brand name Wencia was established in 1937 and comes from the family name Wenger, the name of the founders of the watch manufacture in Villers-le-Lac nearby La Chaux-de-Fonds in Switzerland.
For more than 50 years, the manufacture worked closely with Valjoux and other small watchmaking workshops of the Swiss Jura mountains.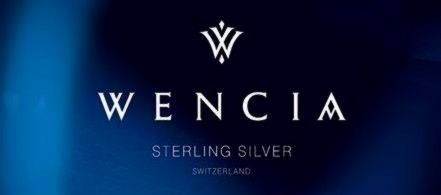 In 2005 there was a turning point in this beautiful story. David Wenger had decided to re-establish the brand under a new light. He brought together an international team of young and creative designers. Together they have created and launched the production of more than 400 models of original jewellery and watches. I will focus on one particular piece. The VAILLANT – Reference WOO3JS.
This collection is made of 8 different pieces, but I have to admit that the one I like the most is the one I present here. This is without a doubt because of the dark blue colour with sand finish dial.
The thing I like with this dial is that it reflects the light in different ways, depending on the position of the watch. Also, it's very pure, there are no superfluous additions. All around the dial, we find Arabic numerals, at 6 O'clock the mention "Swiss Movt", the date is placed at 3 O'clock, and finally the reference to the material of the case that is actually made of sterling silver. Note that the small minute and hour hands, which have a very classic design, are filled with Lume.
The sterling silver 925 case is polished and has a smaller size of 35 mm. Of course that's really small compared to the sizes of men's watches nowadays but thanks to this size it can also fit a women's wrist. Moreover the round design of the case is quite elegant so it gives another argument to put this timepiece firmly in the dress watch category.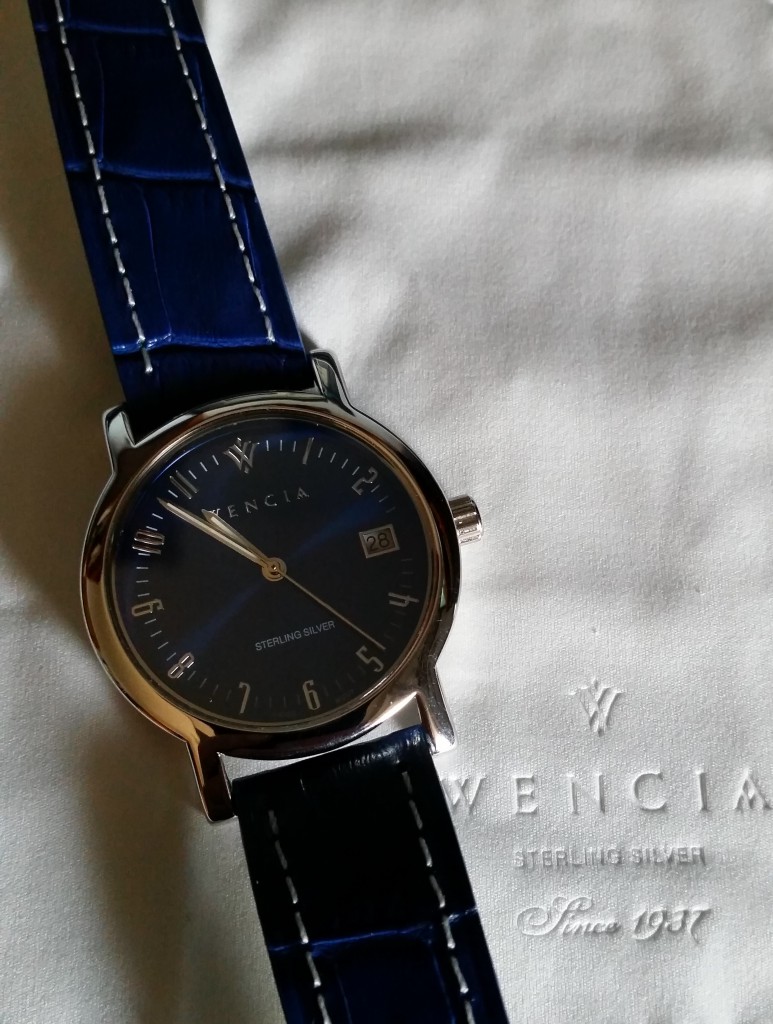 The heart of the piece is a Swiss quartz Ronda 6003D and even if personally I prefer the  mechanical movements, I have to admit that this type of movement is ideal for these kind of "fashion" watches.
The dial is protected at the front by a sapphire crystal with double-sided anti-reflective coating, while the back is closed and engraved with Wencia logo and other information.
The watch comes with a nice royal blue calf leather strap with an alligator pattern and grey colour stitching, which is finished with a pin buckle engraved with the name of the brand.
In conclusion, I would say that in general this is not my kind of watch because it's too small. But I enjoyed wearing it because you don't feel it on the wrist and also because the blue colour gives a very fresh style to the piece. It's a mixed timepiece which could be suitable both for men who like small pieces and women who seek a classic watch but with a quite fashionable style for the summer. For more info, please visit wencia.com

JONATHAN KOPP – CONTRIBUTING WRITER
Jonathan Kopp has an avid enthusiasm for timepieces of all genre, from vintage timepieces to modern Luxury Haute Horology. His preference goes to small and independent high-end watchmakers. He loves the difference rather than classicism, although if he admits to being in love with several ultra-classics pieces. Jonathan was caught by the passion for watchmaking there are almost 6 years. For about 5 years, he wanders in this industry and was Communication-Marketing-PR Consultant for several brands. He has worked for over 2 years as a freelance for the development of the Swiss brand Arthur Oskar Stampfli (AOSWatches). To keep in touch with Jonathan you can follow him on the various social networks: Instagram, Facebook and Twitter. Read his articles here.