Earlier this year Jaeger-LeCoultre attended one of the biggest watch events of the year. SIHH is in fact hosted in Geneva by the Richemont group, with Jaeger being one of the Richemont Group's biggest success stories in recent times it makes sense that they should come forward with something new this year. Well, we didn't quite get brand new as a matter of fact, instead one of the most discussed points from their debuts were the new dial colours on the Duomètre watches, one of which we shall focus on today.
For some context, we saw this watch as the last part of our tour around the Jaeger-LeCoultre manufacture in Le Sentier, which you can read up on by clicking here. The setting? High up inside the manufacture in a lovely guest suite type setting. The time of day? Some time after lunch. the weather? Well that's actually completely irrelevant but it was slightly overcast coming into some sunshine I seem to recall.
Jaeger-LeCoultre is one of the most inventive and creative watch manufactures at the moment with their watches earning high amounts of respect from watch collectors and other manufactures alike. Indeed it seems almost that they know no bounds, even when it comes to just changing a couple of colours on their watches, it still has a dramatic effect on the look of the watch. One should note however, that the watch itself hasn't changed mechanically at all in fact. Not only this, but given that Vacheron Constantin also recently changed the colours from a few of their watches to exactly the same colours as Jaeger-LeCoultre is using (grey dial with rose gold case), one can't help but wonder whether some cross Richemont planning was involved. Maybe, maybe not but we still get great looking watches and now they have uniformity from at least two of their companies, I expect maybe Lange might be next to do something like this.
Onto the watch itself it certainly has its own idiosyncrasies, even by Jaeger-LeCoultre's standard. These include, but are not limited to, the twin power reserve indicators near 12 and 6 O'clock, of course this is that watch that has two independent barrels for powering the time and any extra functions. The added complexity being the barrels are both regulated by a single sphérotourbillon as opposed to a standard escapement. Other oddities of note include Jaeger-LeCoultre's insistence on using plaques for the calibre in some of its more complex watches, but not on those which are still worth horological merit even without tourbillons as such, I'm getting at those found in watches like the Geophysic TrueSeconds watch among others.
All of these things don't detract from the watch at all in person, in fact they are actually welcomed on a watch of this calibre. If you own this watch and you can find it within yourself to remove your gaze from the sphérotourbillon, even though that's really tricky, you can still observe the other details on the dial. It's not like this watch isn't practical either, there's a handy date display around the hands which tell the time, and the DualWing movement can easily be rewound via the single crown. There's even a 24 hour subdial near 12 O'clock.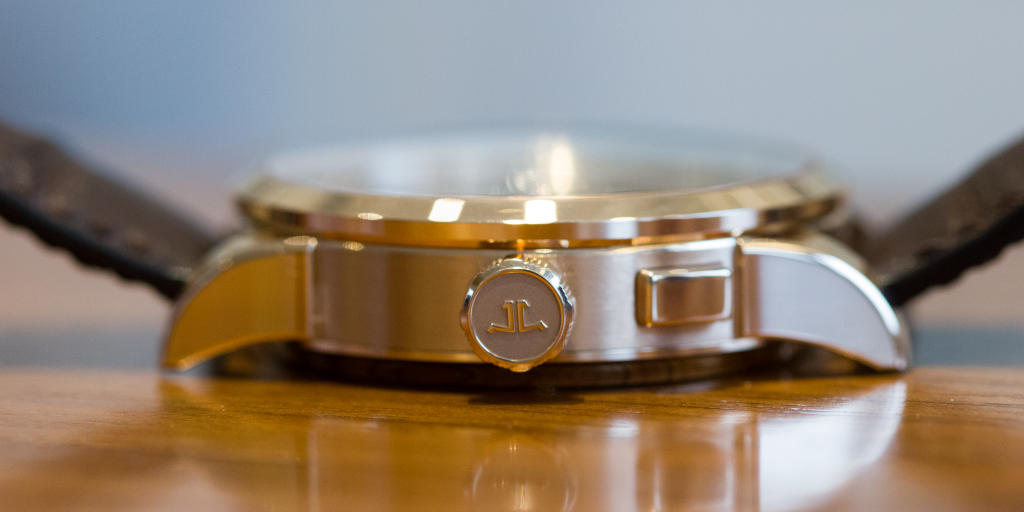 It's a pleasant wrist experience too, Jaeger-LeCoultre should be congratulated for making the distinctions in terms of wrist presence minimal between watch models, you could go from wearing a Duomètre chrono to this sphérotourbillon model and not really notice much difference except for the added cost and the delicate tourbillon rotating in a sinusoidal motion at 9 O'clock. The watch is also weighty, thanks to the gold, but not unbalanced on the wrist, this is undoubtedly thanks to the big gold buckle and high quality leather strap the watch is supplied with.
Apart from that, nearly no difference. The dark dial is the one I tend to favour, it stands out less on my wrist and is contrasted well by the warmth of the pink gold. While white metals are still my preferred choice, I feel it would make this charming timepiece seem sterile, not to mention it would not necessarily go too well with movement made of German Silver. That may just be me nitpicking, but if you're going to spend hundreds of thousands on a watch you don't want to compromise. We all know nowadays that yellow gold is much too brash, you definitely have an air of the 1980s coming from it that's for sure, so the pink gold on this watch isn't as offensive to the eye, all in all we believe that pink gold was the best choice of metal for this dark dialled timepiece.
For those of you who are eager for the specifications this watch is a classy 42mm in diameter, meaning it's pretty much set for a dress application. It's also 14.1mm in thickness, so again as long as your cuffs aren't super tight you should be set. The movement is made of 460 separate components which all have to be inspected thoroughly before assembly. The movement inside the case makes use of two barrels controlled by the same escapement, it runs at 21,600 vibrations per hour and has 55 jewels. It's also 10.45mm thick. The calibre is the 382 movement and the watch's reference number is 605244J. The price for all this loveliness? It's near enough €265,000, so it's the watch or a new house. I know which I'd choose. For more info, please visit jaeger-lecoultre.com