We've been holding onto this article for quite a while now, partly because we didn't want to flood WristReview with Jaeger-LeCoultre and risk boring the audience (like you lot could get bored of Jaeger, right?) and partly because this wraps up all of our coverage from their factory tour for the time being, so we thought we should have a nice little send off to help cheer things up a bit, so wherever you are in the world and whatever you may be doing, sit back, relax and read on as I talk about the Reverso Tribute Moon watch, a simple stylish watch which is a little complicated at heart.
The Reverso Tribute Moon is a faithful and fun reinterpretation of the original Reverso. It's a little "hey look at me" in the rose gold version, but cool blue and stainless steel just screams, I mean, clears it's throat and discreetly murmurs class. We like the implementation of the complications into the watch the most. First and foremost it's a 'Tribute' watch, that means that it has to be sleek and impossibly dressy. It should leave the dimensions and colours to speak out for itself, rather than lending itself to complications, which is where the irony begins with this piece. It is, in fact, the opposite of what we define to be the traditional Reverso, unlike the 1931 it's 49.7mm tall and 29.9mm wide. It's thick at 10.9mm and there is a dial on both sides, rendering the original functional purpose of the Reverso moot, it does not protect the dial in any way, it just exposes another. It's also blue for the most part.
Yet this is why this Tribute works, it's not tied down to this stigma of how something must be exactly so else it is written off as a failed product. The Reverso was initially thought up as a sports watch, one to be worn during furious bouts of polo to be precise. A game played on horseback with a ball and a lot of riders with polo mallets potentially crashing into each other. The solution? The now eponymous Reverso, a watch with two sides: one a time dial the other a solid steel caseback to absorb the punishment of the game and protect the crystal of the watch. Jaeger-LeCoultre already makes this watch, a fully legitimate Tribute to 1931 watch which is impeccably stylish and gloriously uncompromising in its faithfulness to the original.
The twin dials are particularly useful for travelling people who always hop between two timezones. One dial has an interesting velvet Clous de Paris guilloché dial which is not only unique but impressive with its seemingly random pattern. The small rotary date indicator works so much better on this watch than any kind of date window would, it shows just the right amount of information in a subtle way that could fool someone not in the know into thinking it's doing something else. The moonphase doesn't share that mystery factor, it's pretty upfront in what it does, however, the moon itself is somewhat provocative and mesmerising. The gold contrasts well to the blue background and the dial as a whole, I feel maybe a little etching of some of the moon's features such as the Sea of Tranquility may have been the icing on the cake for this dial, but it is no less a lovely thing to look at.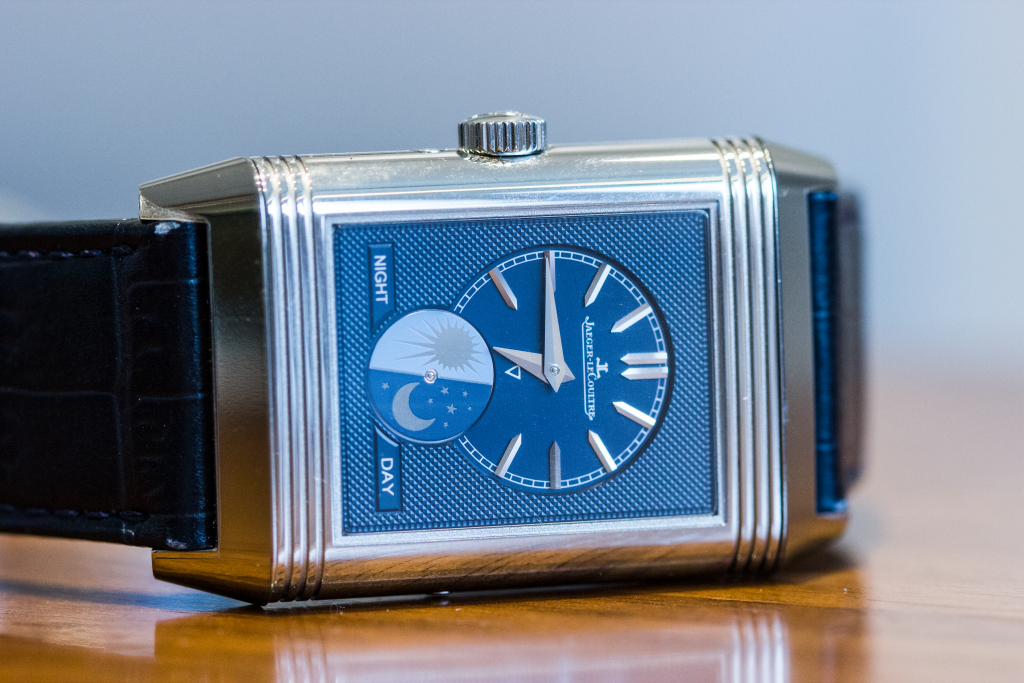 The blue dial is the same, in a way, except for the obvious colour changes and the swapping out of the moonphase for a day/night indicator. This further makes clear the real reason this watch was designed, as I've stated, for those who wish to move around our planet and across its timezones at their own leisure. Otherwise, the day/night indicator would be the most pointless complication ever put onto a watch unless you are trapped in somewhere with no doors or windows, but it then becomes the most practical watch for someone who wishes to gamble in Las Vegas but quickly loses track of the time. The day/night indicator and dauphine hands serving as a stern yet friendly reminder that you are against the clock unless you plan on throwing all your money down a hole.
I needn't mention the reversing function, it's irrelevant and those who wish to know more about it and how it works can easily search for a few articles or videos demonstrating perfectly the mechanism, Jaeger-LeCoultre has been making the Reverso for over eighty years so reviewing the  feel of the flip would be distracting and unnecessary. I will state however that this watch is a tad on the small side, even for someone like me who appreciates that dress watches and dinner plates should remain as two separate entities. But, I can still appreciate the fact that very few people who are in the market for a Reverso share my taste for larger dress watches. The blue plays it down very well too, making it a true all around timepiece being suitable for all occasions, though I would consider changing it to a black strap and flipping to the dark dial for something extremely formal such as black tie.
Like most Jaeger-LeCoultre watches the leather was pleasant, being a new piece it was not very pliable but that is forgivable as the strap will loosen up in time. The clasp system is a little thin, thus when open it feels somewhat flimsy, some will scoff and say this is simply luxurious refinement, however to me something like that should be elegant and yet sturdy and solid, the way most watches from A.Lange & Söhne feel.
For $12,700 new this watch feels like a quality product, it also looks it too and comes with the Reverso name and legacy attached, thus making it an attractive option. It gives the slim and tidy image of the classic Tribute to 1931, but comes along with a more modern colour scheme and complications to please those with a fascination for all things mechanical. The fact that the one barrel inside the watch powers two separate dials and three complications can only add to this appeal. For a classic and restrained high-end watch, I present to you, the Reverso Tribute Moon in Stainless Steel from Jaeger-LeCoultre. For more info, please visit jaeger-lecoultre.com