They say that every wristwatch from the modern day A. Lange & Söhne is a very special watch, be that a Lange 1, a Lange 31 or an 1831 timepiece. But, we all know that's not true, because there are other levels to Lange's manufacture too, with things like the extra special watches coming along sporting tourbillons and flyback chronographs and whatnot. But, then there is another more secretive level too this extra special level, it doesn't technically have a name itself but we have all come to know it simply as 'Handwerkskunst'. What does this mean? Well, technically in German it means 'Craftsmanship', but what that translates to in terms of watches is almost a completely new look for the same watch.
See, the lovely folks at the Lange manufacture are pretty crammed in their workshops in Glashütte, even with the recent expansion of the facility there still isn't enough room to do all the processes there, so some of the work is done in the homes or personal workshops of the staff. But, every now and then they want to flex their muscles a bit, strut their stuff so to say. So Lange decided to roll with it and see what they could come up with. The result? Wristwatches that are engraved to the extreme with particular attention focused on patterns on the dials of said watches, apart from the Lange 1 Tourbillon Handwerkskunst which uses a ceramic dial that was a painstaking research task for the team.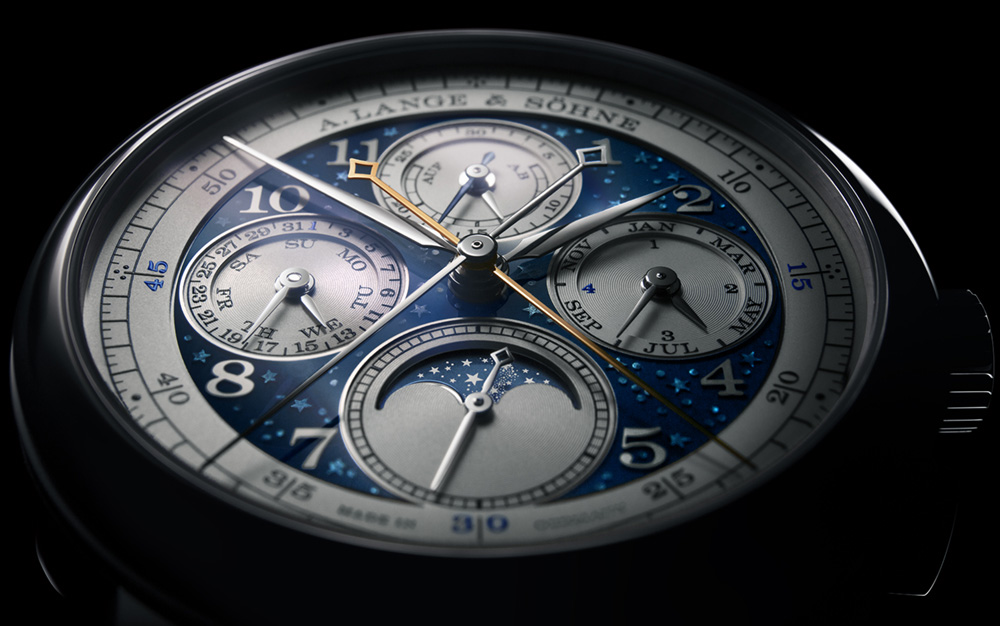 On this one things take a little turn, instead of the natural themes offered by other watches A.Lange & Söhne turned their attention to the stars, which have been featured on the dial of the watch. I am unsure as to whether the stars are positioned roughly as they would be over Glashütte or not, but I wouldn't be surprised if there was some correlation going on there. The dial itself is constructed of blue enamel and sits upon a base of white gold with the stars engraved upon it. The layout itself is pretty familiar, but no less spectacular as it is based on the 1815 Rattrapante. What that means is that this watch is a split seconds watch, it can therefore time two events simultaneously, and the wearer is able to stop one event while the other continues. It's pretty confusing and there aren't really any times in day to day life you will need it. Cool though.
The movement on this watch is also a gem, an incredible feat of engineering and a testament to Lange's technical prowess in design, construction and finishing too. There isn't a single part out of place inside the movement, the balance wheel is slightly obscured but we can forgive it in this instance thanks to one of the column wheels for the chronograph being placed nearby. Did I mention the watch was a flyback chrono too? In terms of the movement, the interstellar design cues have seeped their way back onto the movement as well with little polished stars standing out from an engraved base. Uniquely, the caseback on this watch is actually protected by a hinged cover with a white gold engraving of the Roman goddess Luna, the divine embodiment of Earth's most notable satellite. The caseback looks good, and will raise a few eyebrows, but I feel Patek does the whole hunter style caseback thing a little better with their invisible hinge arrangement.
The price of this 631 piece chronograph watch with unique engraving and a limited run of 20 pieces if you have to ask is €290,000. For more info, please visit alange-soehne.com