Minute repeater watches are nice to have and most of the time, horologists buy it for one very important function, it is a perfect mechanical reminder for every hour, quarter hour or for any remaining minutes. These days we have talking electronic gadgets in our homes that usually interact with commands that are not limited to time function. So a minute repeater watch is perfect for this time only function and the prospect of having it with you anywhere you go is splendid. In this regard, Ralph Lauren, a creator of artisan watches introduces another update to the Slim Classique collection in the watch Ralph Lauren Minute Repeater. This version is the more high-end version of the men's artisan dress watch.
An interesting profile of the watch is of course its slim factor but compared to the original releases, the Ralph Lauren Minute Repeater pretty much deviates from that. It's not that slim but of course considering its complication, it's forgivable. The 42.5 mm case comes in 18k white gold and it looks high class. Knowing the brand, the likelihood of other versions in other colors such as gold is highly possible in the coming days. The case of the watch features an amazing round profile and the sliding lever on the left side that activates the minute repeater function is simply beautiful. The guilloche engraving on the bezel allows the watch to stand out but it also exposes one tiny bit of design flaw that exists on the dial.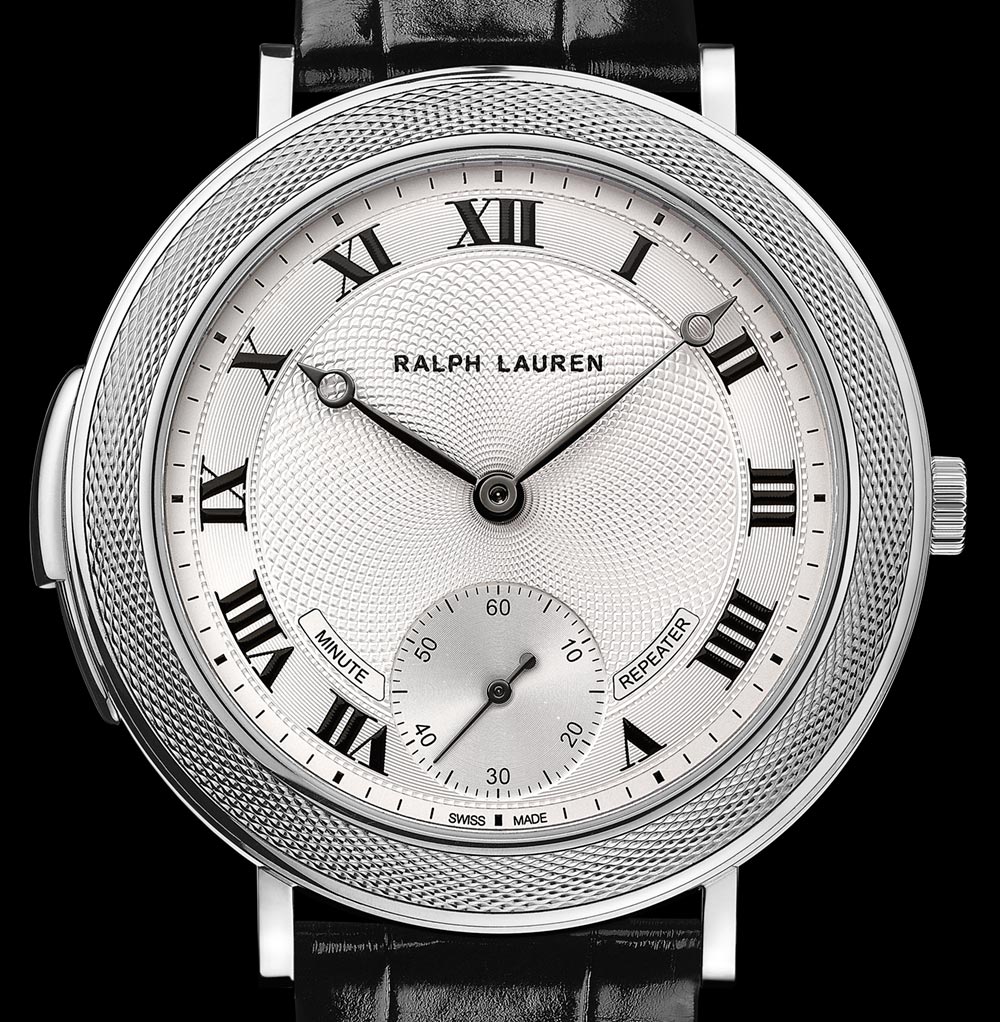 Speaking of the guilloche dial, its main flaw is the brand's label below the 12 o'clock. Some luxury watches always keep a portion of the real estate for their branding (meaning to say the guilloche pattern is broken at some point) but the RALPH LAUREN label on this watch just sits on top of that guilloche pattern so technically this un-leveled surface has negative effects on the legibility of the print. Other than this, the watch is perfect. The hour and minute hands are dark and decorative with the typical Ralph Lauren style. The seconds subdial also looks neat with high legibility. The Roman indices are unmistakable making the overall legibility of the watch superb.
Powering the watch is the caliber RL888, not an in-house movement but it comes from the brand's trusted partner Richemont Group. This manually wound movement boasts 100 hours of power reserve which is really impressive. It has 300 parts and operates at 3Hz. The movement can be seen through the display caseback which is really amazing. A notable characteristic of the watch is its water resistance rating of 30 m which is very rare for minute repeater watches. The minute repeater complication is very sensitive or fragile so the Ralph Lauren Minute Repeater watch sports a slider protection mechanism so that if it is not correctly activated the movement will not get damaged.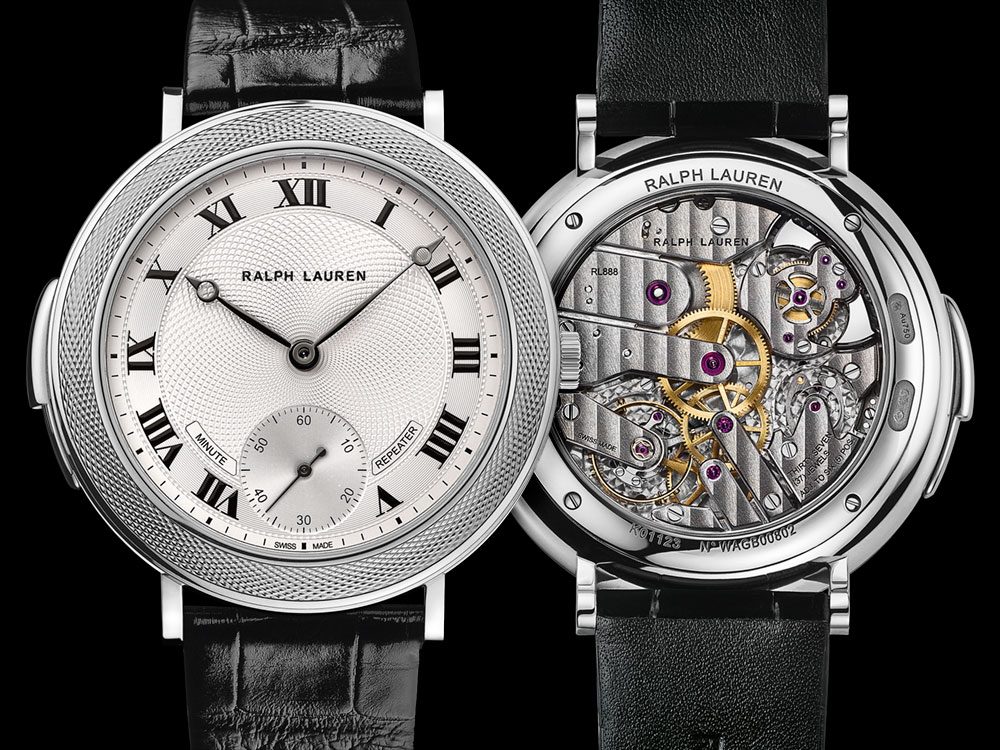 The Ralph Lauren Minute Repeater watch wears on a black alligator strap and comes with a $206,000 USD price tag. It's a handsome watch but the tiny flaw in the dial described above is quite a turn-off to many buyers and also if you fancy a repeater watch for its "high-end art," the Minute Repeater label on the dial is also another source of frustration. However, if you can go past these design obstacles, the watch is an elegant timepiece that is pretty much Ralph Lauren's star timepiece. For more info, please visit ralphlauren.com