When you hear the name LeRoy I'm sure you would be forgiven for thinking that it was a new start-up brand, but you would be wrong, very wrong in fact as LeRoy originates all the way back to 1713 when master watchmaker Julian LeRoy joined the very select circle of Corporation des Horologers. There have been many illustrious owners of a watch made by LeRoy over the years including Queen Marie-Antoinette, Napoleon Bonaparte, Queen Victoria, American president Franklin D. Roosevelt and the famous car designer Ettore Bugatti to name just a few.
Earlier this year at BaselWorld LeRoy offered a preview of this superb new piece and straight away received enthusiasm from connoisseurs and collectors alike. Now I can finally share with you this stunning new piece in all its glory.
Let's start with the refined case which is available in two different sizes, a very traditional 38mm and a slightly larger 40mm, both sizes fit perfectly on the wrist with its shortened lugs and a thickness of 9.7mm and 10.5mm respectively. Three versions of the case are available in three different materials: Palladium-coated white gold, red gold and a two-tone version with my personal favourite being the white gold which suits the dial options perfectly. The case is composed of three parts: a satin-brushed bezel, a circular saint-brushed case centre and gorgeous polished gadroons.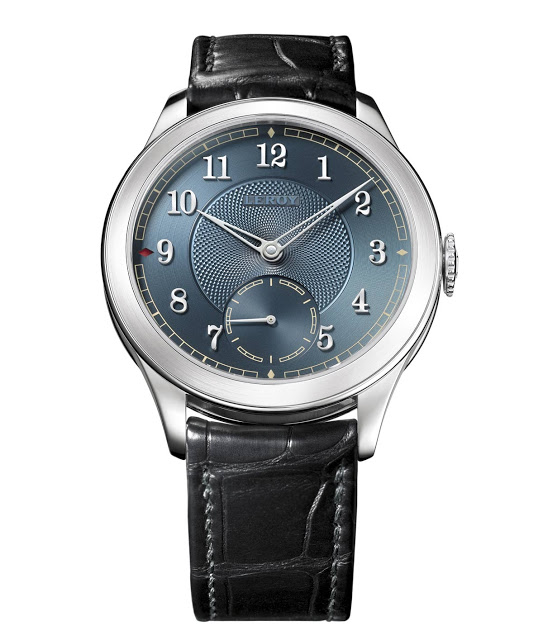 The elegantly refined dial is solid 925 silver and comes in five colour options: LeRoy blue (above), LeRoy champagne, rosé champagne and slate grey. The main hands for hours and minutes are steel open worked based on a historic LeRoy design. The centre of the dial is sensational at every angle with precious hand-guilloche "barleycorn" motifs taking every bit of inspiration from early 19th century LeRoy pocket watches. The dial is kept as clean and legible as possible with the only sub-dial at 6 O'clock that shows the sub seconds in a rather unusual way, they use a "duplex" jump to show the seconds which is named as tribute to Pierre Le Roy and his duplex escapement, the seconds do not run smoothly around the subdial but instead consist of a short jump then a much longer jump. The domed hand-polished gold Arabic numbers are delicately made and sit perfectly just inside the minute track running round hugging the outer edge. This piece also features a power reserve but I'm pretty sure if you do not know where it is you will never spot it as LeRoy have done a perfect job as not to disturb the aesthetics of the dial with a large reserve indicator. but instead it is hidden at 9 O'clock with a lozenge-shaped aperture that reveals the disc that show the 98 hours of power reserve. From 0-60 hours, the disc remains the same colour of the dial, 60-80 the disc switches to white, and beyond 80 all the way to 98 the aperture shows red to signal you need to wind it.
Turning the piece over you are greeted with a sapphire crystal exhibition case back showing the stunning new generation hand-wound L200 movement made entirely in-house by LeRoy Manufacture in Le Sentier featuring an escapement with direct impulse on the balance (1 impulse / 1 oscillation) transmitting constant energy to the regulating organ to ensure superb precision.
The in-house calibre beats at 18,000MHz and features parallel-mounted twin barrels with 42 jewels. Finishing off the movement is stunning with bevelled and frosted bridges. The screw heads are specular-polished and blued from the outset to avoid oxidation. Leroy uses a wooden grinding wheel for polishing the pinion leaves, even the ratchet wheels are finished using the ancient decorative technique called "Mat de Genève" which gives a smooth anthracite colour.
Finishing of the exquisite piece is a hand-sewn Alcantara-lined alligator strap secured with pin and buckle.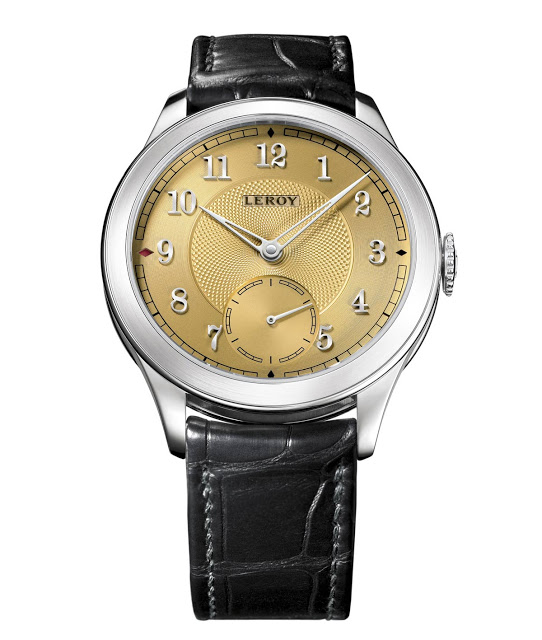 Conclusion
What is there not to like? From its old techniques and looks running through the piece to the outstanding finishing, this is superb. The question is would I like to own one? I'm not too sure as I have largish wrists so even the 40mm would look on the small size, I most certainly own one if it were around 43mm though. For more info, please visit montres-leroy.com
JOHN GALT – CONTRIBUTING EDITOR
John Galt caught the horology bug back in 2010 on his first visit to a London watch show and has snowballed since; John has become an avid writer and blogger of timepieces of all kinds, from everyday timepieces to modern Luxury HauteHorology, his favorite brands being HYT and GreubelForsey that push the boundaries of modern watch-making. John keeps a keen interest in the UK watch scene with their many emerging brands and timepieces. John Galt currently contributes watch related articles for online publications in the UK and USA. You can follow John on Twitter @johng73 Read his articles here.