The people at MB&F probably have an amazing supply of, ahem, herbs, but nevertheless the things they come up with are pretty incredible. This becomes all the more prevalent with them when they team up with other people to create amazing and fully functional sculptures that wouldn't look out of place in a museum of modern art, or a mad professor's laboratory. We all loved it when MB&F teamed up with Reuge to make their Music Machines, sculpted comb music boxes with sci-fi designs, and we've loved it when MB&F has worked with L'Epée before to create things like the Starlet Machine, a huge clockwork spider and the friendly looking robot named Sherman.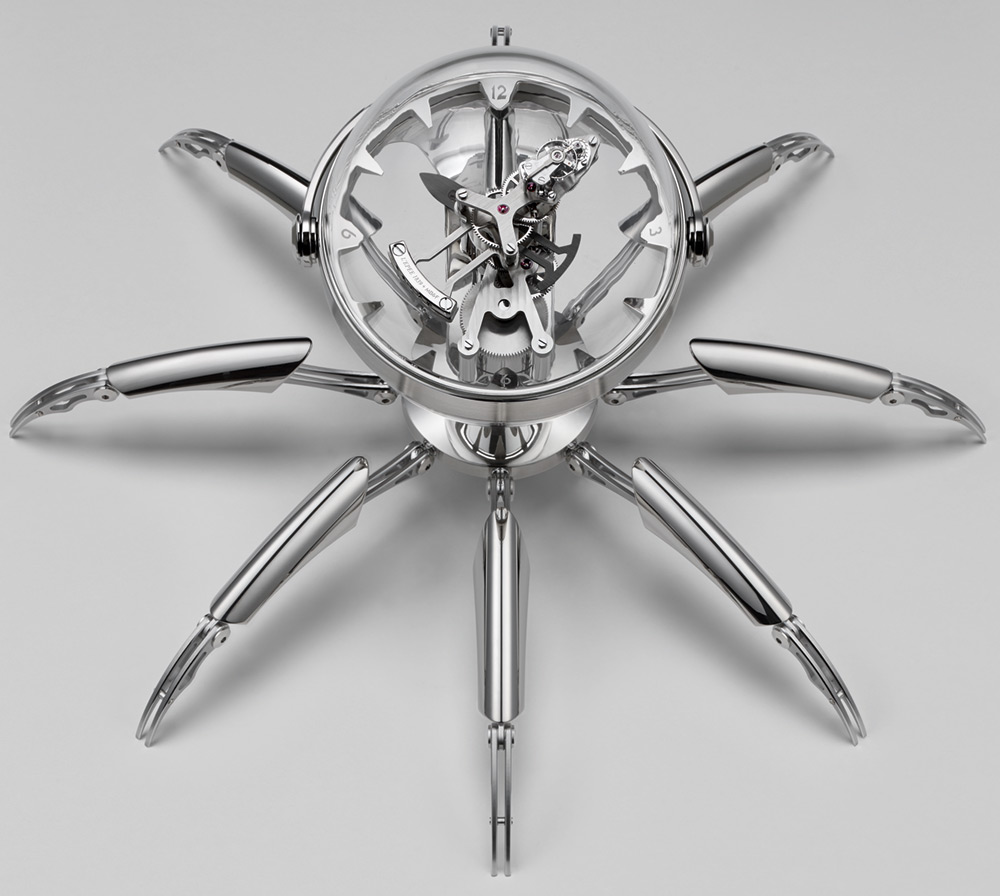 If you're a fan of octopi (yes, that is the plural form of octopus), nature in general or you just like fancy looking clocks then this one delights. Now, when MB&F and L'Epée get together they usually have a theme for the finished product and this time it was no different. In actual fact, it's supposed to be reminiscent of the Bathysphere from James Cameron's 1989 film The Abyss, but you can't help feeling it's a little more like a cartoon jellyfish.
All of these pieces have both form and function in mind and it is the same with the Octopod too. For instance, you can change the position of the legs on the Octopod via a button, each leg has two positions either the standing position or the crouched position which tilts the entire body of the piece forwards, making it easier to see when sat down. The large parts of the legs also have three different colour options, either polished silver and mirror polished black or blue PVD.
The mechanical layout of the Octopod is actually somewhat similar to that of the Freak watch by Ulysse Nardin, in that the escapement and its various components are mounted to the minute hand. This movement however was designed and created from scratch by L'Epée, in fact the whole thing is L'Epée as MB&F made the concept and designs. Once you've figured it all out reading the time is a little easier, underneath the escapement/minutes hand is a blackened hour hand, and looking closely will reveal that there is actually a five minute scale around the edge of the sphere, as well as hour markers at 3, 6, 9 and 12 O'clock.
Each of the colour variants has a limited production run of 50 and the price before taxation is 35,000 Swiss Francs, bargain. For more info, please visit mbandf.com