So, LVMH's week of releases has happened and next month shall see Watches & Wonders Geneva display the best from the biggest names in the industry. One group of companies that won't be there is the Swatch Group, which intends to do things its own way. As such, all the brands are releasing their watches by themselves and the most well-known of all the Swatch Group brands, Omega, have today released their 2022 novelties. Here's our big guide to all of them.
The headliners
The new Seamaster Planet Ocean Ultra Deep
An entirely new collection of watches rarely comes out, but that's what we have here. Inspired by 2019's watch of the same name, these watches all have incredible depths resistances of 6000m/20,000ft. That's ten times that of a standard Planet Ocean, five times that of the beefy Seamaster PloProf, and one and a half times that of the Rolex Deepsea Sea-Dweller. They all measure 45.5mm in diameter and come on either Omega's new O-MEGASTEEL, a new alloy of steel which is meant to be harder, more scratch-resistant and better at reflecting light, quite like Chopard's Lucent Steel. There's also titanium. There are three colourways available for the steel model (including one that looks a lot like a Deepsea), while the titanium one looks a lot like the 2019 watch. All are powered by the Calibre 8912 and have a retail price of just over USD11,200 in steel or USD12,300 in titanium. Omega's website currently says there's a waiting list for these.
The Seamaster Aqua Terra has a collection of new dials
For 2022, Omega has moved away from one of my favourite dials in the industry. The Teak Concept dial is what makes the Seamaster Aqua Terra in my eyes, it's why it looks so classy. However, the new watches which feature sunburst finishing should still catch the light well, they also seem to be fully polished rather than a combination of brushing and polishing. Omega is offering two case sizes, 34mm and 38mm, and each has a set of unique dial colours. The dials of the 34mm watches are "inspired by sailboats" and come in either Sea Blue, Lagoon Green, Shell Pink or Lavender. The markers have apparently been shaped to resemble the hulls of sailboats. The 38mm watches have more earthy tones with a choice of Sandstone, Terra Cotta, Bay Green, Saffron or Atlantic Blue and feature the classic Aqua-Terra markers with a trapezoidal date window. Both sizes feature the Calibre 8800, and both sizes are priced at USD6,000.
The historic revival-watch the Speedmaster '57 has itself been revived
Without wishing to be rude, who actually remembers the Speedmaster '57? I remember there being a campaign with George Clooney for it a few years ago, but that's it, I don't know of anyone who owns one, either. Omega must have felt the same way as they've given the watch a new breath of life for 2022. The Speedmaster '57 has always been about heritage and harkens back to the days before the Speedmaster Moonwatch took over all the press, it's a more classic look with a broad arrow hand and a twin-subdial layout. For 2022, the watches have been revamped slightly with new dial colours, a slimmer 40.5mm stainless steel case and the hand-wound calibre 9906, which is very similar to the 9908 we saw in our recent hands-on with last year's Speedmaster Chronoscope. Will 2022 be the year the Speedmaster '57 desperately needs? Prices are around USD8,300 depending on whether you opt for a strap or bracelet.
The follow-up acts
The Seamaster Diver 300m is now in green
Green is the colour of the current moment both in watch colours and environmental causes. Given the success of other green watches, it's not so surprising that Omega wanted a slice of the pie, and who can blame them? The Seamaster Diver 300m comes with a green wave dial and a green ceramic bezel insert. That's about it, though hopefully, they can keep up production of this green one. It still features the venerable Co-Axial calibre 8800 which is on display around the back and has a diameter of 42mm. Omega has it priced at USD5,400 in a stainless steel case on steel bracelet or USD5,100 on a green rubber strap.
Gold Speedmasters make a full-time return
For those who love the appearance of gold, and for those whose first name is Auric, the classic Speedmaster Moonwatch is now available in Moonshine gold with either a Moonshine gold or PVD green dial. Moonshine gold is Omega's newest proprietary alloy which has a yellowish colour and a high resistance to colour fade over time. The watches both measure 42mm and come with either a solid Moonshine gold bracelet or a leather or rubber strap. They also come with a hand-wound 3861 calibre and cost from USD26,400 on leather or from USD34,800 on bracelet, depending on your dial choice.
The recently-revived Constellation now comes in 41mm with steel and ceramic dials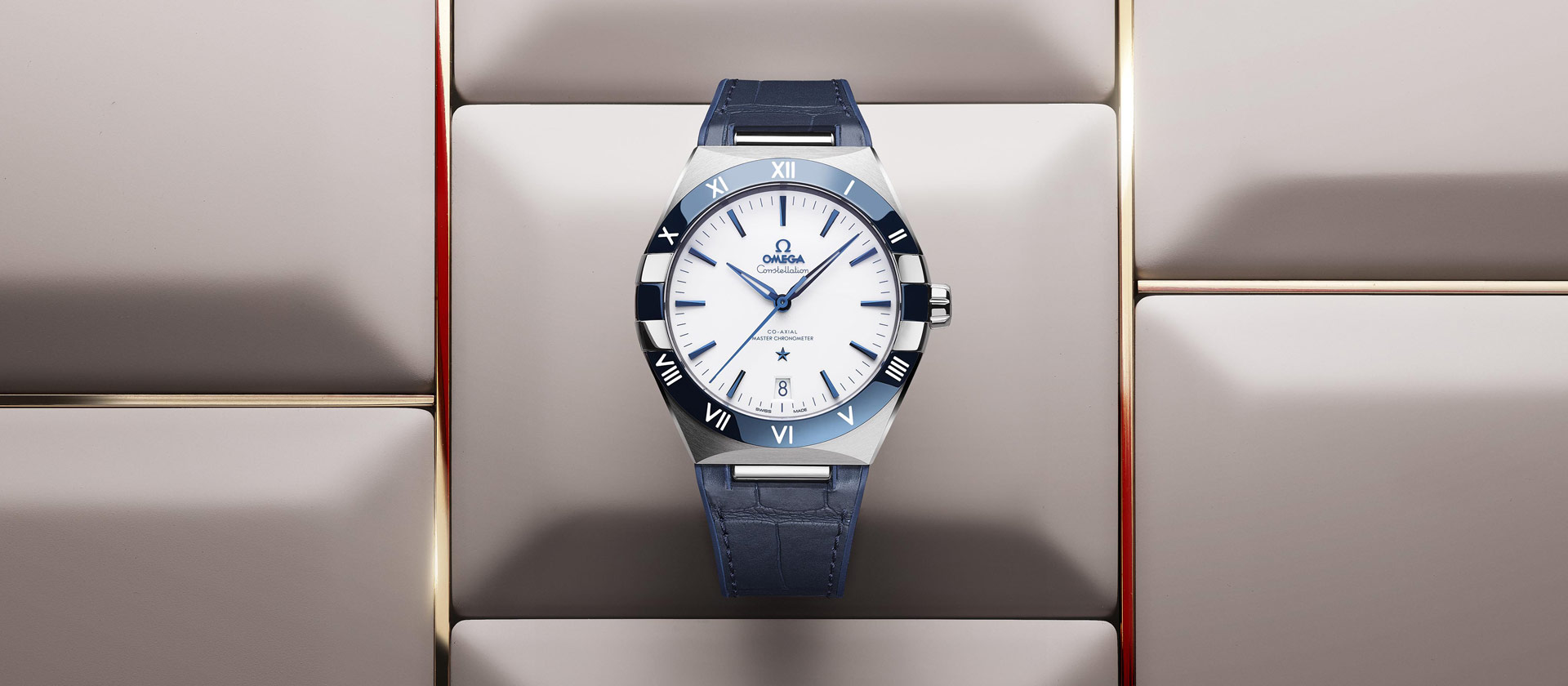 The Constellation range is a truly underrated gem of Omega's lineup. Often overshadowed by Speedmasters and Seamasters, the Constellation line ticks away happily as Omega's alternate choice for those seeking a smart/casual sports watch. For 2022, we get some new case, and dial combinations, including our favourite, a blue ceramic bezel with a white dial and blue markers. That model costs USD6,500. All other models, including the red dial, green dial, and grey dial all have gold accents and cost USD8,700. All watches feature the calibre 8900 and offer a great choice for those wanting something a little different.
For the ladies, new Constellation models arrive in 28mm or 29mm cases
These last watches are welcome new additions to the Constellation collection as well. Omega uses pastel colours for the 28mm quartz models and combines diamonds to make fun and interesting watches. The pink and blue dials come with classic markers, while the green and purple models come with applied diamonds. They cost USD2,900 and USD3,700 respectively. The 29mm models are automatic and come in a variety of case materials and a multitude of diamond options. The key selling point for these models is the use of aventurine, a form of quartz, used as the base for the dial. This gives these watches striking appearances, which the use of gold and diamonds only accentuates. These watches are automatically powered by either the 8700 or 8701 calibres depending on whether the bridge and rotor are gold. Their prices start at USD10,300 and go all the way up to USD20,000.
That concludes Omega's most recent releases, although there will undoubtedly be more throughout the year.
Visit Omega here.