Breitling is sure to make a show with the preview of its Colt Skyracer watch for Baselworld in 2017. The amazing features of this piece have already been leaked and have everyone excited as can be for its release. This luxury watch comes to the buyer at a reasonable price, considering the fact that this is a luxury timepiece, and also comes with a sky-high number of features. Getting your hands on this new, out of this world piece becomes the next objective for all of those serious watch collectors.
The Colt Skyracer is made of a beautiful, very durable, Breitlight carbon material case which displays a classic, very legible, dial to tell not only the time, but the date, as well as displaying an exterior chronometer as well. This piece is beautifully finished in its much intended carbon black, which gives the piece it's very distinguished, hard-nosed, and carbon racer look.  The super-quartz movement and the eight year battery life of this piece continue the durable tradition of all Breitling timepieces. This piece is water resistant up to 100 meters, or 330 feet, which is a huge plus to the adventurous type of people who want a timepiece to wear. This piece is also shock resistant and scratch proof for those of us who like to take our pieces through Hell and back. An interesting feature of this piece is the black carbon strap that has a quick-release system. The strap can dually function as a measuring tool.
As the look of this piece may suggest, aviation professionals and high-risk activity-goers are big fans of Breitling pieces, and the Skyracer seems to fit in this family perfectly. Most quartz movement watches do not even compare to the mechanics, durability, accuracy, functionality, and logistics of this timepiece, which is nothing new to the Breitling watch family.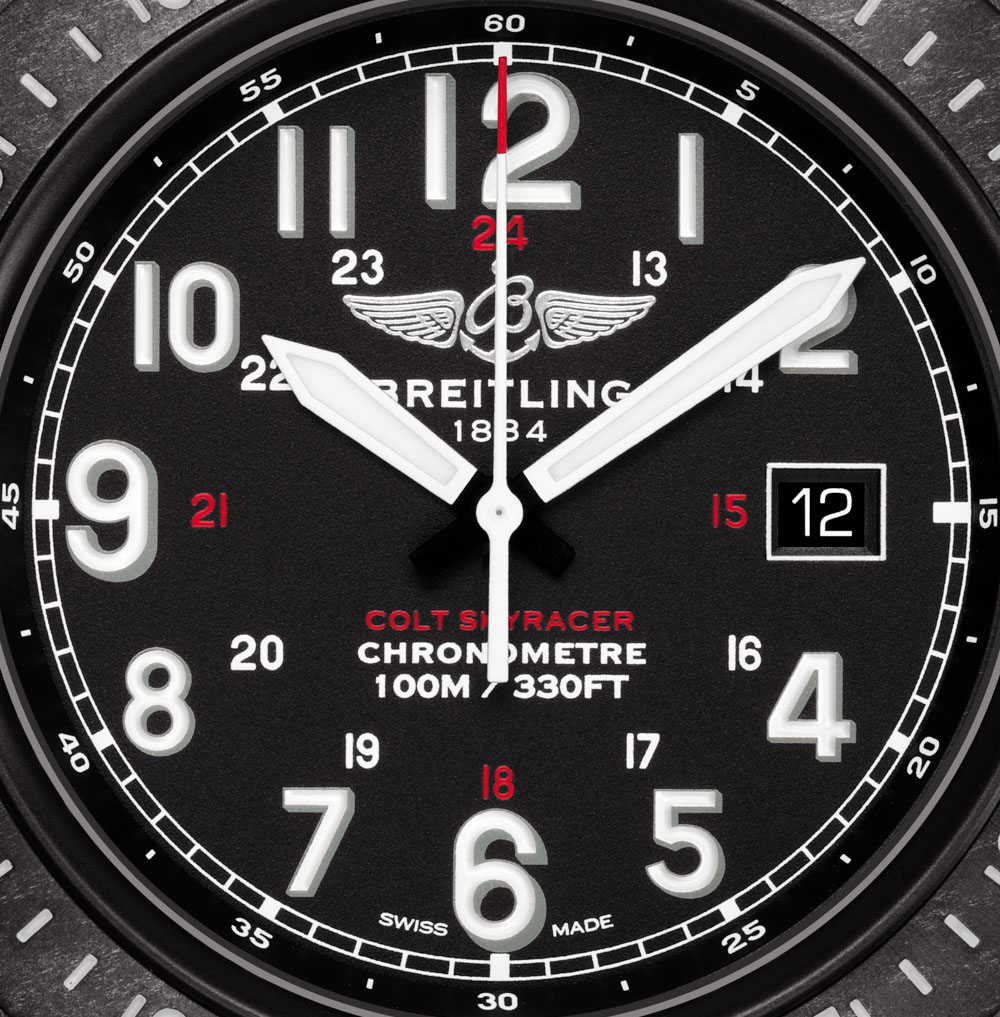 The dial displays in big, bold, bright, white letters a Breitling inscription as well as the Breitling symbol just below 12 o'clock. In this same exuberant font, the numerals of the dial and the chronometer are displayed. The words "Colt Skyracer," are written in red lettering just above 6 o'clock. This color change is just dramatic enough to stick out on the piece overall. Going along with this pattern, the seconds hand is white with a red tip, almost as if it symbolizes being the adventurers compass through time.
As mentioned above, this Breitling piece is fairly affordable, with a projected release price of $2,000. For a luxury watch of this caliber, that price tag is more than sufficient and worth every penny. Be sure to catch this piece at Baselworld in 2017, and don't miss its release later this year. For more info, please visit breitling.com