We at WristReview love all kinds of watches, from big chunky sports watches to not-so-svelte yet stunning complicated watches all the way to watches that we aren't even sure anyone would definitely wear. One category that we do love is slimline dress watches, for us, we don't mind whether they have two hands or three, or whether they feature a date aperture or not. It's all about the way the watch wears and how it looks and it must be said that the new XPS Twist QF Fairmined (let's just abbreviate that to XPST shall we?) comes out fighting.
This one definitely falls into a class we like to call the 'ultimate' dress watch, the watches in this group are the best of the best. Things like the Patek Philippe Calatrava are in here, as well as the Vacheron Constantin Patrimony, Breguet Classique and you could say the Jaeger-LeCoultre Reverso if you like rectangular watches. We are very pleased to add the new XPST to the lineup as well and there are a few key reasons for this decision.
Aesthetics
Just look at it, even our pictures cannot do that dial enough justice. The circular graining on the dial is a very original design and one that makes a nice change from the more 'standard' sunburst guilloché or enamel dials. This special type of sunburst dial is inspired by the raw structure of gold nuggets that are extracted from the mines that are then used to make watches like this one. We also like the off centre crown which is something quite hard to do if all your other movements have them placed at the more traditional 3 O'clock position. When combined with the off centre small seconds dial near 7 O'clock it makes it stand out without shouting about it to the world.
The 40mm case is manufactured from Fairmined rose gold which I will discuss a bit later on, however at only 7.2mm thick it's clear to see the level of work needed to make it this attractive with these svelte proportions. When contrasted with the slate grey dial the rose gold stands out without making the dial itself seem boring. One thing that plays to Chopard's advantage in this regard is their case finishing, as its centre band of the case is now brushed instead of polished. This brushing also extends between the lugs as you'd expect on a wristwatch of this calibre, meaning that whichever angle you observe the watch from some detail stands out marvellously.
Construction
Observe an L.U.Chopard watch and you'll notice the key details that go into them to create the watch to this standard. L.U.Chopard has an advantage here as well, as the production of their watches is quite low at somewhere between 4500 to 5000 pieces on average per annum, that's A. Lange & Söhne levels so they can use this extra time to focus on making sure every piece is made perfectly. After the boring part, the cutting of each material to the correct shape (which is done by CNC in this case) is finished, each little piece is adjusted and finished by hand by one artisan, depending on the finish which is Côtes de Genève in this case. Only that one member of staff may do that finishing and they do it for every piece that requires it all day long until the parts are ready to come together as one unit. The movement makes use of twin barrels to give this watch a lofty 65 hours of run time, but thanks to a gorgeous two-tone micro-rotor it's unlikely you'll need to use the crown to wind it. The L.U.C Calibre 96.09-L is a gem to behold in the metal.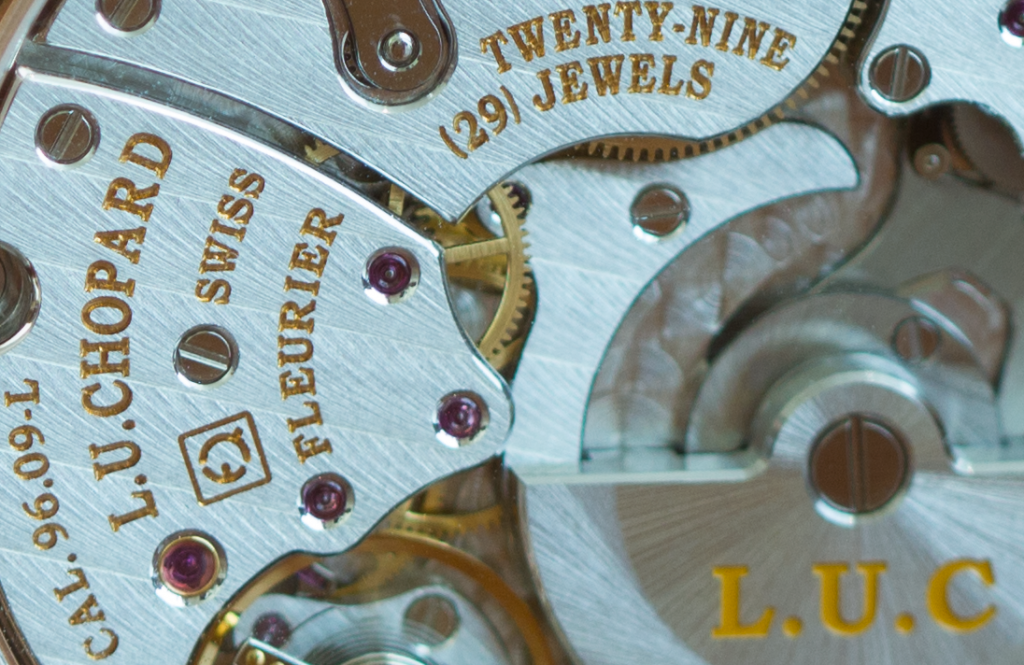 All the while this manufacturing process is happening a mysterious figure is looking over Chopard's shoulder. No, it's not the grim reaper, but instead the friendly folks at the Foundation Quality Fleurier. This is the hardest test in the business to receive a certification from, partly because your watch either passes or fails as there is no in-between. Also, every part of the watch must be Swiss and accounted for in the invoices from the watch company, the materials should also be to a high standard so no plastic or cost-cutting methods are found here. There must also be visible decoration on the mainplate and there must not be any burrs or sharp angles, there are many more decoration requirements which you can read about on their website. Each watch must also past a test known as CHRONIFIABLE, which means the watch is subjected to actuations of the crown, pushers, and bezel if appropriate, the watch will also be subjected to magnetism, shocks and water resistance. Finally, over 24 hours the watch will be subjected to the hardships of daily life by a specialised machine which mimics movements such as walking, running, taking off a coat and clapping your hands, it must be accurate to within 0 to +5 seconds a day. A watch must also be COSC certified before taking this test. If a watch can withstand all that, it receives a certificate to prove that it passed the best test in the business.
Ethics
While it's all well and good that we go on and on about these lovely watches and clocks and such, it's not good that most in the industry don't even consider where the raw materials come from. A solid 18K gold Rolex has been made from a lot of materials, all of which require intense operations on a mass scale to recover from the Earth. The problem is that not all involved in the process of turning gold ore into ingots and then into watches get paid fairly like they should. Consider companies such as De Beers, which although involved more in the recovery of diamonds than ores and such, has faced enormous criticisms for the way it behaves in the recovery process and the damage it does to the environment and human life too.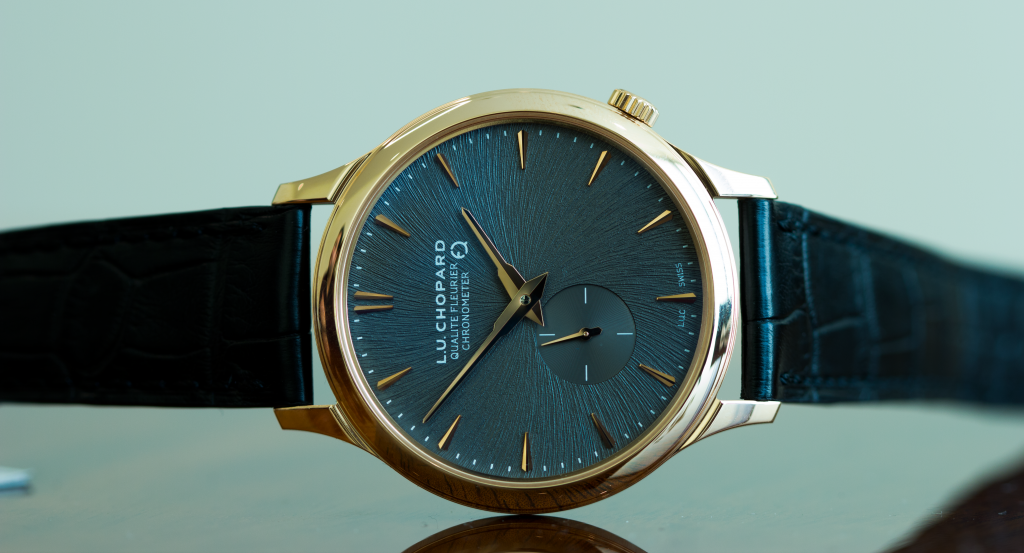 This is where the term 'Fairmined' comes in, something that Chopard was actually the first to use on their watches. Like Fair-trade chocolate or bananas, Fairmined gold has been recovered in a manner that benefits all, making sure that everyone gets paid and that there is no price fixing or cartels involved. This is the sustainable thinking that more high-end companies need to use. While higher volume manufactures may struggle to meet this, I'm honestly baffled as to why more high-end manufactures don't use this, it would get them extra brownie points for sure.
A Summary
This watch is so thin on the wrist I forgot I was wearing it at the time, it was only when Jovan pointed out I'd left my daily wear on the table that I noticed, so that can only be a good sign, right? A thin watch that isn't plain or dull, even to some which aren't really interested in horology. I showed a few people I know the pictures of this and they all agree that it's stunning, so congratulations to Chopard for this watch; a rose gold wonder with a supple brown leather strap and a micro-rotor (insert a small squeal of delight, I love a micro!) with a comfy buckle and a gorgeous dial. It's a shame they only made 250 of these beauties, and it's shame I couldn't keep one, oh well, there's always next time right? For more info, please visit chopard.com