We all love Cartier, even if not for their watches but rather their extensive collection of high-end jewellery or their tantalizing fragrances, I personally enjoy Santos for men myself, but the others are nice too especially if you like quite a thick and almost woody fragrance, not as spiced as Thierry Mugler but rich and powerful in its own way. Then again, if you do like Cartier's watches (particularly their high-end complications) then you're in for a treat.
Cartier Crash Skeleton Rose Gold
To be honest, I wouldn't be surprised if Cartier discovered a secret way to communicate with Salvador Dali on this one, it's definitely his style. Although it appeared as a ladies' watch back in 2012, Cartier really grabbed our attention at SIHH this year with their men's version in solid platinum. The in-house made 9618 MC calibre used in this watch has been built around the case, this time, usually, it's the other way around for watches. All of the parts have to be laid out and connected in a vertical manner due to the way the case droops from top to bottom. We applaud Cartier for their go-at-it-and-hope-people-love-it attitude, the weirdness of the watch makes more sense because of the skeleton dial, the case of the watch measures 28.15mm wide and is 45.32mm tall, so it's not as small as you were expecting. The price of this crash for your wrist is $68,500.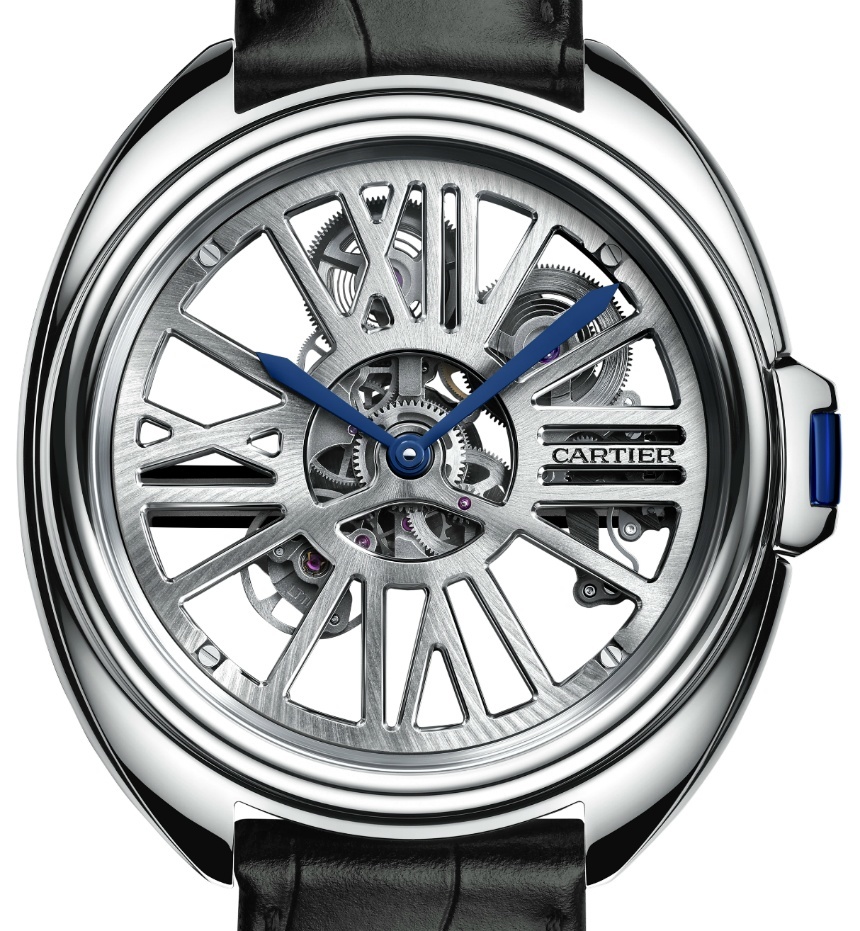 Cartier Clé de Cartier Skeleton
Another version of a watch which premiered earlier this year, the Clé is Cartier doing what it does best all over, it's re-inventing itself every few years. Sure lines like the Ballon Bleu and the Calibre are great pieces and they look fantastic, but the French design house isn't prepared to sit on its laurels and let others catch up, in the true sense of European fashion, the trends change constantly. To be completely honest with you, I am not a huge fan of the cushion shaped Clé, the shape is great for some and not so for others. I will agree though that adding this skeleton dial to the watch gives it a charm none of the others have. Another feature I really like about this watch is that it's actually an automatic winding piece, but because the rotor is skeletonised from the front it's invisible, here's hoping we'll be able to get a hands-on with this piece at some point. The 41mm palladium cased Clé will cost $61,000.
Cartier Rotonde De Cartier Earth & Moon
Cartier's complex watches are always works of art, my personal favourites being those which feature tourbillons. Their mystery tourbillon watch is one, the way one of the most beautiful complications can be suspended in mid air. I also like the Astrotourbillon watch which makes use of a tourbillon as a seconds hand. Anyway, the 9440 MC Calibre which was manufactured in house is giant, it's actually 40mm in diameter, and remember folks that's just the movement. The Earth is represented by the main central subdial which displays the hours and minutes as well as a 24 hour indication disc. The moon is represented by another disc which is covered by meteorite, believe it or not is actually a moonphase indicator. A pusher at 4 O'clock can advance the moonphase to cover the tourbillon, pressing it again will set the disc to move in time with the phases of the moon. This watch is presented in a 47mm case which is 16.65mm thick, made of rose gold and is limited to only 15 pieces, so chances are we won't get a hands on which is a shame. If you can find one (and if you can afford it), this watch will cost $235,000.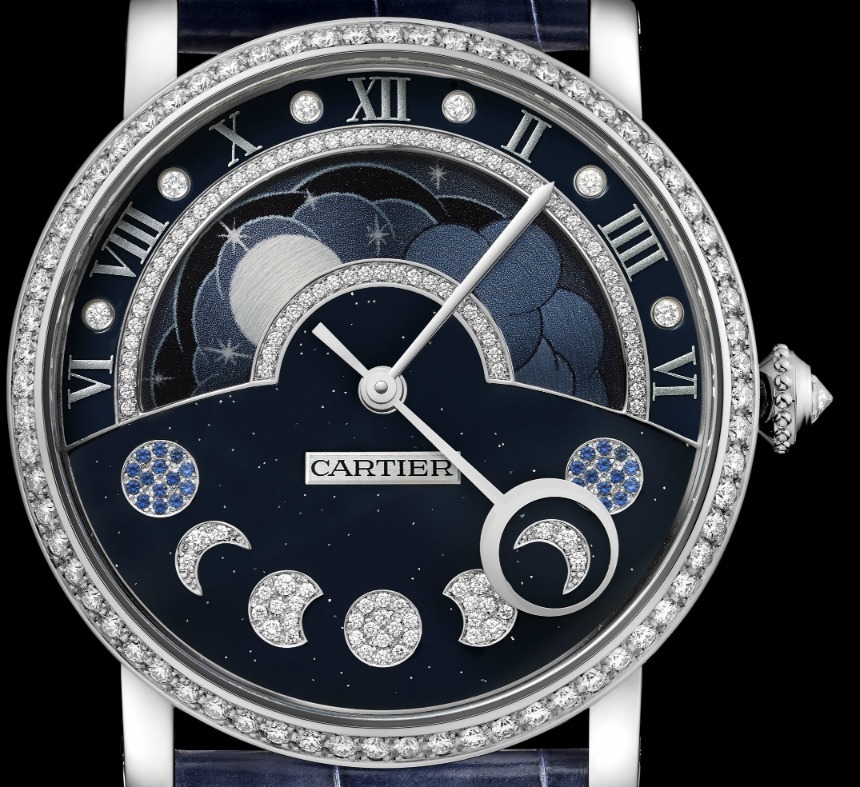 Cartier Rotonde de Cartier Jour et Nuit (Day/Night) Retrograde Moonphases
Such a long name for such a beautiful piece. I must say, even though I'm not a woman I really like some of their watches, particularly the mechanical pieces from companies such as Gucci and Chanel. Cartier is another of those houses which focuses a lot on design, but they are also very good with their movements and know how to make them. The Jour et Nuit watch takes the ideology of a complicated man's dress watch and make it wholesomely feminine by adding diamonds to the bezel and the dial itself. Another trend which seems to be approaching us is the trend for ginormous indicators, this is when around half of the dial becomes an indicator for the heavenly bodies, in this case the sun is on the disc, making it an AM/PM indicator. A fascinating complication on this watch is the retrograde moonphase indicator, less understated than the traditional circular moonphase, the retrograde hand sweeps back and forth, indicating the phase of the moon. Featuring an in-house made caliber 9912 MC, the Rotonde de Cartier Jour et Nuit will cost $94,000.
Cartier Panthères et Colibri Power Reserve
Some really do crave that little extra from their watch. As well as making a feminine styled dress watch, Cartier has added an impressive panther cub to the dial and covered it in 270 brilliant cut diamonds. This cute creature has been the symbol of Cartier for some time now, the panther being a strong, mysterious yet remarkably beautiful animal while the cub embodies a daring and imagination that adults simply do not possess. This daring for design has lead Cartier to create an on-demand power reserve indicator, this means that the power reserve indicator will only show the amount of power left when a pusher is activated. On this watch, the power reserve indicator takes the form of a hummingbird which the panther cub chases. How far the bird travels towards 12 O'clock shows how much power is left in the watch, the in-house 9915 movement in this watch runs at 4Hz and will last for at least three days. The watch is $179,000, but this jumps to $381,000 for 314 radiant diamonds to be placed around the 42.75mm white gold case.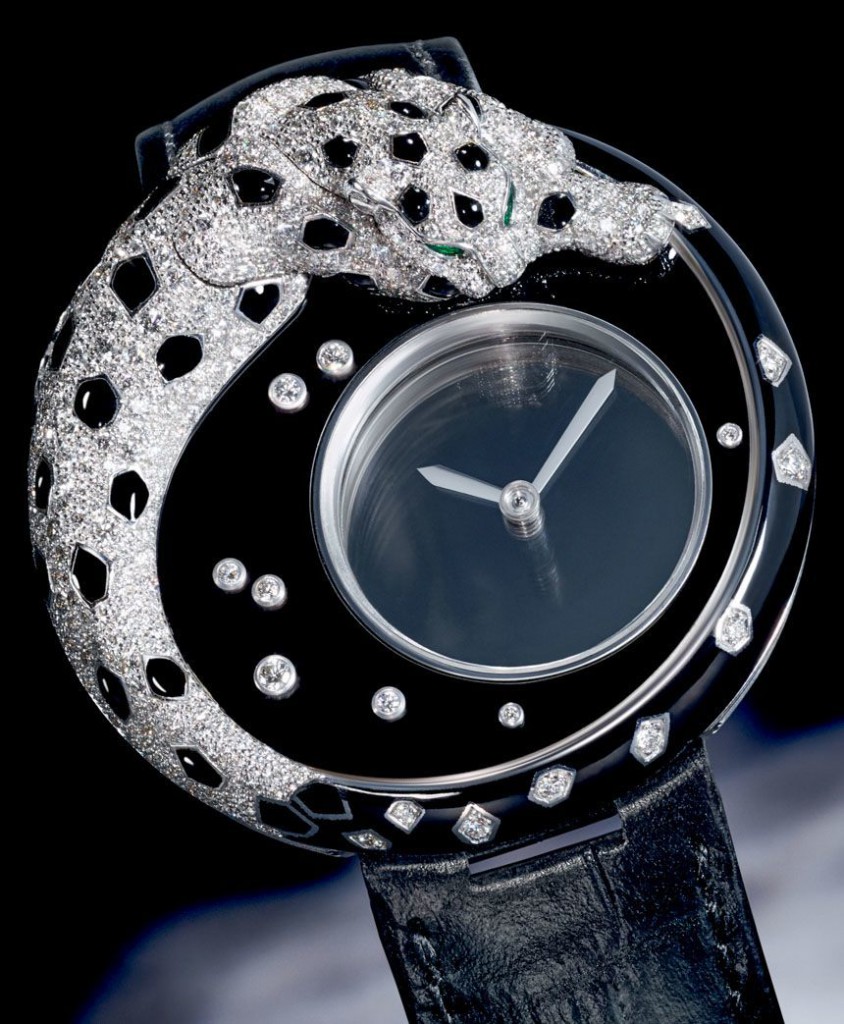 Cartier Panthère Mystériuse
It would most certainly appear that the female market enjoys the look of Cartier's famed Mystery watches, but is jealous of them too as it does not have its own version, until now. The white gold case has been set with 533 glittering diamonds and 2 pear shaped emeralds to represent the eyes of, you guessed it, a panther cub. The cub's attention has been drawn to the see through time indicator in much the same way a real cub's attention would be drawn to its reflection in a small pool of crisp, clear water. The in-house made 9981 MC calibre is 4.61mm thick and is squeezed into the side off the 31.9mm movement as most of it is taken up by the mysterious floating hands. I'd just like to add that a Mystery watch with a micro-rotor would be quite a cool thing to see, but back to this watch in particular. It beats at 4Hz and will last for around 2 days before needing a re-wind. The watch will cost $180,000 but those diamonds and emeralds bring that up to $364,000.
For more info, please visit cartier.com
HARLAN CHAPMAN-GREEN – CONTRIBUTING EDITOR
A keen bass guitar player, Harlan enjoys all the perks modern watchmaking technologies the industry has to offer. Although you might catch him sampling Omegas or the odd Rolex, Harlan loves all things Haute Horology, with his three favourite brands being Breguet, A.Lange & Söhne and Vacheron Constantin. He hopes to study timekeeping more in depth someday and will never be able to thank his father enough for introducing him to the industry. You can follow him on Instagram Read his articles here