Richard Mille is known for doing two things, making extremely high end watches with intelligent designs using innovative materials and also partnering with just about anyone of influence to make their watches. This time, the new RM 11-04 Automatic Flyback Chronograph is strapped to the wrist of Roberto Mancini, the manager of the Italian national football team. For our readers from the USA, 'soccer' is the type of football played, rather than American football. Games will typically last 90 minutes with added time if needed. Roberto Mancini has worked with Richard Mille before to create a chronograph watch that can effectively and accurately time a match, but now he's back working with Richard Mille to create this new and more colourful version.
The principal of the watch is to time a football match based on two halves of 45 minutes. If the scores are even, extra time is allotted to allow for one side to hopefully score a point. Depending on the league rules it may be that there is a set of 15 minutes at the end of both halves, or in some cases it can be one set of 15 minutes at the end of the full 90-minute match. Either way, Richard Mille has created a watch that is capable of tracking the match plus extra time.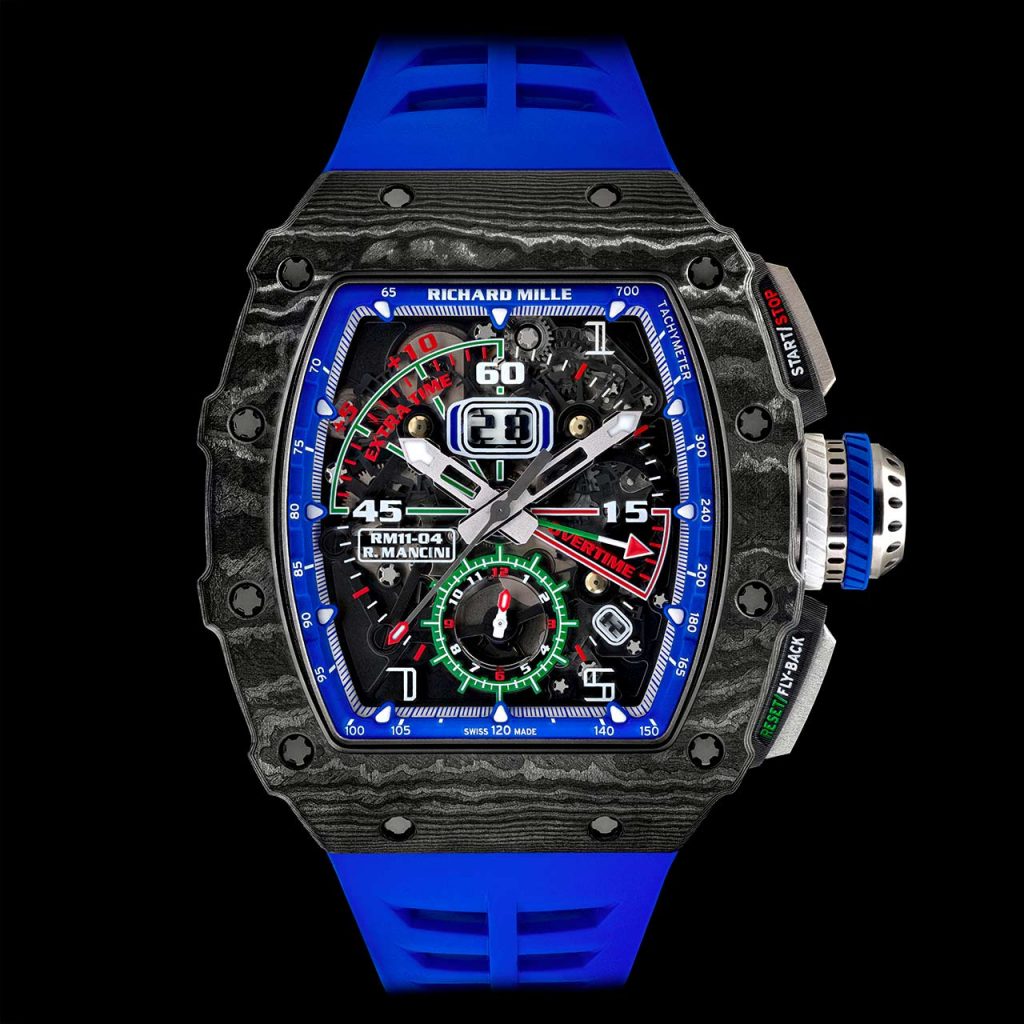 If extra time is needed, the user activates the flyback function of the chronograph, assuming it has been running for the length of the match. Activating the flyback function after the 45 minutes allows the wearer to accurately record the 15-minute extra time slot, with an additional 5-minute segment on the dial for even more time. It's a little confusing to read about, but seeing it in action would make a lot more sense.
The automatic winding calibre RMAC3 features a flyback chronograph and an annual calendar function which automatically adjusts the date wheel depending on the number of days in the month (excluding February). Also fitted are RM hallmarks such as an automatic winding rotor with variable geometry which is adjusted by the manufacturer to suit the wearer's lifestyle and protect the watch. A variable inertia balance wheel also helps to reduce strain on components over a long time, and there are two barrels to keep the watch running for a total of 55 hours and reducing to 45 hours with the chronograph running.
This is all mounted inside a Carbon-TPT case which is unique to Richard Mille. It measures in at 49.94mm x 44.50mm x 16.15mm and features the colours of the Tricolore, the Italian flag, including a blue strap and inner case flange on the dial side, along with red and green accents on the dial itself. The price of one of these complex beauties is €201,300.
Visit Richard Mille here.