This is the point where I wonder whether industrial espionage is still a thing that happens and whether the Japanese are great perpetrators of this. This is not an allegation of such, but you can't help see the similarity between these two new editions and the updated Seamaster Planet Ocean line with its orange bezel inserts and BIG case designs which are there to make you feel good about yourself. I am, of course, referencing Omega's Planet Ocean reference 215.90.44.21.99.001 which shares the same colouration as this but without the whole 'European' special edition theme. It turns out this is a special edition, but I only found that out thanks to the articles on other watch blogs. We didn't get any press information about this at all, which makes it seem like a bit of a botched job, like going on to Yahoo Answers to diagnose your illness because the wait at the GP's is too long and you need meds now.

With a colour specification called 'Dawn Grey' the Turtle and Samurai watches are quite decent looking, though I resent the idea of the name Dawn Grey, it's supposed to be reminiscent of a European sunrise over the sea. I don't know how many seas here are grey, but my guess is not many leading this watch to have vibes more reminiscent of Margate than Monaco. They're both limited edition watches too, limited to just 2018 pieces each because, well, it could be anyone's guess I suppose (okay, that was sarcasm), either way, that means Seiko is making just 4036 special edition watches which is similar to Richemont's idea of a special edition piece.

Still, you get a nice looking watch which doesn't cost a limb to purchase, and that's the main point of Seiko watches. It's easy for me to sit here and wax lyrical about how the Seiko is a bit of a misfit in the real of watches that we're used to, and that's because it is a misfit. Remember, most of the watches we cover on here cost thousands to purchase, the price of the Samurai limited edition is €470, and the Turtle is €530. These are not high-end luxury sports watches. They're basic, mechanical go-anywhere sports watches that'll last a lifetime and then some. They're not safe queens destined to gather dust and be forgotten about, the value in these watches is the scratches they have and the stories to go with them. Passing them down from one generation to the next, their first mechanical wristwatch, these are all the things that mechanical Seiko watches like these are arguably some of the best at.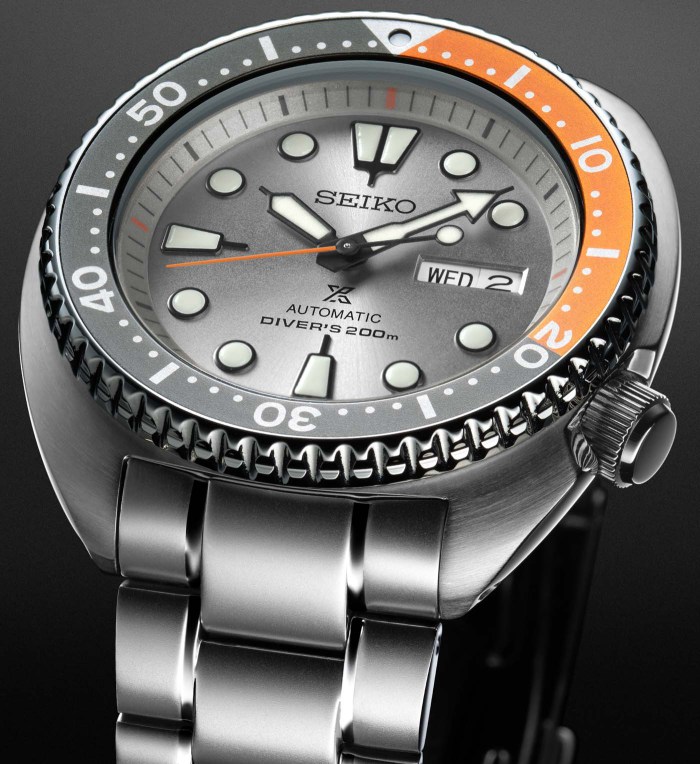 Concerning technical specifications, the Samurai SRPD03K1 is 43.8mm in diameter, 13.4mm thick and made of stainless steel with a Hardlex crystal and diving bezel. The water resistance is 200m and the no-frills 4R35 calibre runs at 3Hz and offers an okay-but-definitely-not-long-enough power reserve of 41 hours. Inside the Turtle SRPD01K1's 45mm x 13.42mm stainless steel case is the 4R36 movement which is the same in every discernable way as the 4R35, but it adds a day to the date function, why that's important I don't know. Both of these movements have an upside, though, they are slightly antimagnetic, like, very slightly, they offer resistance of magnetic fields up to 4800 A/m. A Rolex Milgauss is 16.6 times more antimagnetic with a resistance of roughly 79,577 A/m.

But, then again, you pay the price for a Milgauss, which is way into the thousands, these are cheap and great for throwing around all over the place. I couldn't see these being ideal in a one or two watch collection, maybe even a five-piece collection because I'd rather not wear a watch for strenuous activities. I think if these weren't paraded as special editions it would've saved Seiko a lot of face. Let's not beat about the bush here, these watches are good because they are cheap, increasing the price by even a hundred Euros would offset things too much. Wear it and enjoy it for what it is, try not to compare it to other watches like we've done here and you'll get loads of fun out of it. It's joyously simple. Visit Seiko here.