The air smells good this year specially if you know what to expect when it comes to our favorite watches out there. SIHH 2017 is coming with a certain excitement and the same can be said with the refreshed line of Audemars Piguet's Royal Oak Perpetual Calendar. This beautiful watch has seen awesome changes like a stainless steel version released back in 2015 and a gold version released in 2016. Guess what, since black ceramic is in the limelight, the Royal Oak Perpetual Calendar now comes in Black Ceramic for the SIHH 2017. Now you may ask, what is to be excited for since a lot of watchmakers have already been doing their lines with ceramic, well this is the Royal Oak Perpetual Calendar we are talking about, not just your typical round the mill watch.
Being made in black ceramic, there's a ton of reasons to be grateful like the amount of time this watch has undergone through the meticulous hands of watch craftsmen. For the bracelet alone let this sink in, if it takes six hours for a stainless steel Royal Oak bracelet to be processed, imagine the thirty hours required to machine, polish, hand-finish, assemble and control a black ceramic bracelet. Working on ceramics is a difficult job because achieving the same consistency is almost impossible and for mass production this is is such a big no that's why we get hand-made ceramic watches. It's all worth it in the end because we get an almost indestructible watch, well almost because in reality everything has their limits which only time can tell, such a coincidence.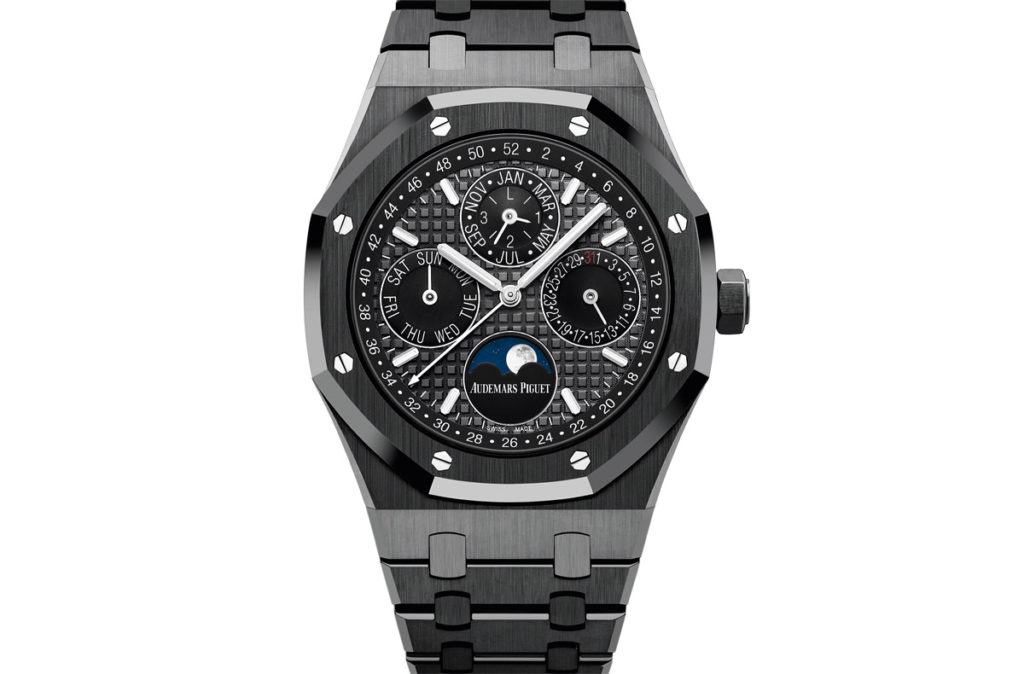 As for me, I have always liked the design of the Royal Oak Perpetual Calendar, it looks not only classy but very trendy as well. Now that there is more reason to like it because of it black ceramic make, I don't know what to say anymore. For one, it's now virtually non-scratchable plus the equally strong glare-proofed sapphire crystal face and case back also make it tougher. If you think the 41 mm case is small, the case design offsets this observation plus at this caliber, I prefer a smaller one. It's great for dressy occasions and looks darn sporty too.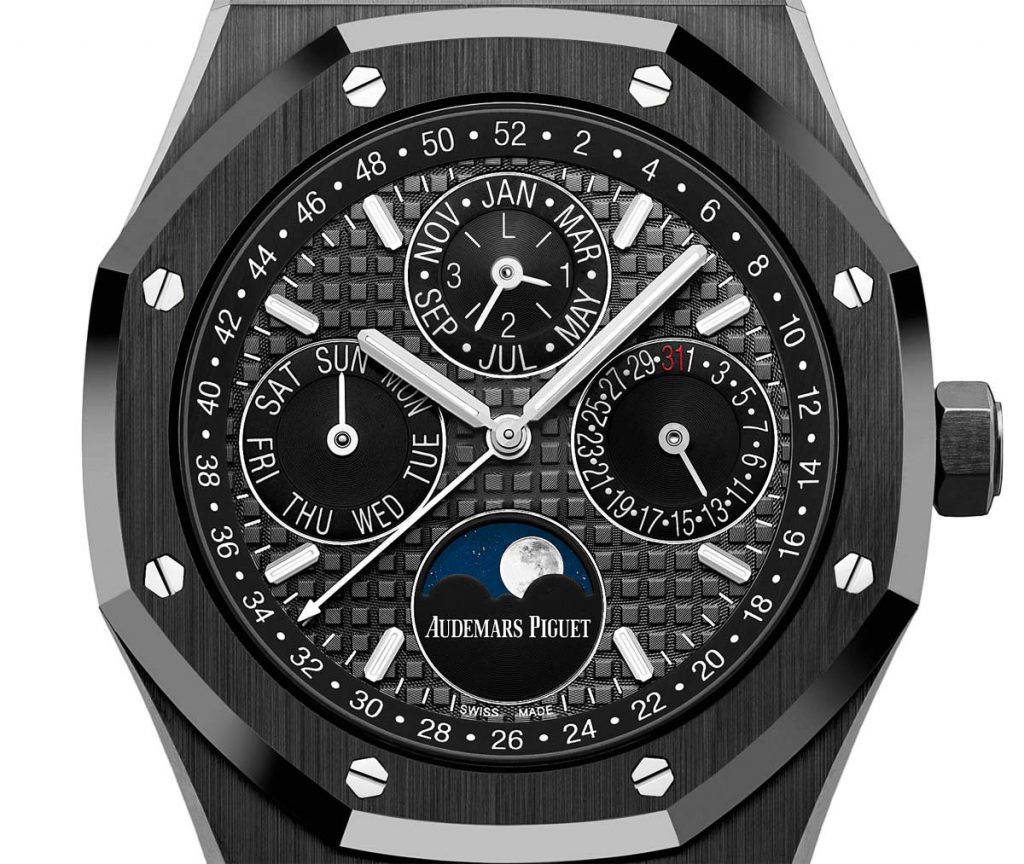 As for the dial, it is just as impressive as the previous editions. No big changes here as we get the same day, date, month, and astronomical moon with high readability. The week of the year is shown on the dial's outer chapter ring. These elements including the leap year indication are perfectly arranged on the typical "Grande Tapisserie" dial. I like how realistic the astronomical moon appears on the dial, feels like you're gazing on a miniature moon right on your wrists, this might be too much though, I bet you agree. In all, I like the dark look and nothing beats the striking contrast between a slate grey background and black counters. The result is a cleaner dial allowing for its really impressive readability for such a complex watch.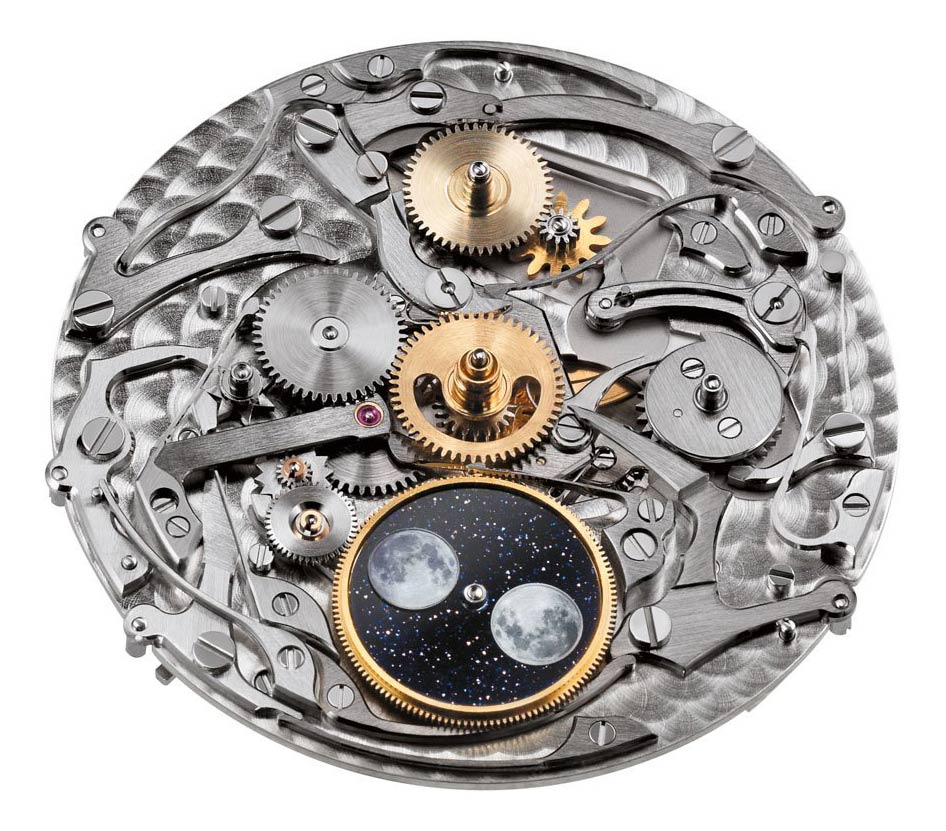 The Royal Oak Perpetual Calendar Black Ceramic is powered by in-house calibre 5134. This finely built self-winding movement beats at 2.75 Hz which is peculiar for this caliber however it guarantees a minimum power reserve of 40 hours which is more than enough for a single charge. Its beautiful engineering is clearly displayed behind the glare-proofed sapphire case back making you somehow think that your Swiss Francs 85,000 plus tax is all worth it. For more info, please visit audemarspiguet.com