Romain Jerome is Avant-Garde watch designs and themed dials, this SIHH was no exception as he presented two new, limited edition watches both with a highly unusual theme.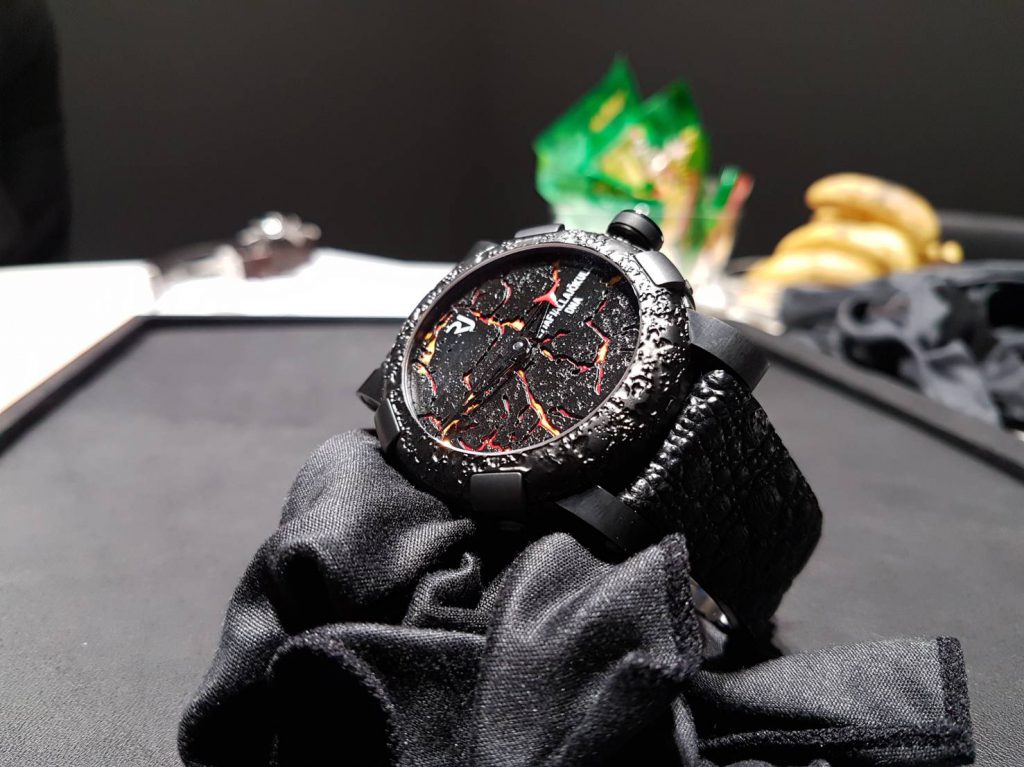 The first one is the RJ-Romain Jerome Eyjafjallajökull-DNA Burnt Lava. This is the third watch in the Eyjafjallajökull collection which has sold out the two previous models. The collection pays tribute to the Icelandic volcano with the same name that erupted in 2010, everyone who was flying in Europe at the time will remember. The Eyjafjallajökull-DNA Burnt Lava is a limited edition of 99 watches which come in a 46mm black-PVD coated case. As with a lot of RJ's themed watches, the dial is also here the belle of the ball. The dial resembles cracked, black volcanic crust where you can see lava through the cracks. Both the the case and dial features some serious craftsmanship as the bezel of the case is made from rusted steel which has been stabilized and processed to have a rougher surface. The dial is hand made from an Onyx plate and a genuine lava rock from Iceland. The watch comes on a toad strap and costs 25.000 Swiss Francs.
The second watch Romain Jerome presented to us at SIHH 2017 is the Donkey Kong Limited Edition. This watch is a result of a second collaboration with Nintendo, and it pays homage to yet another classic Nintendo game, Donkey Kong. The case is the same as the Moon Invader limited edition. The dial displays a very typical level taking place with Super Mario (or Jumpman as he went by in 1981) having to climb multiple ladders to reach Donkey Kong who has captured his girlfriend. The whole dial is pixelated to resemble what your screen would look like in 1981. The Donkey Kong and Super Mario figures on the dial are hand painted. The most striking thing about this dial however, is the great depth it has. The background has pixels which are engraved into the dial to create almost a 3-D effect to the dial. The case is a 46mm titanium case housing an automatic movement with a 42-hour power reserve. This is the second watch RJ makes in collaboration with Nintendo and they have been some very interesting watches so far. Makes us wonder what the next one might be?
The RJ-Romain Jerome Donkey Kong Limited Edition is a limited edition of 81 pieces and will cost you US$16.500. For more info, please visit romainjerome.ch