Everyone remembers the classic game Space Invaders for the original Nintendo, right? I know that most people like me were huge fans of the game, woke up wanting to play the game, and dreamed about playing it at night. Why leave those as just distant memories when you can relive the beauty of the good old days? Thanks to RJ (Romain Jerome) all of us adults who are still children on the inside can continue to replay those glory days over and over again without having to pull out the old Nintendo.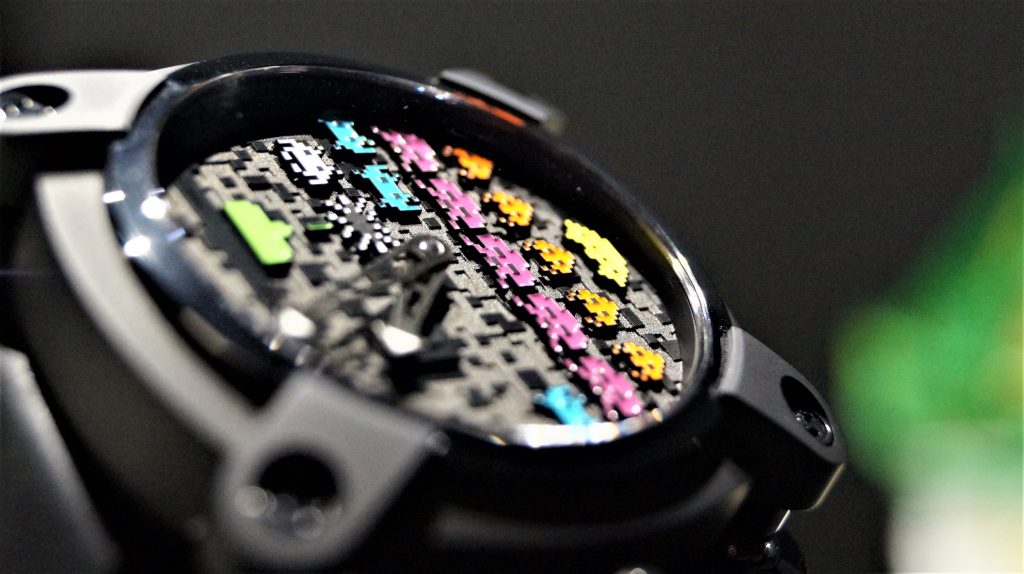 In 2017, RJ is releasing a new edition of Space Invaders watch collection. The first model was originally done and presented by RJ six years ago, which was an instant hit. Now, RJ has decided to release a second collection that is sure to entice the diehard fans even more than before. This series will feature a limited 78 pieces (which resembles 1978, the release year of the original game). Every piece will prominently display the game's famous scenes that will be pictured on the dial. Two-dimensional pixelated figurines will be used on the dial of each piece. This edition, as opposed to the first edition, is titled the Space Invaders Pop.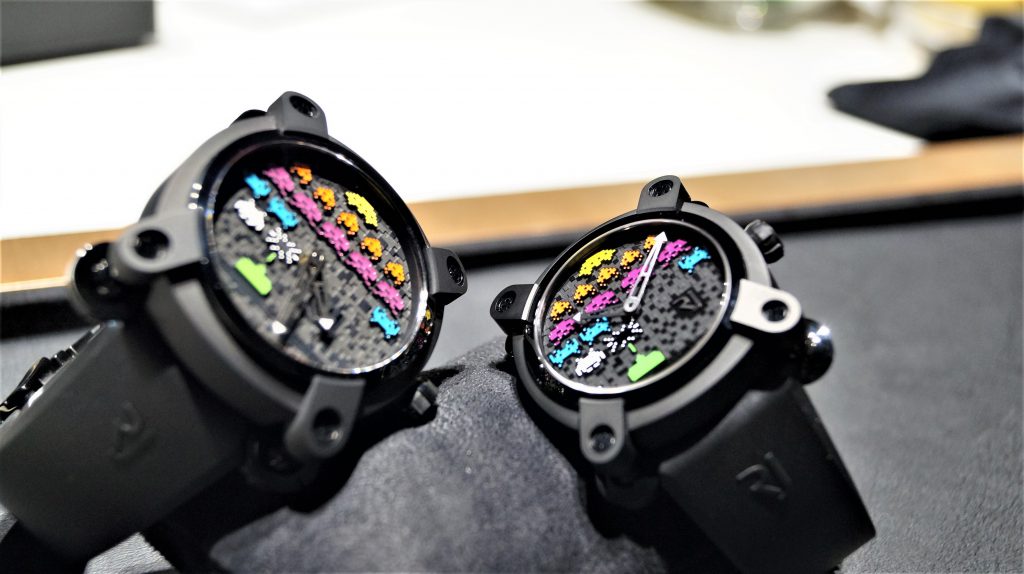 Each chronograph will have either a 40 or 46mm steel case, depending on the scene that is pictured. The bezel of these pieces will be planted to the base of the piece and will proudly provide four functional ball and socket joints at each corner of the piece. The socket joints are representative of the pivoting feet of the lunar landing modules of the American lunar missions. Along with the ever-present representation of the lunar modules, the four feet will play the role of securing themselves to the wrist of the wearer, no matter what size wrist or hand they may have. The chronograph will have a smooth and comfortable rubber strap which is adjustable to any size wrist.
The dial of the watch will also be pixelated and will be displayed on each piece as though it is floating above the rest of the face. This edition of the Space Invaders Pop will feature the various laser canons, aliens, other characters painted in very enhancing, strong, and bright colors as opposed to the previous edition. Each of the characters on the face is cut out carefully by machine and filled in by hand with stunning color. Again, this edition of watches will also feature a different back compared to the first edition. The back case has the Space Invaders medallion on the right-hand side. On the left side of the back of the piece the watchmakers medallion is stamped as well. The back of the piece is also shaped like a classic arcade controller.
A release date has not been set yet for this edition of Space Invaders watches. The price is estimated to be around $13000 USD. Although steep, this is a deal that any big time collector or gamer needs to take advantage of. This chronograph will only be available for a limited time and in limited quantity, so all of you diehard video game players should keep an ear open for the release date. For more info, please visit romainjerome.ch