This year's SIHH watch show in Geneva has taken on the most watch brands in recent years. Names both big and small have come from far and wide to show off their latest watches, and few companies can show off like Ferdinand Berthoud. These watches are the best of the best, much like their namesake was in the mid 18th century. This year, Ferdinand Berthoud shows off their new watch, the 1R-6.1.
What's inside?
Like all watches in the Ferdinand Berthoud range, this piece sports a tourbillon, although they have hidden it from the dial side. The movement also features a fusée and chain mechanism, to deliver a smooth power curve and increase accuracy over the course of the wind in the barrel. There are 474 steel, polished links in the chain for this watch, with more than 300 pins which are only 0.3mm in diameter. Consider that this chain is also 28cm long and when in place, will have a force equal to 3 kilograms placed on it, and you can see the craftsmanship come to life. I won't even delve into the complexities of the power reserve indicator until I get one in the metal. Interestingly, this watch is one of the few tourbillon watches which still has a central seconds hand, on most watches, the tourbillon is used to indicate the seconds because it performs one revolution per minute. This watch is a COSC certified chronometer, too.
I like the look, but is it futuristic too?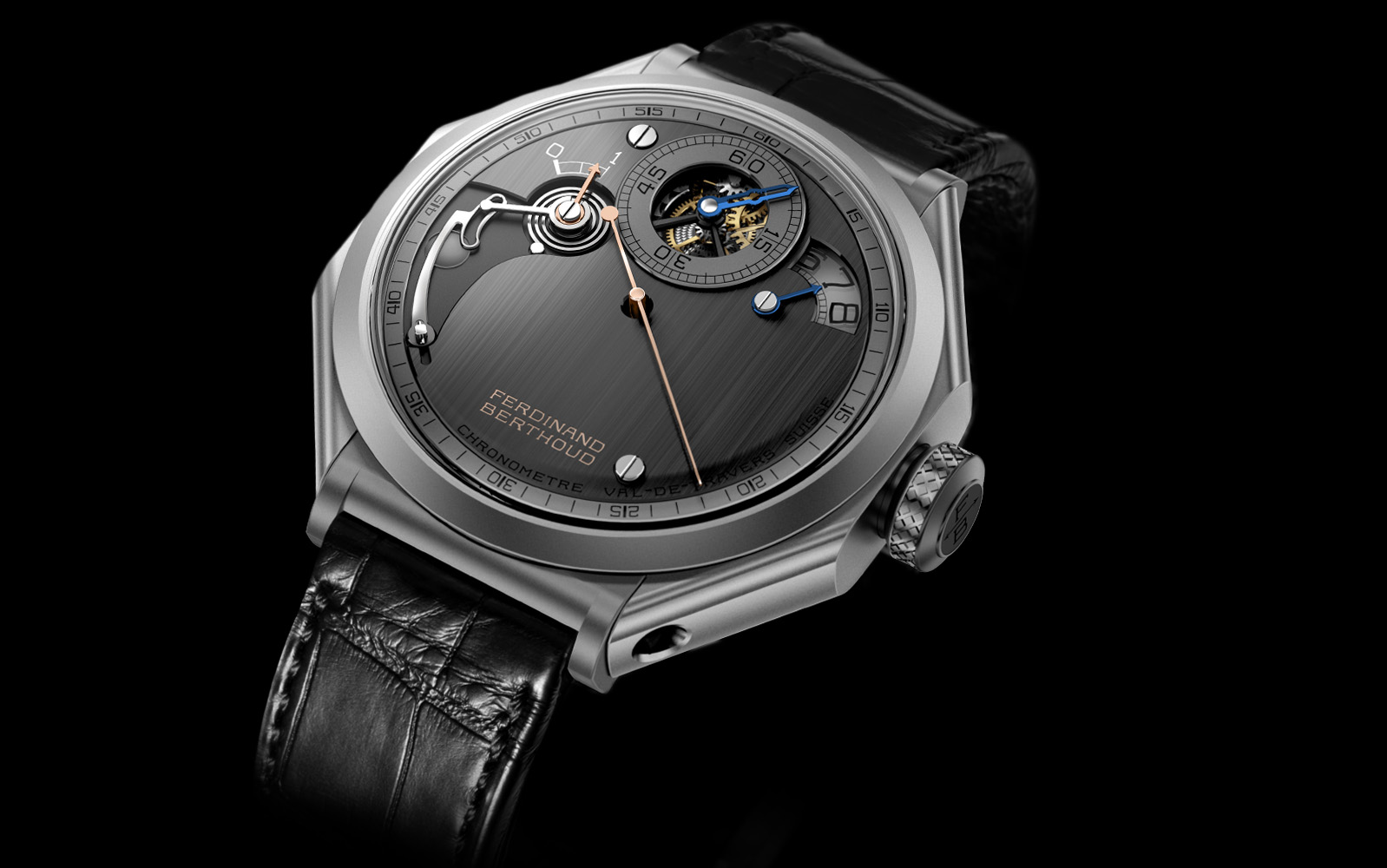 The case of this new watch is Ferdinand Berthoud all over. The octagonal design is supposed to be reminiscent of the chronometers made by Ferdinand Berthoud himself. The material is stainless steel, but the company treated it with something called vapour-phase carbon, which I've never heard of before. It makes the steel exceedingly hard and very resistant to corrosion. One of the best parts of the case, though, is the little cut out on the side. This detail is there purely so you can see the fusée and chain in action.
The dial is pretty impressive, too. It's constructed of nickel-silver, with hand-applied vertical satin brushing and a black rhodium plating. The top left display shows the power reserve, as part of the unique mechanism revealed on the dial. In the centre is a minutes sub-dial with a small cut-out in the middle. To the right of that is the hours window, which uses a wheel to display the numbers rather than using hands to point to a time. This 44mm watch is limited to just 20 examples worldwide. ferdinandberthoud.ch