For 2022, TAG Heuer brings back memories of the past on its vintage-inspired Monaco line.
Let's do what Kylie suggested and step back in time for a moment. Back in the so-called "glory days" of motorsport, i.e. when it was a lot more dangerous, racing cars were firing around all kinds of tracks and were festooned with different liveries. Just as it is today, it was common for brands to put their colours and logos all over vehicles in racing. Some of these have since become legendary, such as Ferrari's red + Marlboro or the black and gold of Lotus' John Player Special.
That was expected in Formula 1, but it spread to other places like rally racing with Lancia + Alitalia. 24-hour racing had some crackers, such as Martini + Porsche, Rothmans + Porsche, or Gulf + Porsche. I think you can see a theme here, companies that made dangerous or polluting things like cigarettes and oil really liked racing. The blue and orange of the Gulf colours are iconic, so it's good to see them on this Monaco special edition from TAG Heuer.
The watch keeps the same 39mm square stainless steel case as the other Monaco pieces, but it does have some racing extras. The chronograph minutes subdial has the Gulf colours around the edge, and there's a racing stripe which is pretty sharp. There's also the Gulf logo in the centre near the bottom, it overlaps the running seconds and makes it seem to disappear.
The watch gets the Heuer Calibre 02, which is visible through the back. It's an in-house made movement that's automatically wound with a blackened rotor and column-wheel chronograph, it also has a 4Hz beat rate and a meaty 80-hours of power reserve.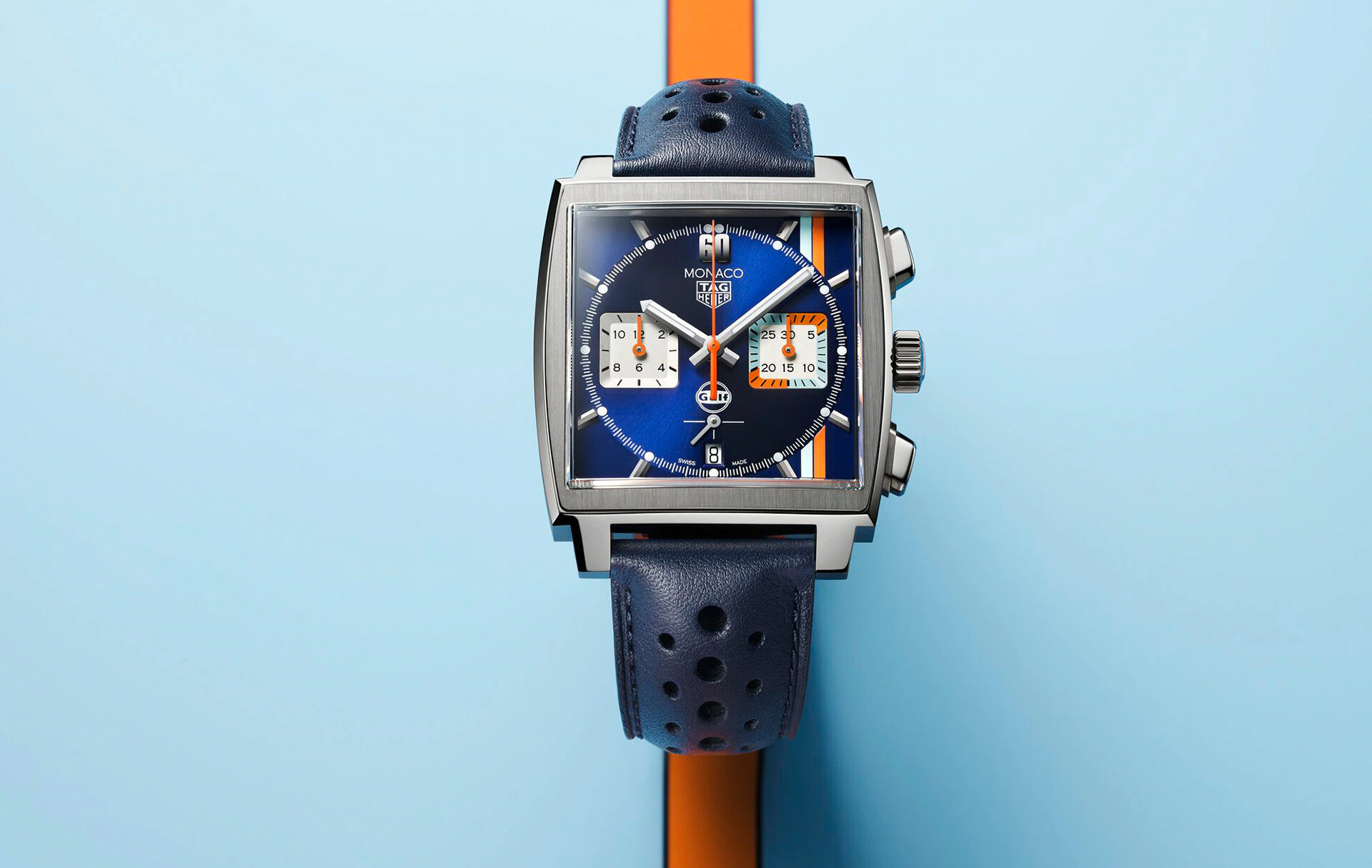 It'll cost CHF 6,900. Visit TAG Heuer here.