The World Series of Poker kicked off at the Rio All-Suite Hotel in Las Vegas last Wednesday, and every media company has been bustling to get the best coverage of its first few days. PokerListings caught up with five professional players but focused their camera on something other than their chips. Noah Schwartz, Bryan Kenny, Eugene Katchalov, Doug Polk and John Racener all happen to have a deep passion for something besides poker – luxury watches. Ostentatious in design, intrinsic in detail and outrageous in price; their watches boast the kind of lifestyle their occupation affords them. With a combined earning of $32 million, it's no wonder these poker superstars wear only the most prestigious of watches on their wrists. From Rolex to Breitling, PokerListings takes a look at each players' watch and the stories behind them.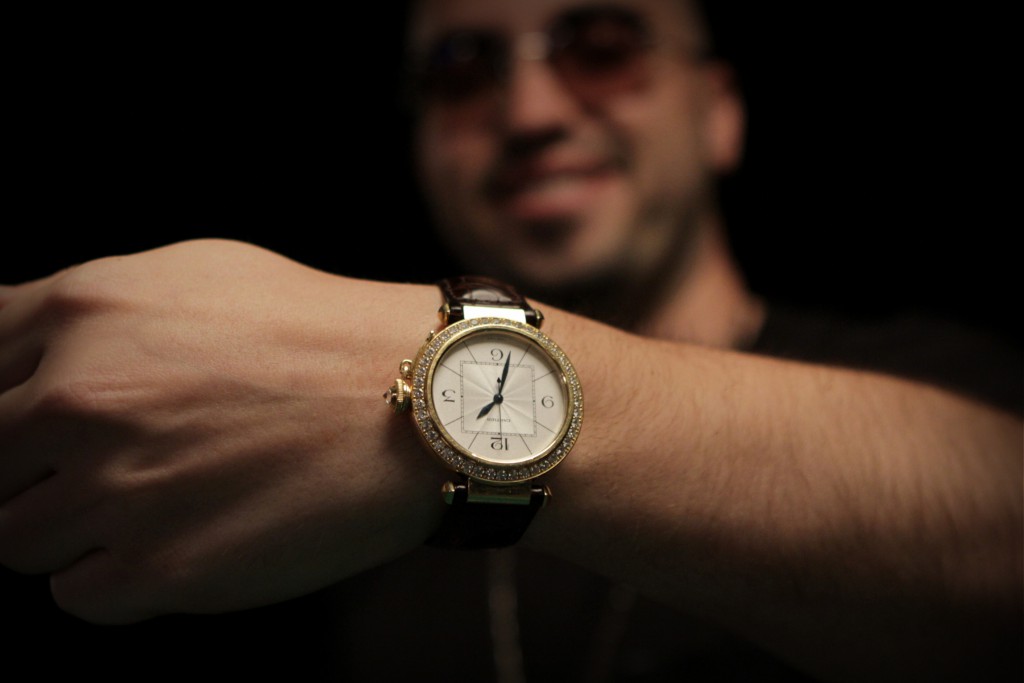 Bryn Kenney
Live Tournament Earnings: $5.76 million
Watch: Cartier Pasha de Cartier Diamond Bezel 18K Gold
Price: $32,000 USD
Bryn Kenney sports a Cartier Pasha de Cartier Diamond Bezel 18K Gold; an exquisitely graceful watch with a pleasingly minimalist design. "The last watch I had was a Jacob and it was just covered in diamonds and color, basically the flashiest watch you can get," says Kenny. The Cartier Pasha he's wearing at this year's WSOP, although grand, is certainly a lot less extravagant. "I'm in a different part of my life now and I like a little classier look, a little more elegant," Kenny explains. Known for their vintage style, it's clear to see why Kenny went for a Cartier.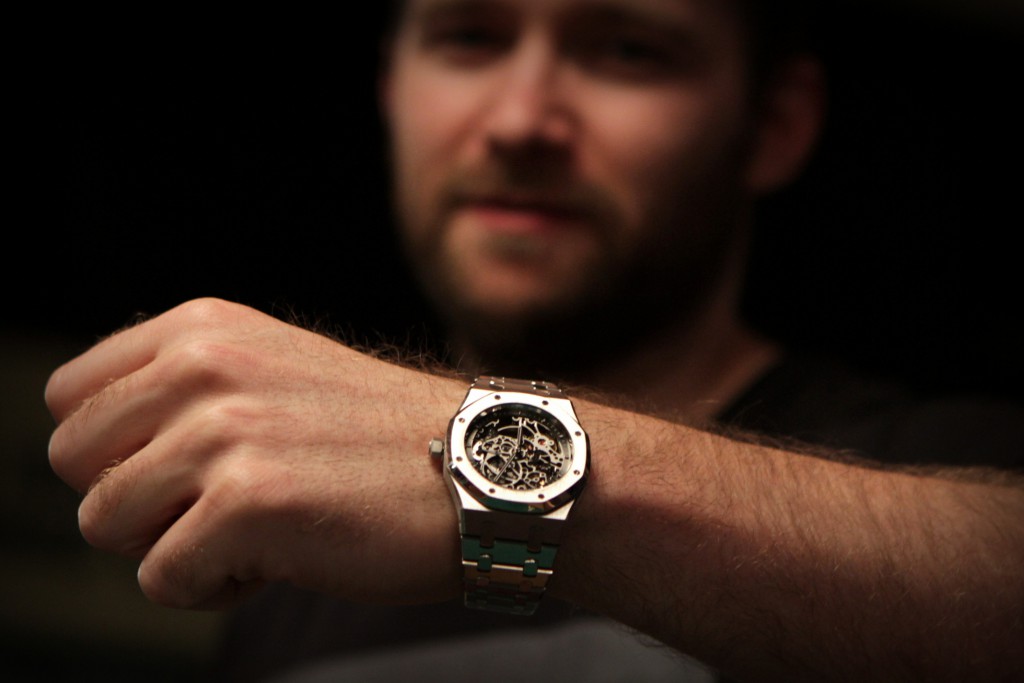 Eugene Katchalov
Live Tournament Earnings: $8.6 million
Watch: Audemars Piguet Prestige Sports Collection Royal Oak Openworked
Price: $37,000 USD
At a $37,000 USD price tag, Eugene Katchalov showcases the Audemars Piguet Prestige Sports Collection Royal Oak Openworked. The fine details of the watch's inner workings are exemplified in this incredible Audemars Piguet, which combines classical qualities with a uniquely avant-garde design. "Personally I like complicated watches because of the amount of work that the builders put into them." says Katchalov. He admits his taste in watches has changed over the years, but sees each purchase as an investment. "I know if I take care of it I can always sell it. It's not like a car that immediately loses value."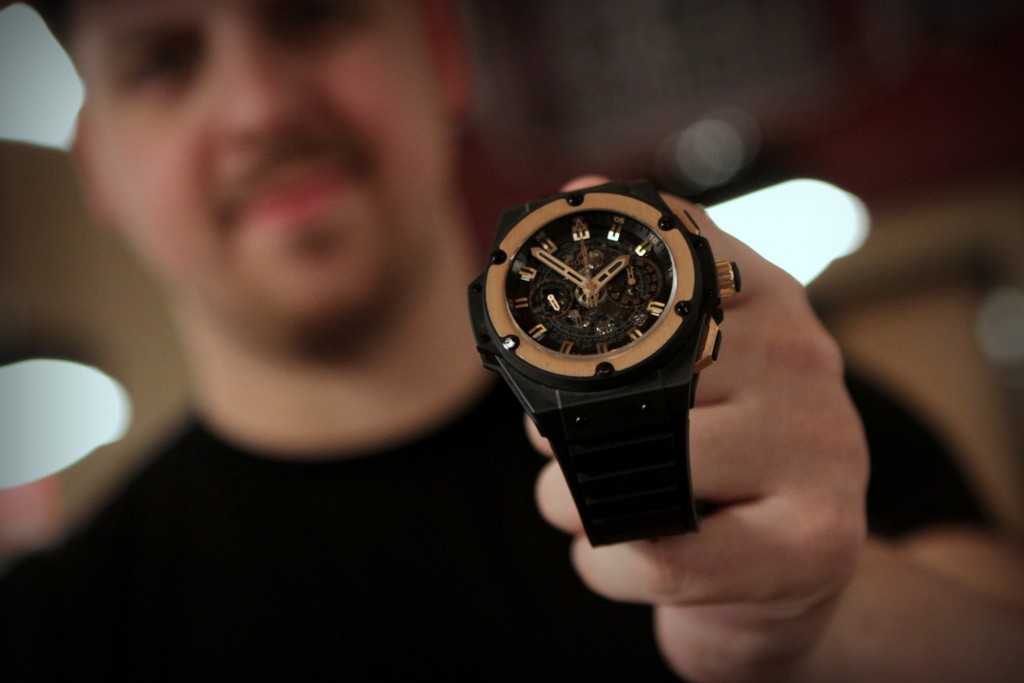 Noah Schwartz
Live Tournament Earnings: $5.25 million
Watch: Hublot King Power Unico Ceramic King Gold 48mm
Price: $19,000 USD
Noah Schwartz, self-described as a 'watch aficionado', is wearing a Hublot King Power Unico Ceramic King Gold 48mm. Like Katchalov, Schwartz has a fascination with the complexity of watches. "I love the movement, the mechanism," he tells PokerListings. The glossy Hublot certainly has a mechanical look about it, with its chunky build and bold contrast of colours. Having grown up in a poor family, Schwartz sees each watch as a gift to himself – a prize for his accomplishments. "When I grew up and started making some money I kind of wanted to spoil myself a bit," he explains.
Doug Polk
Live Tournament Earnings: $4.47 million
Watch: Breitling B05 Unitime White Dial
Price: $11,500
Doug Polk's Breitling B05 Unitime White Dial is full of fanciful details. The watch is as practical as it is charming; displaying time zones from all over the world. "If you're a traveller like me, you can set [the watch] where you're headed and you're good to go." It's no wonder Polk is so fond of this Breitling, looking at the way it masterfully couples convenience with comfort.
John Racener
Live Tournament Earnings: $7.92 million
Watch: Rolex Yacht Master 2 Stainless Steel
Price: $17,000
John Racener discovered his love for watches after entering the world of poker – a world in which players proudly showcase symbols of wealth or status. "When I turned 21 and started travelling on the tour I saw all these poker players with nice watches," he says. Around his wrist is a nautical-themed Rolex Yacht-Master 2 Stainless Steel, but Racener reveals he has more than one Rolex of which to boast. "I also have a Rolex Day Date 2 in rose gold with the chocolate dial," Racener says. "I like to wear that if I'm going out to a nice dinner or a final table or something." Special occasion or not, wearing a watch has become as natural to Racener as wearing a shirt. "I never leave the house without a watch on my wrist. I feel naked without it."
The ability to intimidate your opponents with unfaltering confidence is an advantage for any poker player, and perhaps one of the many reasons showy watches are so commonly spotted at world poker events. Featured in this article are just a few of the spectacular wrist numbers exhibited at this year's World Series of Poker.
For more info, please visit pokerlistings.com
Advertorials
at
WristReview
Promotions are done by our partners