10 years it's been. 10 long years since Maximilian Büsser created what he calls a "horological creative laboratory" where he and his team of watch making wizards create some of the most whacky designs we've ever seen, just look at the Melchior for instance.
Now they've come back and for celebrating 10 years it seems they're very focused on showing just how much they care about the support they've received from websites like this one and all the fans who buy the watches by making their most affordable watch yet with prices of just 29,000 Swiss Francs (pre-tax), however there's only going to be a total of 80 pieces made with 20 in Bugatti Blue, 20 in Ferrari Red, 20 in Lotus Black and 20 in British Racing Green, perhaps four of the most famous car colours ever conceived.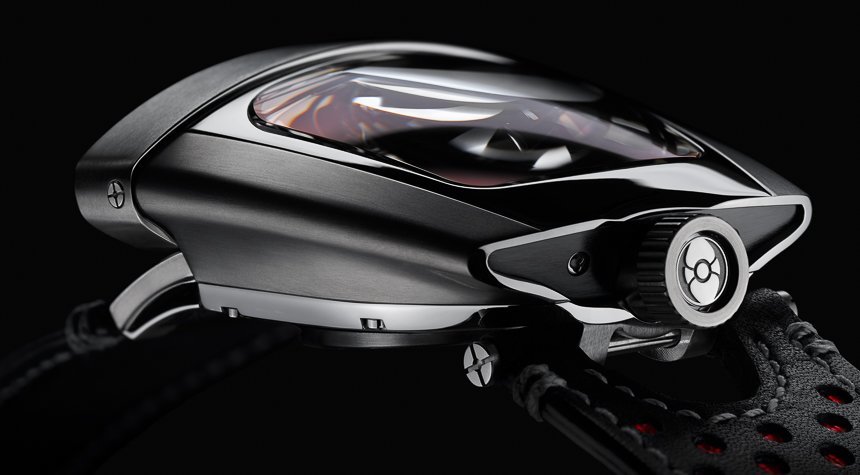 Each watch is crafted of grade 5 titanium and has been delicately sculpted into a form factor similar  perhaps to that of an instrument cluster in a finely made European sports car. As with the HM5 Carbonmacrolon watch I've previously covered, to see the time on this watch you need to look at the watch from the end on, making it very practical for someone who is driving as their hand's needn't leave the steering wheel. If you look at it in the normal way you'd check a watch, you'll find that there is a piece of sapphire crystal which is covering the magnifiers and reflectors for the digits on the dial face, these have been covered by plates that have been styled to look like engine bay covers like you'd find in a sports car.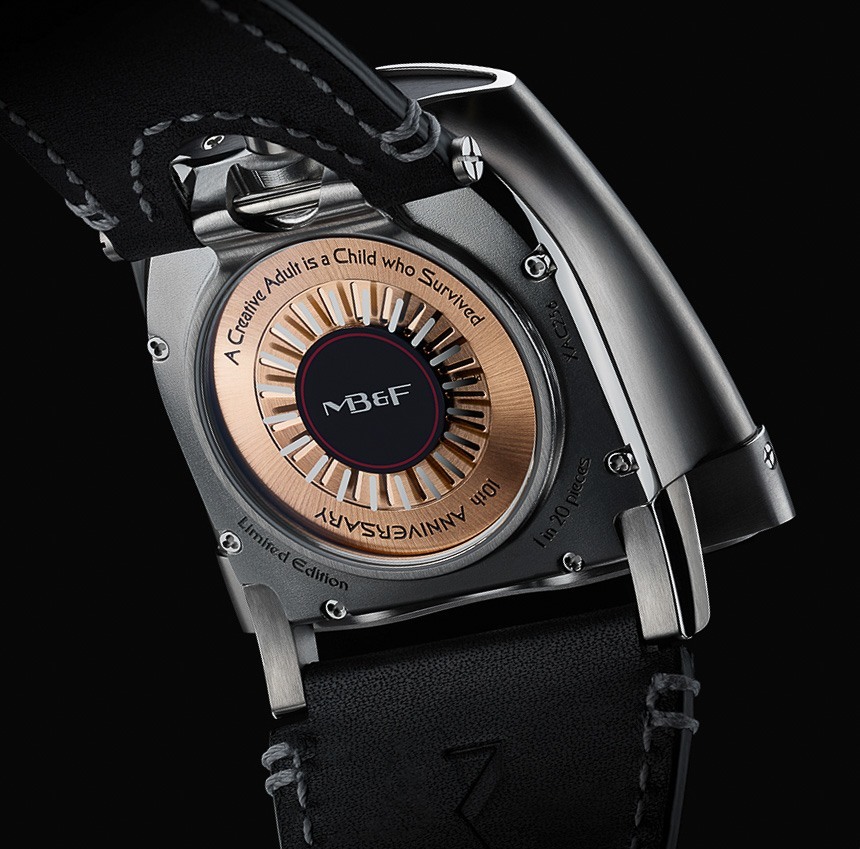 Turn the watch over and you'll find a solid 22k gold automatic rotor that covers the entire back, leaving no display of the movement. Engraved on this are the words "A Creative Adult is a Child who Survived" and, of course, "10th Anniversary". The movement, as with other MB&F products, is made in house using a Sellita gear train connected to the balance wheel, helping to give this watch its total power reserve of 42 hours. The watch case is a huge 47mm x 44mm x 21mm all around, making it very impressive to look at indeed. All the watches are presented on a perforated leather strap with a coloured underside.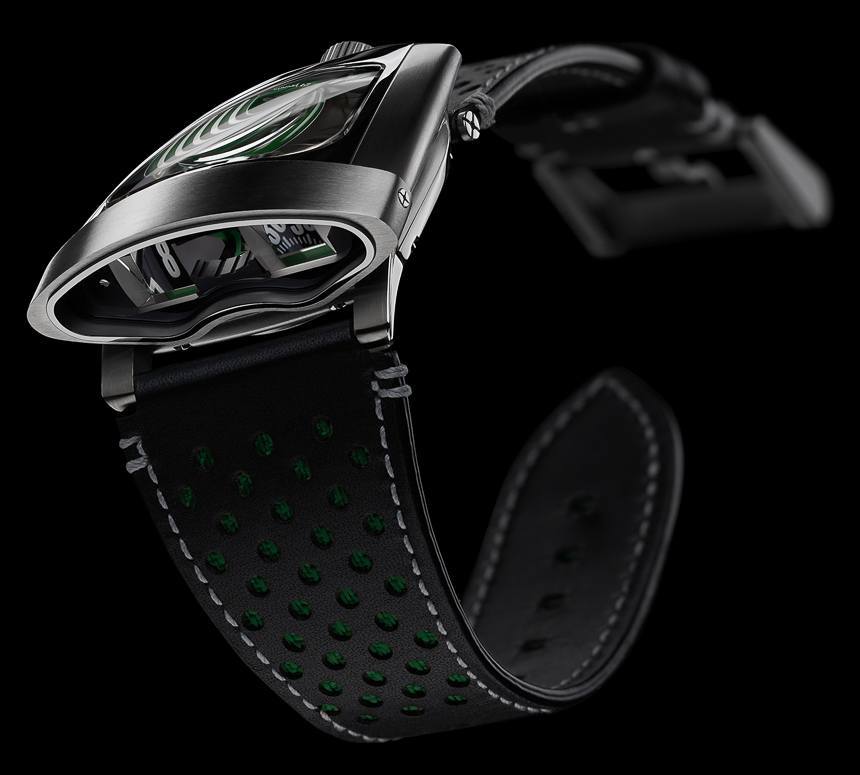 On behalf of WristReview.com I congratulate Max and the team of mechanical geniuses at MB&F for creating some of the most soulful and inspiring creations ever to grace this planet. We cannot wait to see what's in store for us in the future!
For more info, please visit mbandf.com
HARLAN CHAPMAN-GREEN – CONTRIBUTING EDITOR
A keen bass guitar player, Harlan enjoys all the perks modern watchmaking technologies the industry has to offer. Although you might catch him sampling Omegas or the Rolex, Harlan loves all things haute horology, with his three favourite brands being A.Lange & Söhne, Breguet and Vacheron Constantin. He hopes to study timekeeping more in depth someday and will never be able to thank his father enough for introducing him to the industry. Read his articles here.