V stands for Vadim, who is the incredibly nice owner of V Watch Co. I'm lucky enough to have a first look at his first watch model! To put it simply: I'm blown away. This piece has everything I look for in a watch…especially the price.
Keep in mind that these are available for only $50 on Kickstarter right now…you cannot get a better deal than this. Please consider supporting Vadim's dream by backing his project and getting a killer watch out of the deal too.
Here is a perfect example of his magnificent character and passion: "First comes passion, then comes watches! Our priority in starting V Watch Co. is not in making the 'big bucks.' It's about putting our entire efforts into the style we love so much. This minimal look represents the kind of people we aspire to be: simple."
Specifications
• Style: Unisex
• Movement: Japan Miyota 2035 Quartz
• Water Resistance: 3 ATM
• Case Diameter: 38mm (wears like a 40mm watch)
• Overall Thickness: 7.6mm
• Case Material: Light weight Zinc Alloy
• Glass: Mineral
• Strap: 18mm width Genuine Leather
• Warranty: 1 year
Design
My perfect watch is very nearly this watch. I love the thin case, blue second hand, and contrast between the smooth black leather strap and pure white dial. But don't let my preferences get in your way because V Watch Co. gives plenty of options. They have different dial styles, leather strap colors, and nato bands. On their Kickstarter page you can even buy the straps/bands separately, which is really nice.
Everything is made with quality materials as well. The quartz movement is Japanese, which means durability and reliability. The 3ATM water resistance is enough to keep the rain out from underneath the mineral crystal glass. The case is light, yet sturdy and the genuine leather strap has excellent quality (I love straps and this one is really nice).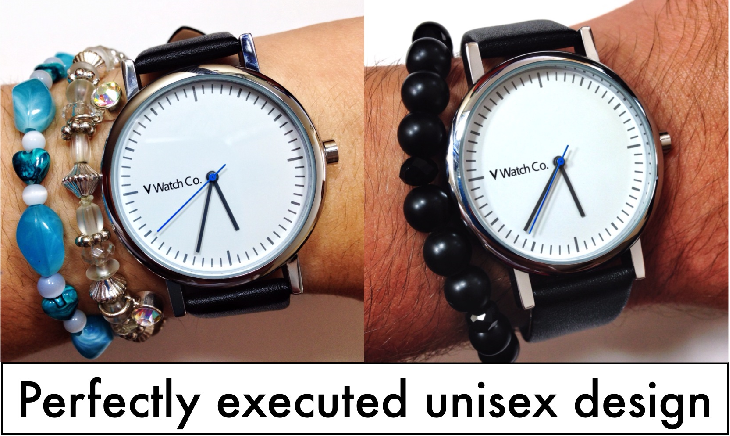 Options
V Watch Co. has their bases covered by offering several options to give your watch
some personal customization.
• 4 NATO band options ($15)
• Grey
Navy blue
• Dark green
• Tan
• 2 dial/genuine leather strap combos ($50 – FOR A WATCH!)
• White dial/black strap
• Brushed brass dial/brown strap
• 5 extra genuine leather strap options ($20)
• Brown non stitch
• Black with black stitching
• Peanut leather with matching stitch color
• Brown crocodile pattern
• Dark brown leather with gold stitching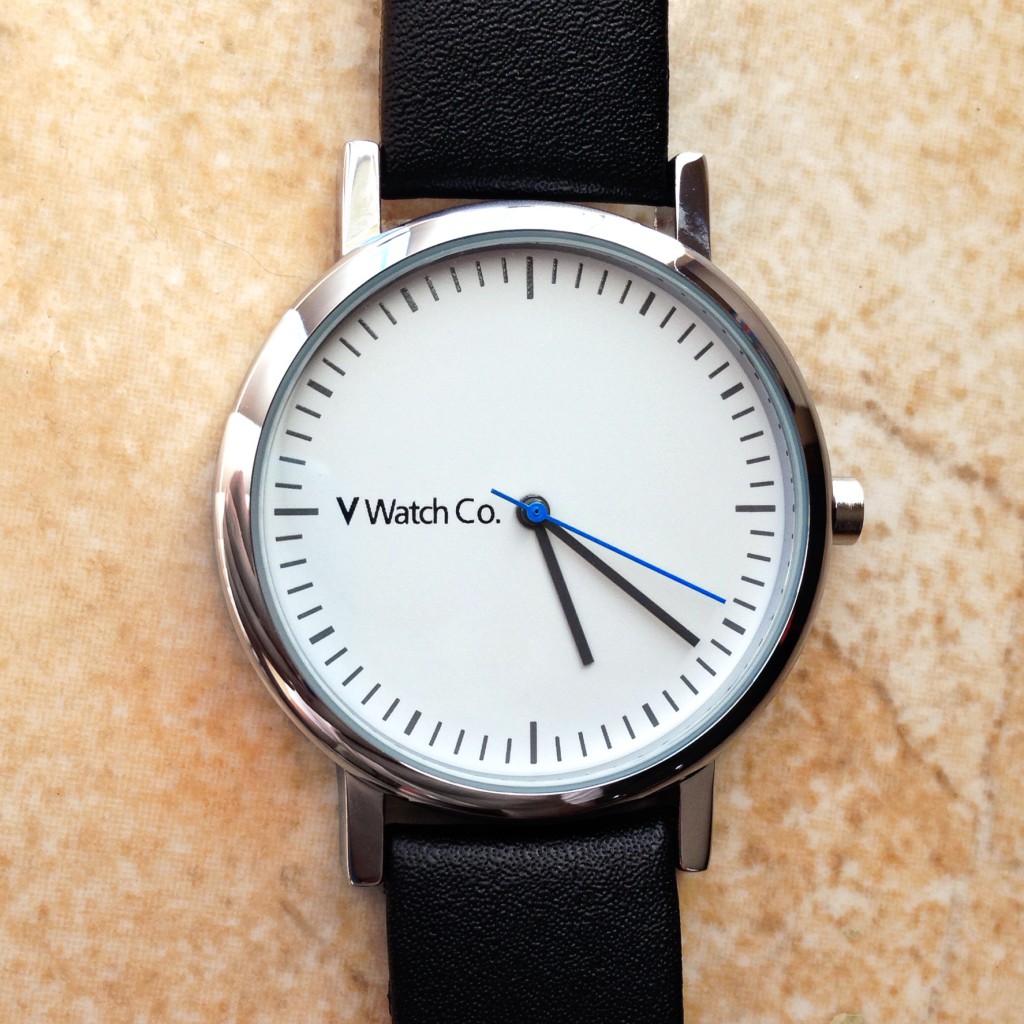 *Since I did not take the photos for these various options, I will point you to the Kickstarter page for those photos. The photos in this exclusive first look are of the fifty dollar white dial/black strap watch.
The Verdict
I sure hope you don't miss the chance to pick one of these up. I cannot stop telling people how good of a deal it is. The only thing that could even compare is a Timex Weekender…but I'd take this V Watch over that ANY day. Fifty bucks for a watch of this quality…I just cannot believe it.
Mark Wisdom Phillips – Contributing Writer
Mark largely collects practical watches, but never hesitates if he can snag a deal good enough to call it an economical decision. He loves taking photos of his collection and participating in the tight knit watch community on Instagram. You can see his photos and follow him here. He is highly opinionated and expects nothing but the best and at the cheapest price possible. In his eyes, a watch needs to have superb and bold design to be worthy of anybody's wrist. To him, organization creates valuable time and so you should expect it from him in his reviews. Wisdom is his middle name and he is here to share it with you. Read his articles here.