Right as we are about to settle down for the holidays, Vacheron Constantin announces a new model pairing for its Traditionelle lineup, the Complete Calendar Openface Limited Edition. These two watches, available in either 18k pink or white gold, display Vacheron Constantin's talents when it comes to complex dress watches, keeping things (relatively) simple but adding a myriad of small details to pick up on as you go.
Grey dials are trending with Richemont brands and have been for some time, but that doesn't mean these watches become lost in a sea of corporate-ness. In fact, I think they resemble the Traditionelle Twin Beat we saw back in 2019, except the parts on the dial have been inverted. That's not actually the case, these are much simpler watches than the Twin Beat, yet they are still complicated.
Granted, I'm not sure that these will be particularly legible in person. We have to hope that that is the case. Even these press photos and renderings make it difficult to read the complete calendar. The complete calendar sits between the day-date and annual calendar in terms of calendrical function, providing most of the indications of those two but without the automation, meaning that the complete calendar does not adjust for the different lengths of the month. Thankfully, the hour and minute hands are relatively clear on the dials, and their dauphine shape is always welcomed, and the date around the outside of the dial is clear enough.
On display on both sides within the 41mm x 10.7mm case is the calibre 2460 QCL/2. Vacheron Constantin is one of the few notable brands to make watches awarded with the Poinçon de Genéve, the Geneva Seal, another being L.U.Chopard. This means that the watch is not just accurate to within 1 minute over the course of the seven days the movement is being tested, but that it has been made by people living within the Canton of Geneva. It must also be perfectly finished, although the actual finishing requirements are quite technical, so I recommend you check out my Jargon Buster article on it. Just know that this movement has been beautifully decorated and comes with a 4Hz beat rate and approximately 40-hours of power.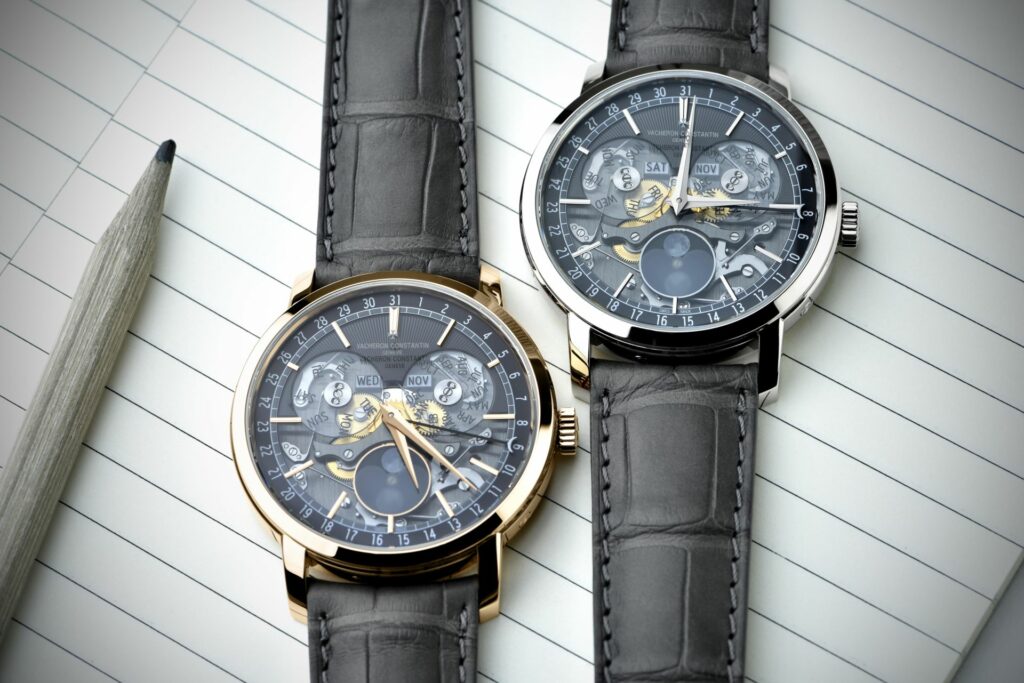 Hopefully, Vacheron Constantin can deliver these in time for the big day. If so, can someone send me a white gold one? It would go great with the baubles on my Christmas tree. The price is CHF 47,900 and they are not limited edition.
Visit Vacheron Constantin here.