We're taking a quick look at another submission for OnlyWatch this year which comes from the likes of Fabergé, the legendary Russian house of jewellery which has become associated with aristocracy and has remained popular today largely thanks to the legend of the Fabergé Eggs, a set of ornate jewel encrusted eggs which were created by Carl Fabergé himself.
That was Fabergé of the past though. Fabergé of today and tomorrow is a vastly different company that still holds onto its past and takes pride in where it has come from. Now however, it's become synonymous in the world of horology thanks to its incredible looking watches which take the ornateness of the past and place it into the design and construction of its watches and their movements. My case in point being the Visionnaire Chronograph, the first watch in the world to make effective use of the AgenGraphe movement. Created by Agenhor it has been dubbed the most important chronograph since its invention, despite this it's only featured in two watch models: this one and the new Singer Track 1 which is on the GPHG entry list this year.
There is actually a point to this watch. Yes, of course the yellow is meant to represent the colours of Only Watch this time around which are bright yellow, but it's also a little tribute to some of Fabergé's own history. With companies that have such a long and illustrious history of Fabergé, we're pretty happy with them paying homage to themselves, as long as it's not ridiculous and overpriced it's fine by us. A century ago a Fabergé egg was left unfinished, the Constellation Egg from 1917 never got the finishing touches, as around this time the Russian political climate was undoubtedly tense, forcing those associated with the royal family there to go into hiding to avoid the masses.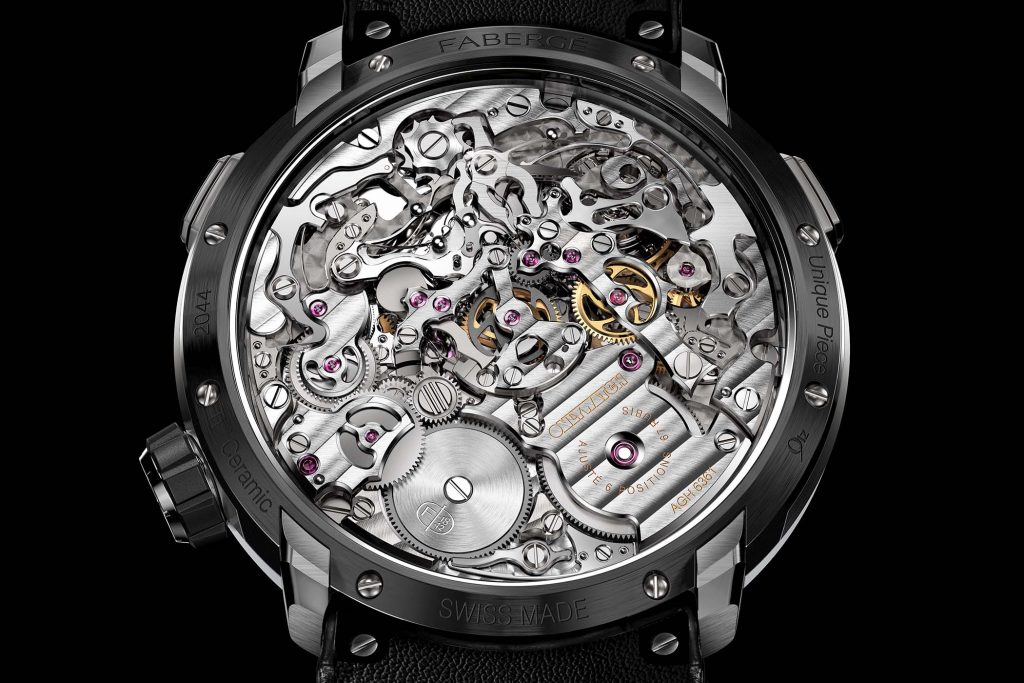 Because this watch uses the Agengraphe movement the designers at Fabergé could be pretty flexible when it comes to their imagination. What they've created is a watch that appears to be backwards, but upon closer inspection it makes perfect sense. The time is read by two fat triangular shaped lured hands roughly halfway out from the centre of the dial, one is longer than the other so you can distinguish the time easily. Inside the centre of the watch is the chronograph movement which is all superimposed. The seconds hand, minutes hand and hour hand are all on top of each other, like the hands on a normal watch. This not only makes reading the chronograph at a glance easily, but you can also use the chronograph as a second time zone and read it with ease. Set it running at 12 O'clock wherever you are and it's the second time zone, and thanks to the vertical clutch you don't have to worry about running wear.
I think this watch is really cool, it's 43mm in diameter and made of DLC coated titanium, it's about 14.3mm thick and as a power reserve of 60 hours with the chronograph running. It's expected to sell anywhere between 27,000 Swiss Francs and 47,000 Swiss Francs when it goes up for auction on the 11th of November. Did I mention it's automatic winding?