It's Monday morning and you forgot to charge your phone. Your alarm app doesn't go off and you're a heavy sleeper. Which watch complication is going to help you now? A chronograph? Unlikely, it can only help you by recording how late you are when you arrive at work. A World Timer? Unless your boss is a time zone enthusiast who can be placated by knowing what time it is in Baden-Baden and Honolulu, it won't cut it. What you need is a mechanical alarm.
Eterna made the first wristwatches with alarm complication in the 1920s but they were plagued with problems. A watch case is a small space and they couldn't figure out how to make an alarm chime longer and louder. It wasn't until the late 1940s when Vulcain were able to perfect the first alarm wristwatch with their Cricket. The golden age of mechanical alarm watches was from 1947 to the 1970s, right when quartz watches obliterated the Swiss watch industry.
Today they are not as popular as a chronograph or as sought after as a tourbillon, but the alarm complication will make sure you're never late for a meeting or date again (If you take the time to set it!). Here are The Top 5 wristwatches with alarm complication ever made.
5. Ulysse Nardin Classic Sonata
So you want an alarm watch, but you want something that sounds more refined than a vintage whiirrrr or a modern brrrinnnng? Well the Ulysse Nardin Classic Sonata is for you as it is one of the rare alarm watches to chime with Cathedral gongs; a method of chiming usually reserved for minute repeaters or sonnerie. Most alarm watches have a metal hammer that strikes against a post solded to a chiming plate which produces the familiar whiirr or brrrring chime. The Classic Sonata instead has a gong repeatedly strike a long, thin metal coil to produce a bright and cheerful ting ting ting.
4. Glashütte Original Senator Diary
For those that like to micro-manage their diaries a full month in advance, the Glashutte Original Senator Diary is for you. It is the only watch whose alarm can be set 30 days in advance. No other alarm watch comes close to the level of preparedness that the Senator Diary can offer, but despite this revolutionary complication, the Senator Diary remains timeless and elegant. Rather than a large alarm hand, the complication is set using the curved aperture at 6 o'clock in combination with the date wheel at 10 o'clock. The Senator Diary chimes for a full 80 seconds, more than enough time to wake you from an afternoon slumber or if you're out of the room. Only available in steel, white or rose gold, the Senator Diary is for those who manage their finances as tightly as their schedule.
[button color="black" size="big" alignment="center" rel="follow" openin="newwindow" url="https://www.exquisitetimepieces.com/watch-brands/glashutte-original-watches.html"]BUY YOUR GLASHÜTTE ORIGINAL HERE[/button]
3. Tudor Advisor
The Tudor Advisor remains the closest thing we have to what a Rolex alarm watch would look like. Why Rolex, the most legendary producers of tool watches, never made the most functional and practical tool complication is unknown, but this is what we have instead. There have only been four references of the Advisor since 1957, but there have been lots of different dial variations for you to choose from. From Explorer dials to stick markers to faceted daggers, whatever style you want, the Advisor will have it.
The Tudor Advisor has changed a lot over the past 60 years. Originally housed inside of a modified Oyster case, a new double backed case was eventually used so the sound would amplify more. Now the latest reference, Ref. 79620T, has a titanium case to offset the increased size that allows more control of the alarm complication than ever before. A power gauge and an on/off button/aperture are now present at 3 and 9 o'clock, so you'll never forget whether you've wound and set the alarm again.
2. Jaeger-LeCoultre Memovox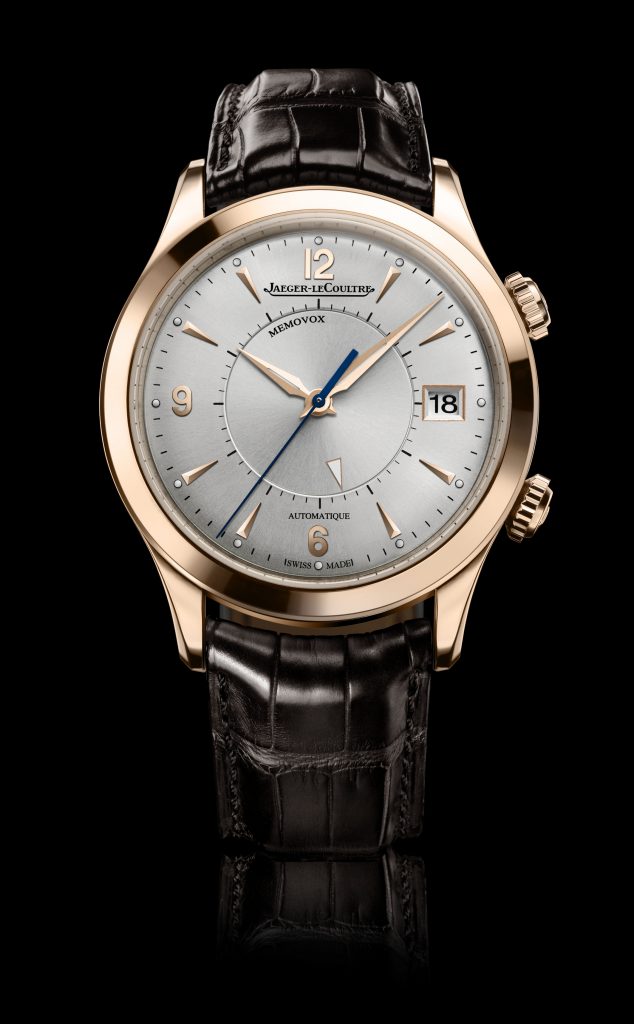 Jaeger-LeCoultre is often described as 'the watchmaker's watchmaker' thanks to its prolific manufacture of in-house movements. If that is the case, then the Memovox is the 'watchmaker's alarm'. The Memovox was released in 1951, but it was the updated 1956 model with the self-winding Caliber 815 that was a landmark in alarm wristwatches. This new Caliber allowed the Memovox to become the first automatic alarm wristwatch.
The diving variants of the Memovox (the Deep Sea Alarm and the Polaris) were among the first to bring the alarm complication to the ocean. These pieces are incredibly rare as they were used and abused on a regular basis by professional divers, making them a grail for modern collectors. The Memovox, along with the Reverso, is one of the most recognizable watches from the brand and the method of setting the alarm via a rotating inner disc is still a hallmark of Memovox design even sixty years later. The modern Memovox may brrrinnggg instead of whhhiirrr, but it is still an amazing alarm watch.
1. Vulcain Cricket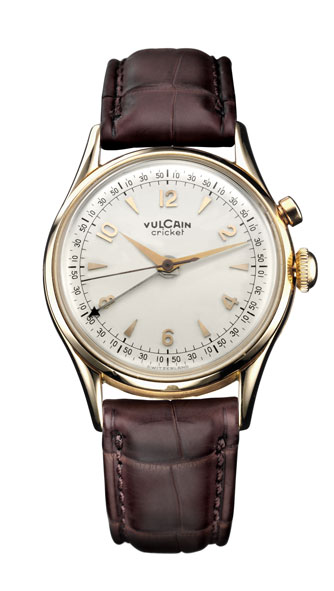 Where everyone else failed, Vulcain succeeded. After 5 years of research and perfection, the Vulcain Cricket went to market in 1947 to rapturous acclaim. Finally, the problem of short and quiet alarms had been fixed by giving the alarm its own seperate barrel to store and draw energy from, so when other alarms lasted for a few moments, the Cricket would loudly chirp for a full 25 seconds when fully wound. The idea of having a seperate barrel for the alarm was so successful that every single alarm watch caliber since the Cricket has been based off the same principle. How's that for horological impact?
Dozens of different dial variations of the Cricket were made so with some digging, you'll find something for you. In the 1950s, Vulcain added a date window to the Cricket and created a smaller ladies version with a golden membrane for a softer, more delicate chime.
Vulcain's was sold earlier this year so it's future may be uncertain but it's past is etched in stone. After President Harry S. Truman was gifted a Cricket upon leaving office, the watch became known as 'The President's watch" and nearly every President since Truman has either owned or been gifted a Cricket. Rolex may have the Presidential bracelet, but there is little doubt in my mind that the Vulcain Cricket is the watch of Presidents.