If there's one word that accurately sums up Zenith watches, it would be 'Defy'; defiant is another good example. What I'm getting at is that Zenith generally does what it wants and isn't subtle about it. Remember the Defy Xtreme models from years ago? Yeah, they were big and brash, but they had the horological guts to follow through with their punches. It may not be that particular watch anymore, but the Defy's pretty face still hides the brand's technical know-how well.
The Defy has been one of the most popular models of the Zenith range, it's earned that by being robust, as we've said, but it was also a great daily watch back when it first hit the market in 1969. It must've been a good year for Zenith, as the now legendary El Primero calibre was introduced in the very same year.
This A3691 reference is based on a model produced in 1971 and features a vivid red dial with chunky applied markers and an applied star logo. There's also a date window with a white backdrop, although I wish it were red for continuity; at least it's easy to spot.
The standout part of this watch, however, is not the dial. To be honest, that's the most normal part of it. This wild-looking reference, with its 14-sided bezel and octagonal case measuring 37mm x 13.6mm, is all about the case. It looks like a view of what modern design might have looked like to people in the 1960s. While the MB&Fs and Romain Gauthiers of the world have made sure modern watches don't look like that, it's hard to say this isn't charming to look at. It's a historical design done well, although I'm sure some vintage aficionados will be able to spot any discrepancies between this and an original, untampered example.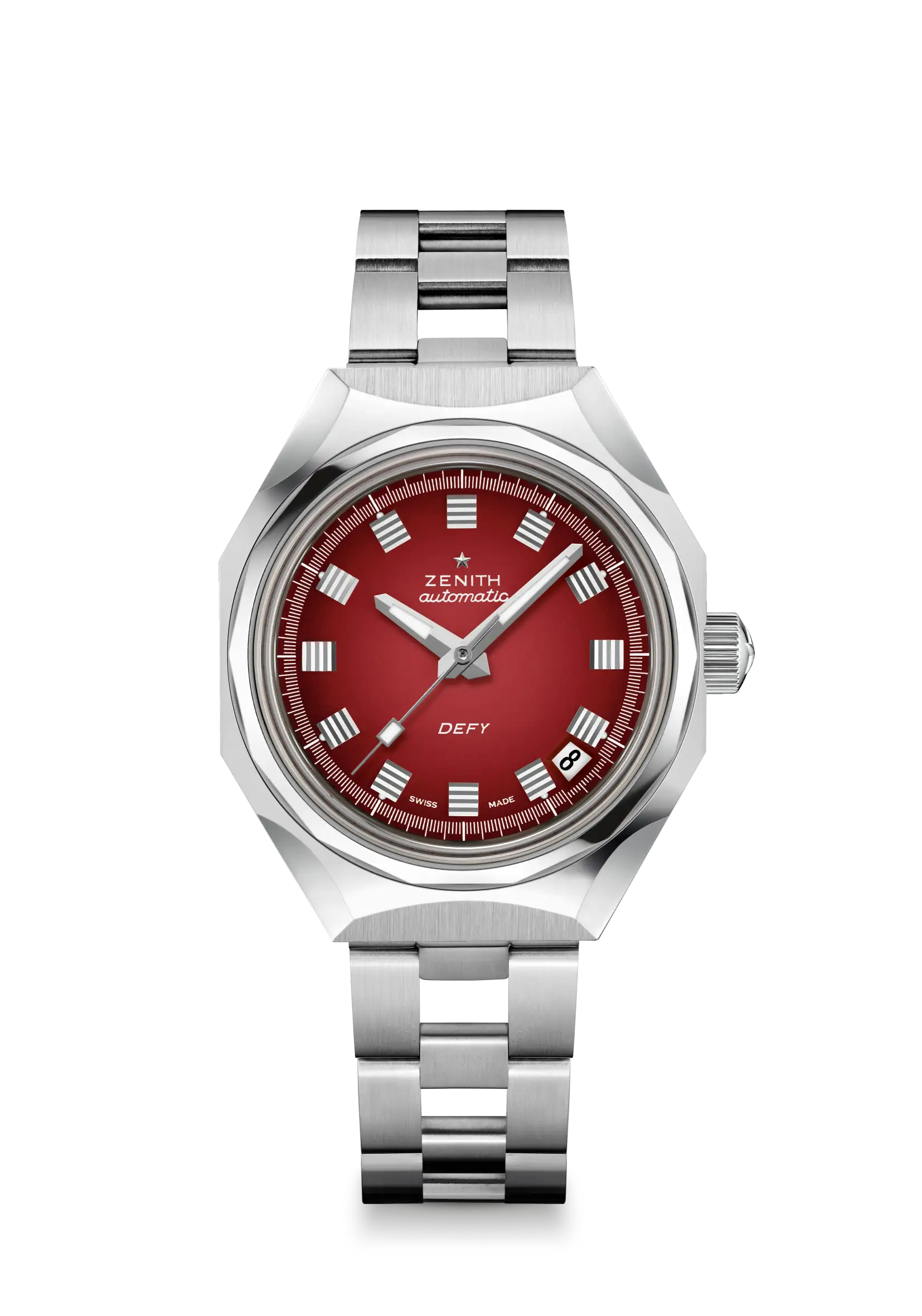 Speaking of which, the main changes to this model that set it apart from the original are the applications of sapphire crystal on the front and back. The front one is domed so as to be reminiscent of the Plexiglass original, but the back one wasn't there at all on the original. Nevertheless, a big draw of modern mechanical watches is that they're unnecessary in today's world, so it's nice for us to see where our money is going. The movement is the in-house made Elite calibre 670, with a 4Hz beat rate and 50-hour power reserve.
This watch is odd in all the right ways, from its case (which is 300m water resistant, by the way) to its bracelet design which mimics the original Gay Frères ladder bracelet. Gay Fréres doesn't exist anymore, it was absorbed into the Rolex empire, but its iconic designs still catch the attention of many.
I think that people will be pleased with this one. Sure, there's nothing quite like an original, but with many vintage watches having undeclared redials and refinishes, those who aren't savvy in spotting those issues (people like me) will be pleased they can have something like the original without having to worry about jumping through loads of hoops. This watch is a part of the permanent collection and costs $6,900.
Visit Zenith here.