A significant new trend creeping in the watch industry was observed at Sotheby's most recent end-of-year watch auction held mid-December 2022 — every one of more than 150 high-end watch lots that were offered was auctioned off for more than the minimum bid, illustrating the tremendous public interest in fine watches. Additionally, among all the stunning watches made by more or less well-known brands, the finest and most astonishing moments came from the most innovative, expressive and avant-garde Maisons of wristwatches.
This demonstrates a shifting paradigm, considering that traditionally, the watches from traditional watchmaking houses dominated the auctions while the brands in the elusive niche of "watch investing" were rarely valued at more than the maximum suggested by the auction house, and the hammer price frequently barely exceeded the minimum. To better understand this novel phenomenon, let's take a quick dip at some of the statistics from the auction: Exhibit A: Patek Philippe Calatrava, a recent focal point of significant fanciful outbursts, inflates its valuations in 2021. Exhibit B: The Patek Philippe Nautilus 3800/1, a highly sought-after piece for many a soul, valued between US$30,000 and US$50,000 but closing just above the upper valuation limit. Then there is the steel and gold Rolex GMT Master II Root Beer, valued between US$10,000 and US$20,000 but ended up closing for just over US$12,000. Even the maximum price for a Richard Mille RM27-03 CA-FQ Rafael Nadal watch, which was USD 1.4 million, slumped to just USD 1.2 million.
This clearly demonstrates that, in the face of new, innovative, emerging watch brands, that offer more value to the customer, the traditional big brands' once-greener pastures are no longer quite so verdant anymore. These new emerging watch brands that may or may not have a Swiss origin, have the power to seize the day, carpe diem. One such brand is Aventi. The relative newcomer in horology, Aventi shocked the participants in the auction house and those observing the auction remotely when Aveni's entry in the Sotheby's auction "A15 Wraith Saphite™ Paraiba" began with a USD 25,000 base valuation and increased to almost USD 70,000, which is nearly three times the lot price, its maximum valuation was expected to be at USD 50,000.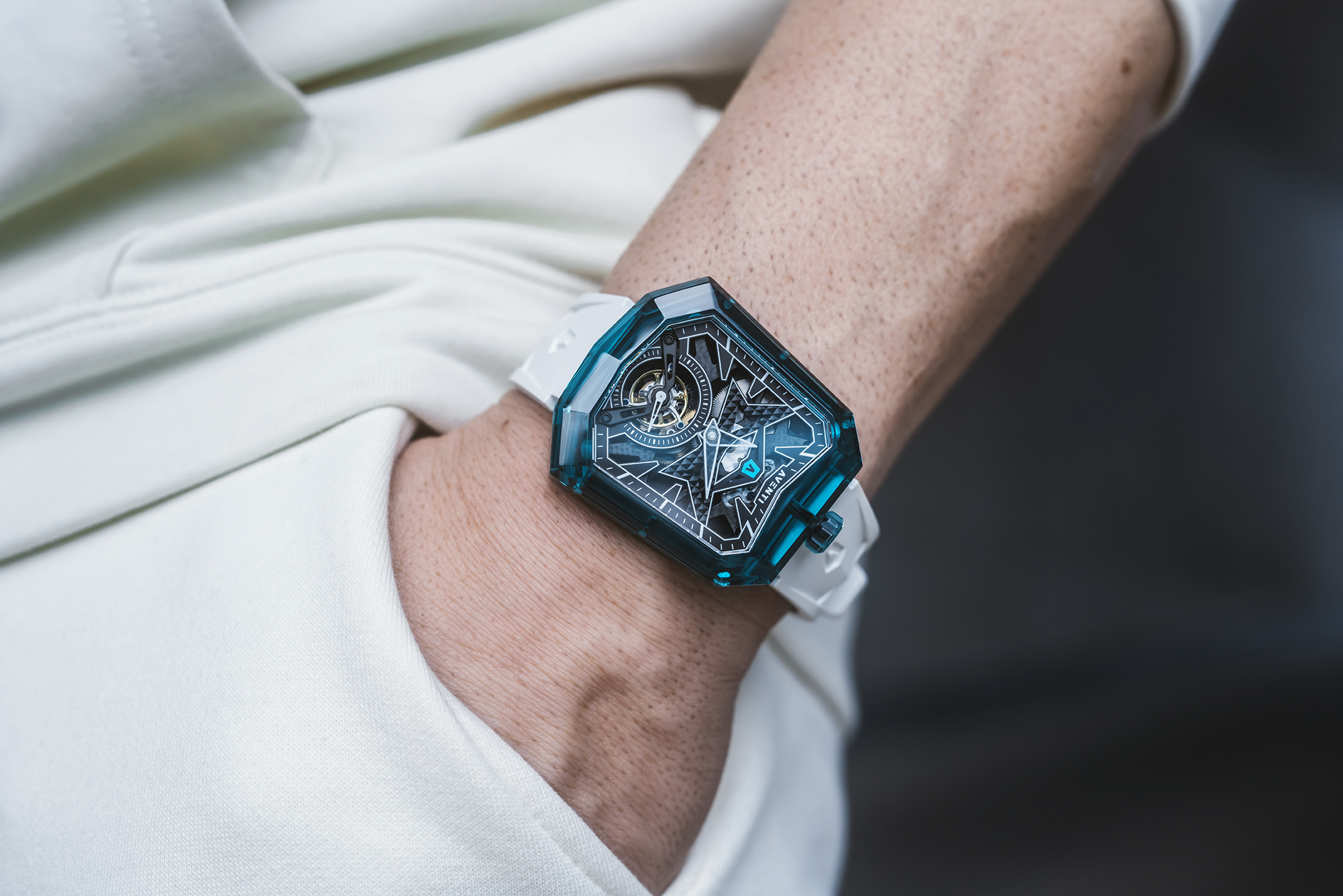 The A15 Wraith Saphite™ Paraiba itself is an excellent specimen of wrist horology. The unconventional polygonal case shape is a stylistic illustration of how modern design has evolved. By reinventing a case, Aventi defies conventions in watchmaking and makes a statement with its form and purpose. A timepiece with a case made of a proprietary material that Aventi has named "Saphite™". It has a soft light blue Paraiba hue and is even more transparent than sapphire crystal. The watch also has a Swiss tourbillon movement to its credit.
Perhaps the surprise success of Aventi at the auction is one of the significant snowball effects of the globalization of watchmaking, indicating that lesser-known watches made by independent boutiques are starting to stimulate and appeal to watch aficionados more prevalently and more consistently. Watch companies like MING, Aventi, F.P. Journe, and many others are redefining the boundaries of global watchmaking and moving it closer to the consumer. It reflects the same findings that the GPHG demonstrates year after year.