I'll warn you in advance that this article is going to get a bit gushy at times, and the reason for that is simple: A. Lange & Söhne's Lange 31 is one of two horological grail watches I have in my head (the other is a Breguet but that's not relevant today). Some of my first encounters with watchmaking on this scale were watching A. Lange & Söhne's YouTube videos in 2012 or 2013, back when their channel's main uploads were those "timepieces in motion" videos, minute-long clips of their watches rotating with plenty of close-ups thrown in. This was all before I started writing about wristwatches. It was from those videos that I found the Lange 31, which was introduced in 2007. I've encountered this watch once before, on our first tour of A. Lange & Söhne's manufacture in 2016, but there were so many watches we saw that day the Lange 31 wasn't really in focus.
Recently, it came back into sharp focus thanks to the folks at A. Lange & Söhne, who kindly shipped me one for a bit. What you're about to read below is a collection of my thoughts from when I had the watch in my care. I don't expect all the points to make sense or have any structure. Writing down the output of the organised chaos that is the heart is a difficult task and one I'm not particularly good at.
Every watch that's been shipped to me has made a great first impression, but opening the lid on a real-life Lange 31 was a very special experience.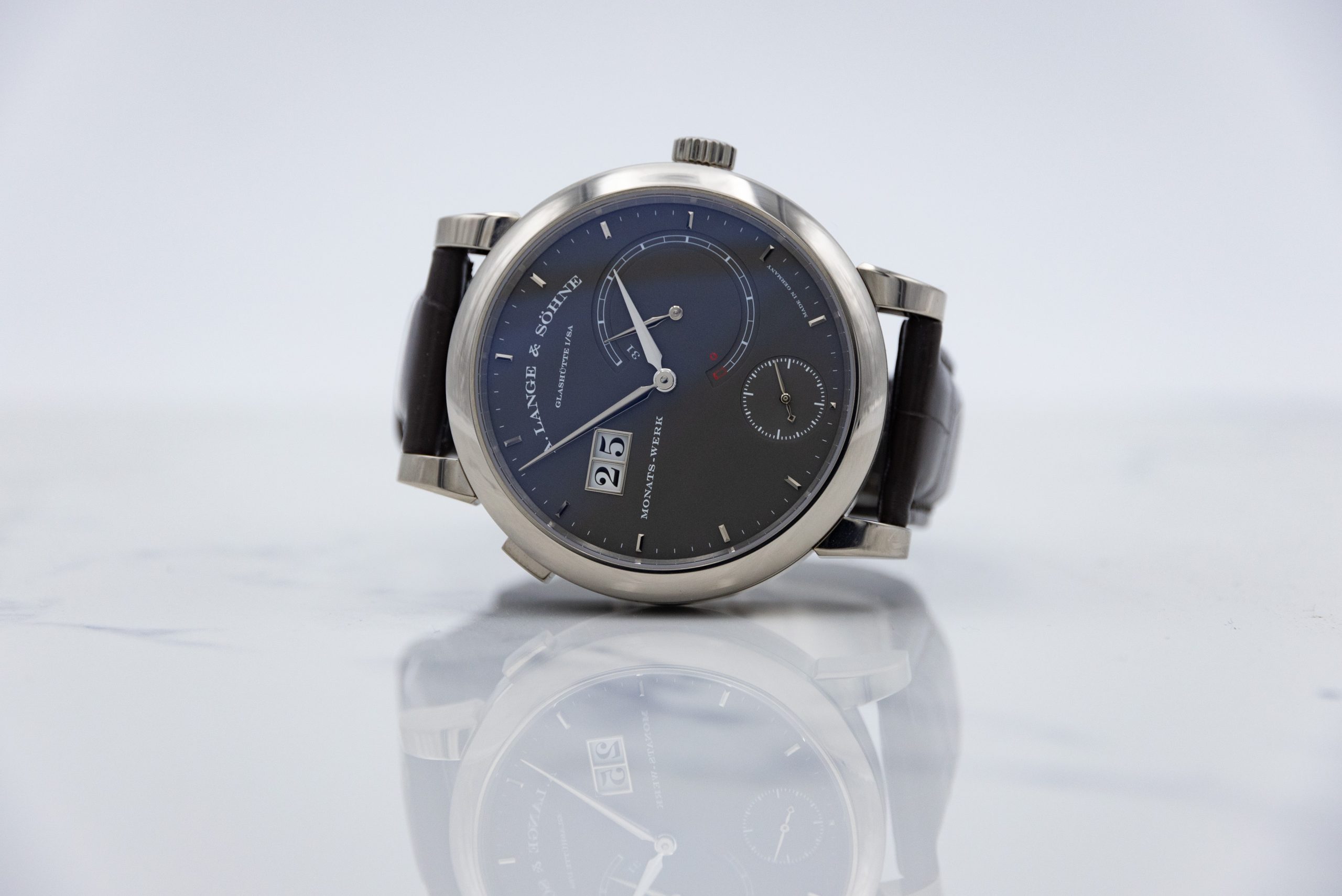 There it was lying in its classy foam-padded shipping box, glistening under the plastic wrapper. Picking it up, my first thoughts were, "oh wow, this thing is heavy".
We need to address the elephant in the room here. If I were judging this watch on its wearability compared to other watches and from a practical perspective, this would have to be one of the worst wearing experiences imaginable. Although with that said, it's still better than Panerai's 47mm Submersible Chronograph, that thing is simply too big for me to pull off convincingly.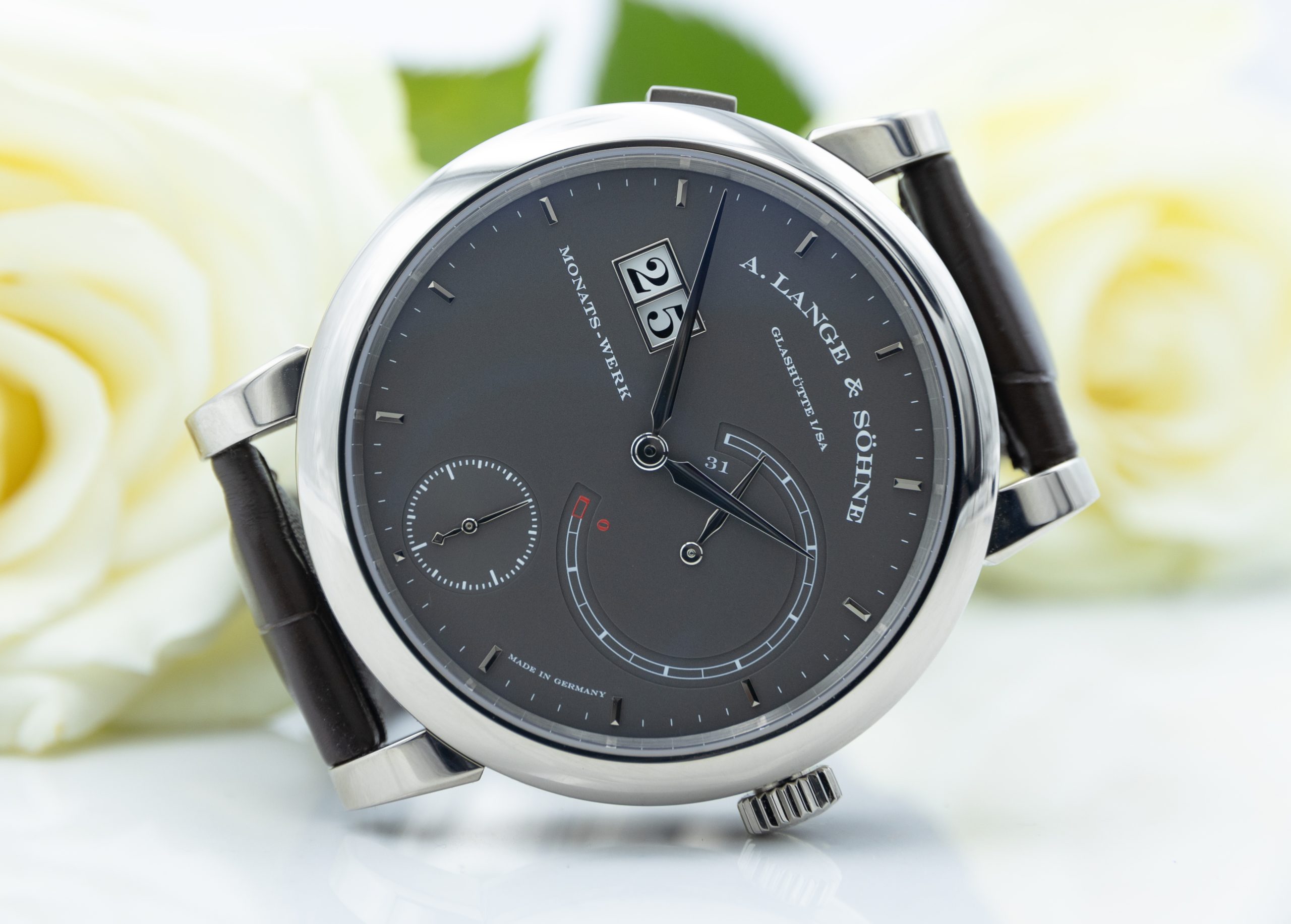 The Lange 31 is extremely big at 45.9mm x 15.9mm, one of the biggest watches in their collection behind the 50mm Grand Complication from 2013. The size was evident when I saw it, but the mass of the Lange 31 is what really caught me off guard. My memory of it from 2016 had faded by this point, so picking it up was another surprise. The case and folding security clasp are made of solid 18k white gold, as one would naturally expect from a watchmaker of this calibre, and the leather strap is wide and very supple.
But, if you recall the dimensions above and school science classes on how a material's density affects its mass, you can begin to imagine how the Lange 31 follows through with its threat of being heavy. It is. It measured on our VSS (Very Scientific (Kitchen) Scales) at 239 grams, the heaviest watch we've ever measured and is over 60 grams heavier than the next heaviest watch on our list, which is A. Lange & Söhne's Datograph Perpetual Tourbillon, also in white gold.
Don't confuse my writing here; putting it on is very easy thanks to the solid yet usable locking security clasp with a second lock to keep the strap in place (A.Lange & Söhne knew it would be tricky to keep this much watch strapped on securely) and the leather strap folds downwards from the lugs meaning practically anyone can wear it.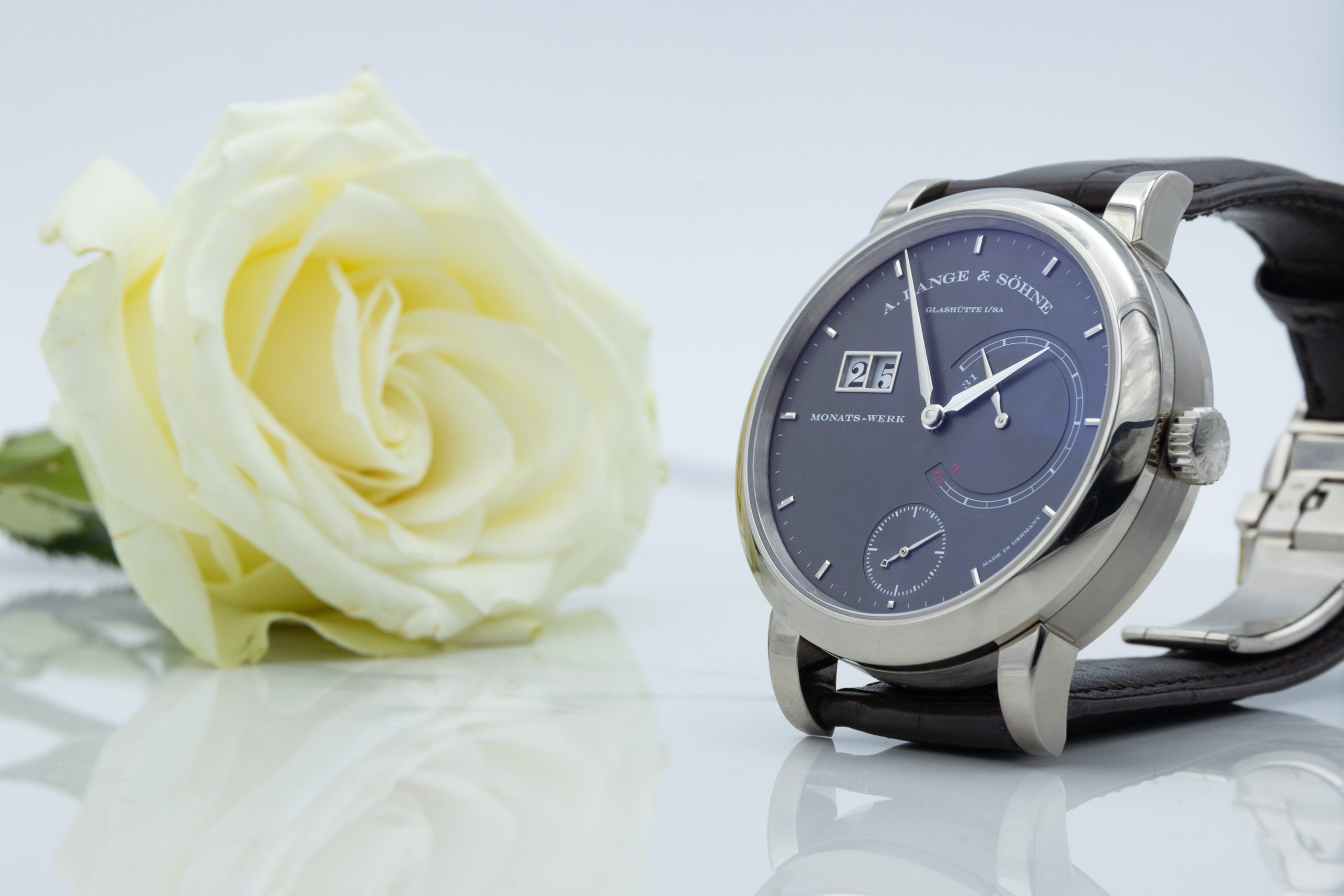 What I meant about the wearing experience is that it's so big and heavy it's always obvious to you when wearing it, and it sits quite proud on your wrist, too. Whenever I went out anywhere with it, which, given its value, really wasn't often, I was always aware of it being on my wrist and making it unbalanced.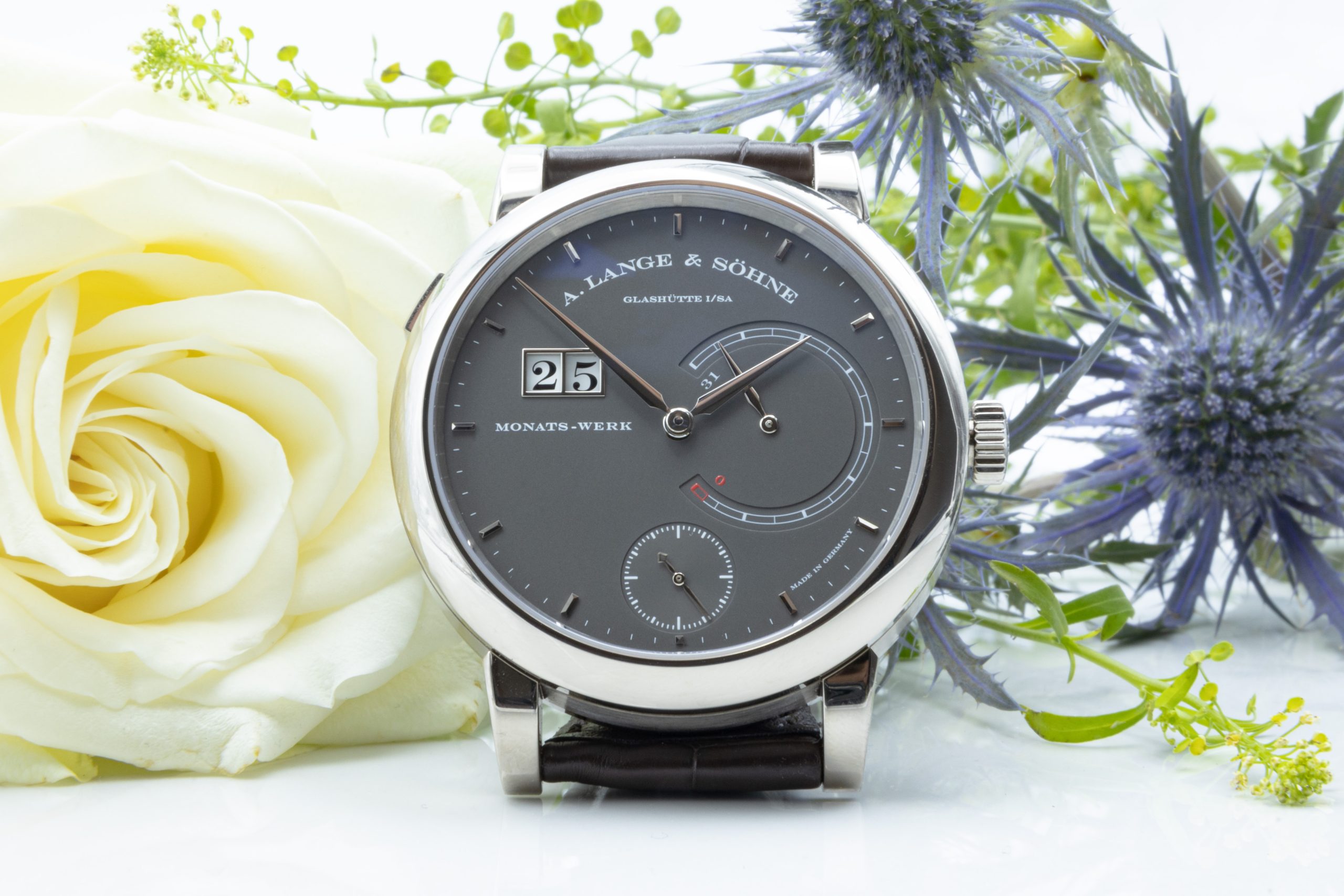 With that said, it's worth bearing in mind that someone buying a watch of this calibre (sorry, terrible pun) isn't likely a one-watch kind of person. I expect this will be one of at least ten watches in their collection, where they can wear something more low-key during the day and then dress up with this monster in the evening.
The Lange 31's main feature will also help with the idea of being part of a multi-watch rotation. Do you ever get annoyed at having to restart a stopped watch and spend time setting it back up again? Don't you find setting the date just a little too fiddly? You could be one of those maniacs who never adjusts the date on their watch once restarting it, and if you are one of those then more power to you, I guess. The Lange 31 sidesteps that problem entirely, though.
You see, most watches have a power reserve of between 40 and 70 hours or two to three days. Some have an eight-day (192hr) or ten-day (240hr) power reserve, which keeps the watches ticking along nicely.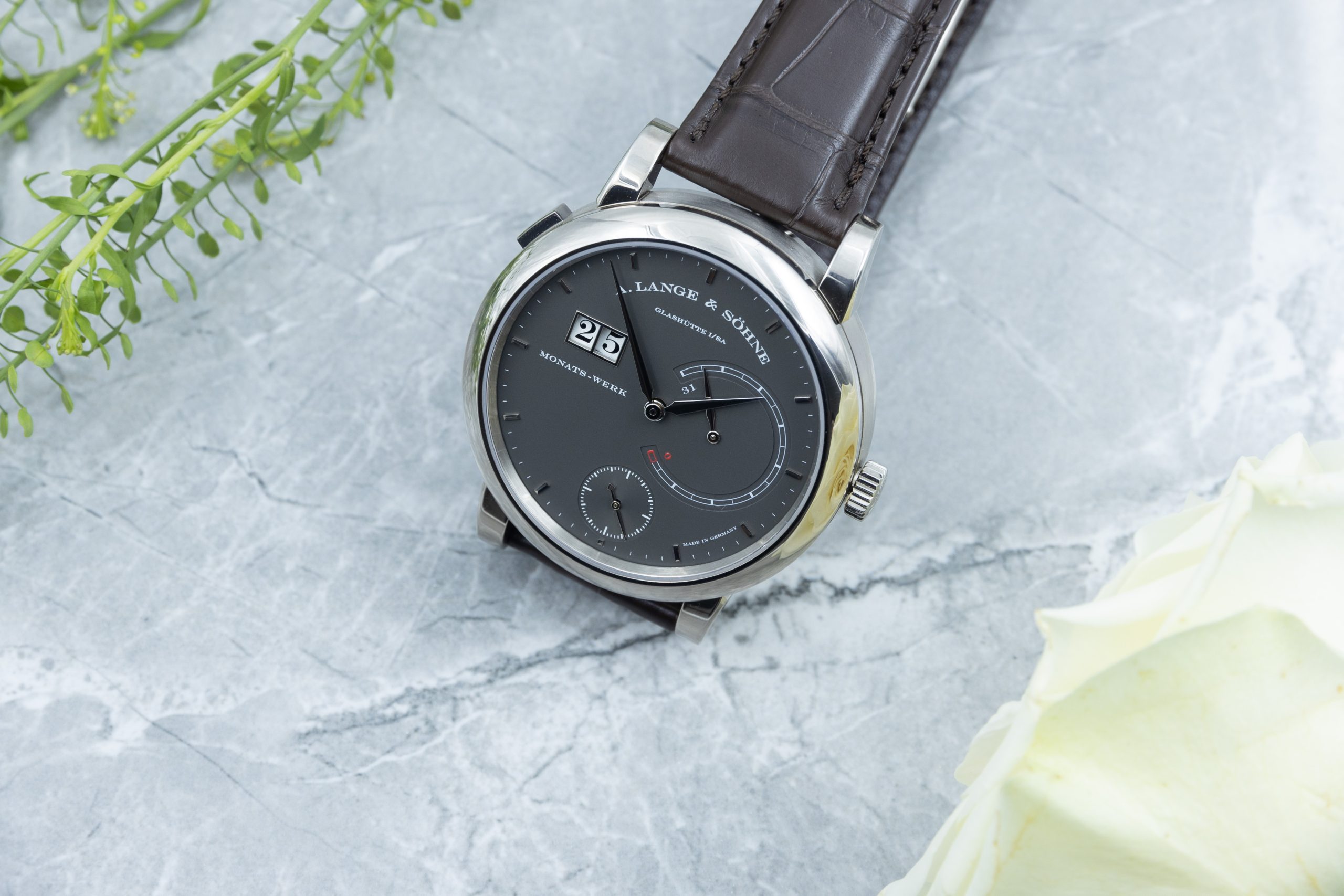 The Lange 31 goes beyond that by quite some margin, as it has a power reserve of 31 days or 744 hours, where the name comes from. That means you can rotate your watches to your heart's content, and the Lange 31 will still be ticking away when you return to it.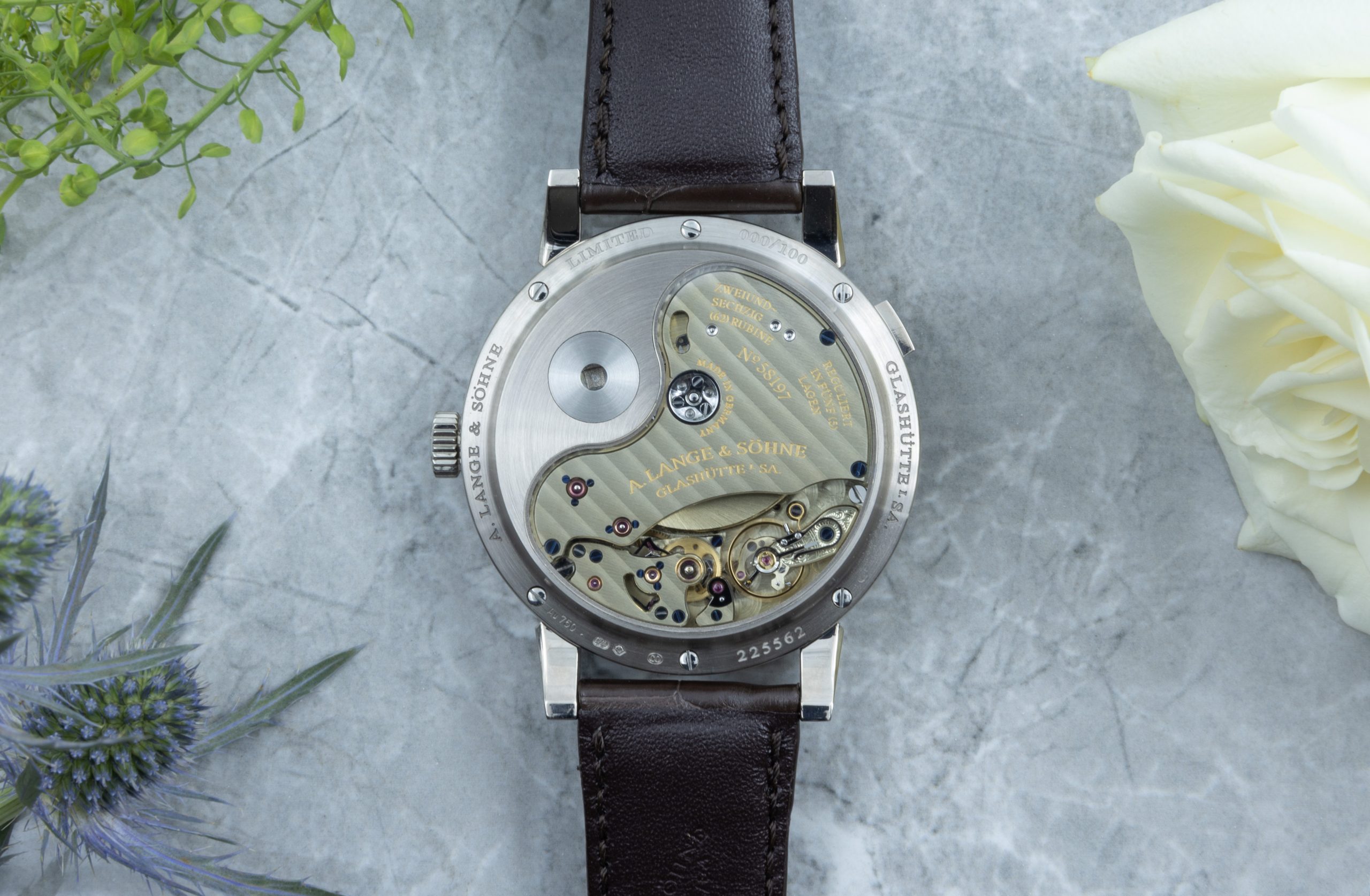 When this watch first debuted in 2007, it had the longest power reserve of any mechanical wristwatch, and I think to this day, only watch from Hublot has a longer power reserve. A. Lange & Söhne also realised when developing the Lange 31 that winding 31 days into it via the crown would be boring at the least and finger shredding at the most, so a unique key was devised to wind the watch up from the back. Unfortunately, I wasn't sent this key, so I can't report on the winding experience. I'll bet it's smooth, though.
The key winds up the enormous mainsprings in the equally enormous twin mainspring barrel; you can see the edge of the barrel almost bulging out from underneath the mainplate and taking up most of the movement space. Each of the two mainsprings is 1850mm long, around ten times longer than a regular mainspring. Giant springs like these have a lot of power, so to keep the watch from tearing itself apart or becoming imprecise over time, the Lange 31 has a patented constant force escapement.
The constant force escapement is based on a remontoir, a very old way of keeping a watch or clock precise over a long period where the amount of torque the mainspring delivers slowly reduces as the spring unwinds. A specialised escapement provides power to the balance wheel in ten-second bursts, which have a pleasing audible click when the one-toothed wheel is released (it's audible when the watch is near your ear, you can't hear it most of the time). It also makes the minute hand noticeably jump a little, giving the watch a unique character. The system ensures that the power delivery to the hairspring (which Lange makes in-house) is correct at all times from day 1 to 31. The beat rate of the watch is 3Hz.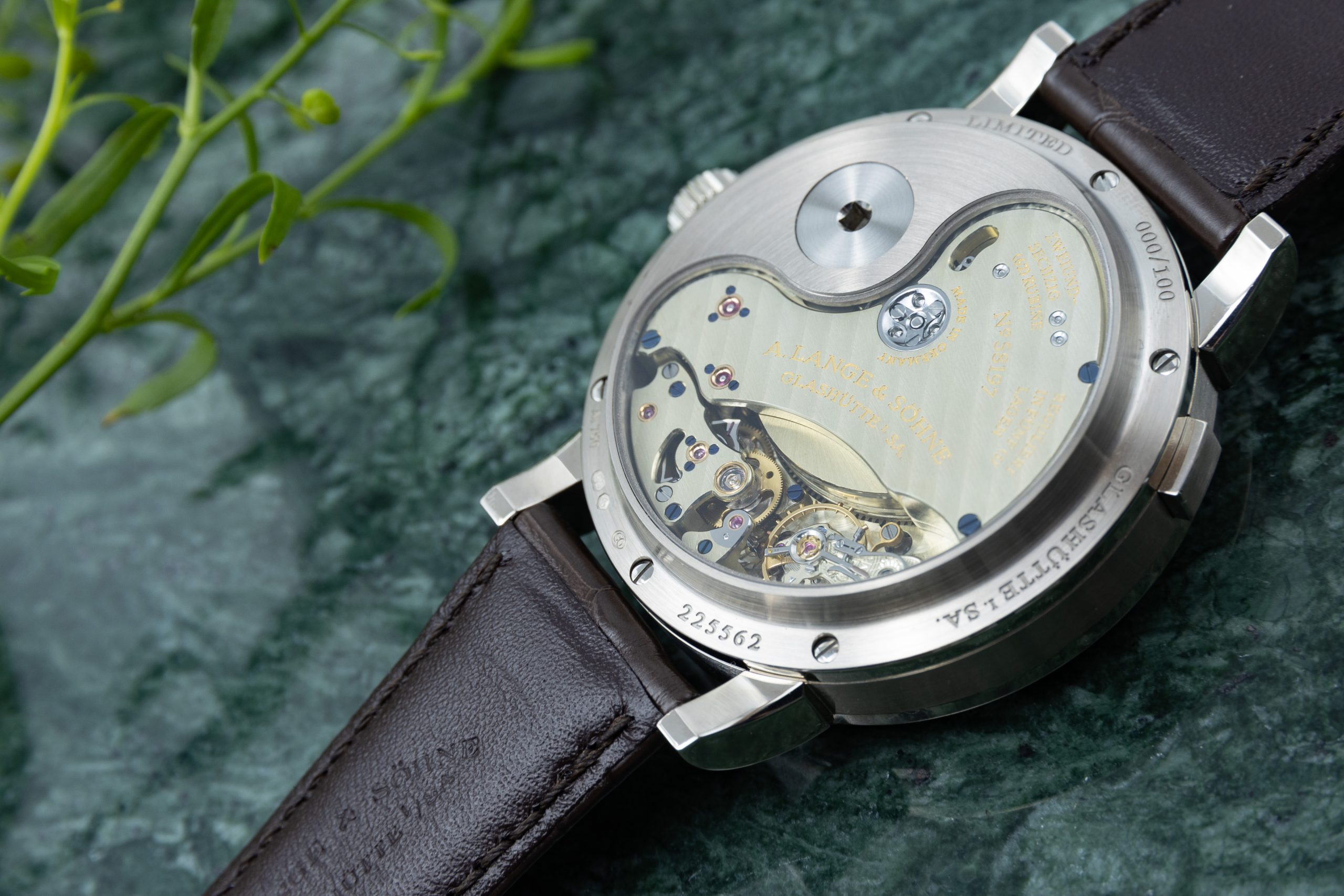 The movement is, as expected, crafted from German silver, which has been left untreated, so it patinates over time. The finishing of all components is immaculate, as you would expect from an A. Lange & Söhne watch, with particular care taken on the chamfering and polishing of the components' edges and the engraving, which the Saxon manufacture's artisans do by hand.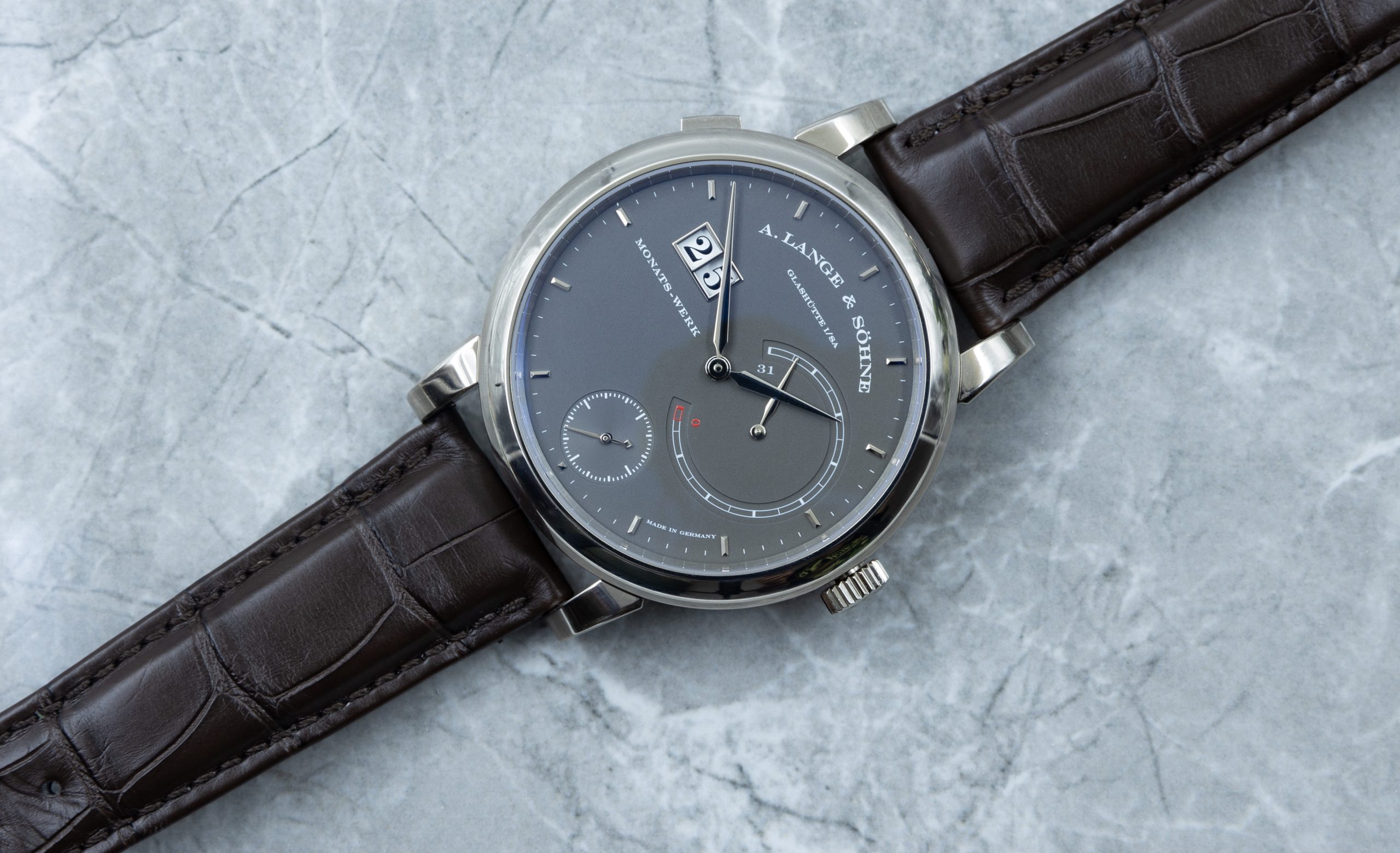 The dial is easy to read, thanks to some excellent anti-reflective coating. Beneath the crystal are large polished lancet hands, a signature of A. Lange & Söhne watches. They sparkle above a grainy, dark grey dial, and the characteristic Outsize Date with a pusher is present, too.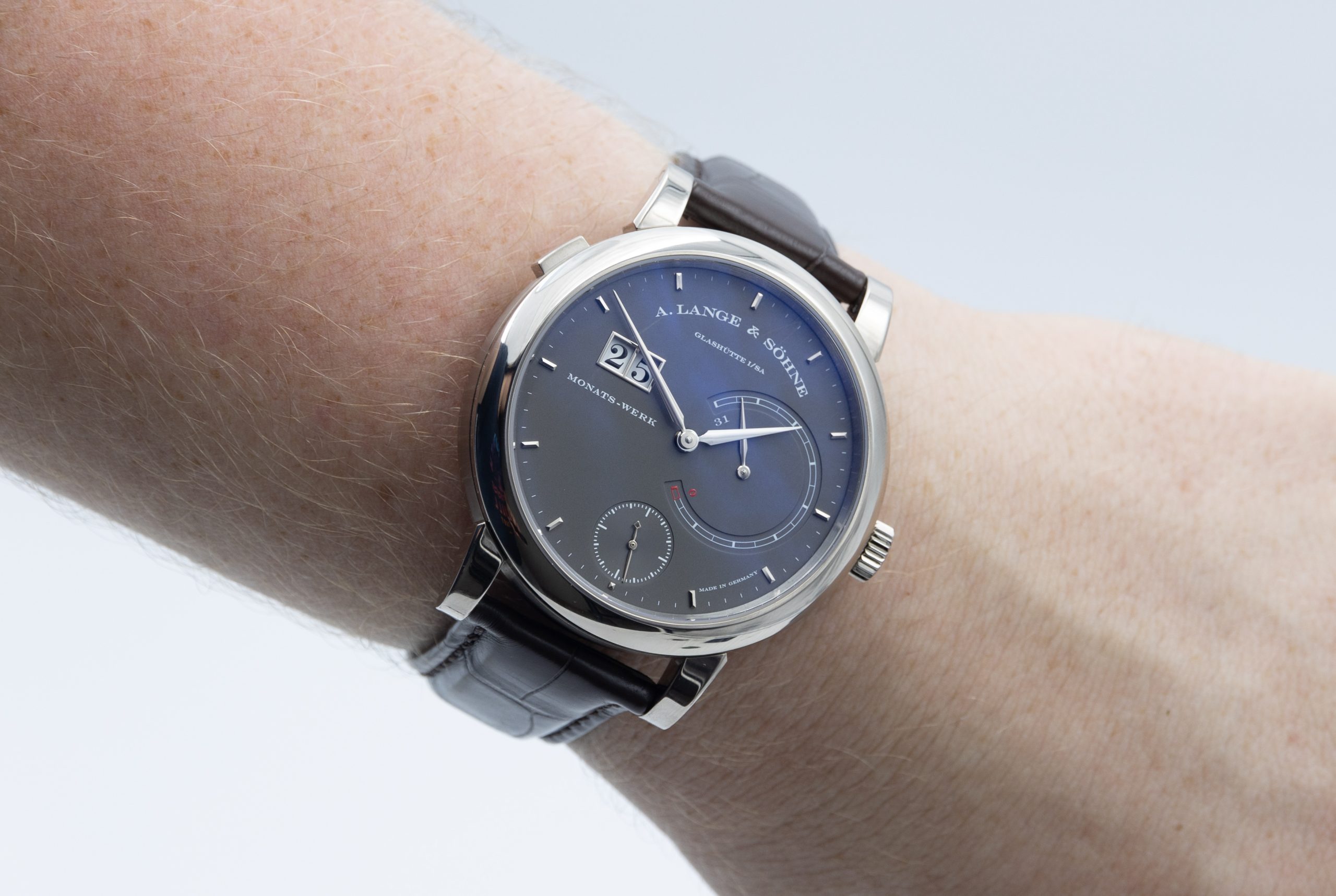 The main attraction to this watch is again that absurd power reserve, which is displayed by the handy indicator with a red section to show when the watch is on low power.
The watch is very legible thanks to the combination of polished and grained surfaces, and it's also huge, which helps. Reading the time and date at a glance is easy.
The sub-seconds hand is a little small compared to the rest of it, but it's in proportion. A. Lange & Söhne's dials are always proportionally beautiful, whether it's the simplest Saxonia watch or the mathematically perfect Lange 1 collection (read my Grand Lange 1 writeup for more on how A. Lange & Söhne uses maths to make its dials look so good).
Overall, there's really no logical justification to love the Lange 31. It's too impractical to wear often, it's extremely expensive, and I constantly worried I'd damage it and have to foot the repair bill.
And yet, despite all that, the Lange 31 is still on my grail list. It's daft making a watch like this, but they went and did it anyway and proved it could be done, enriching the market.
Watches like these speak purely to the soul; they ignite the passion inside you like hardly anything else could, and they make you throw reason out of the window without hesitation.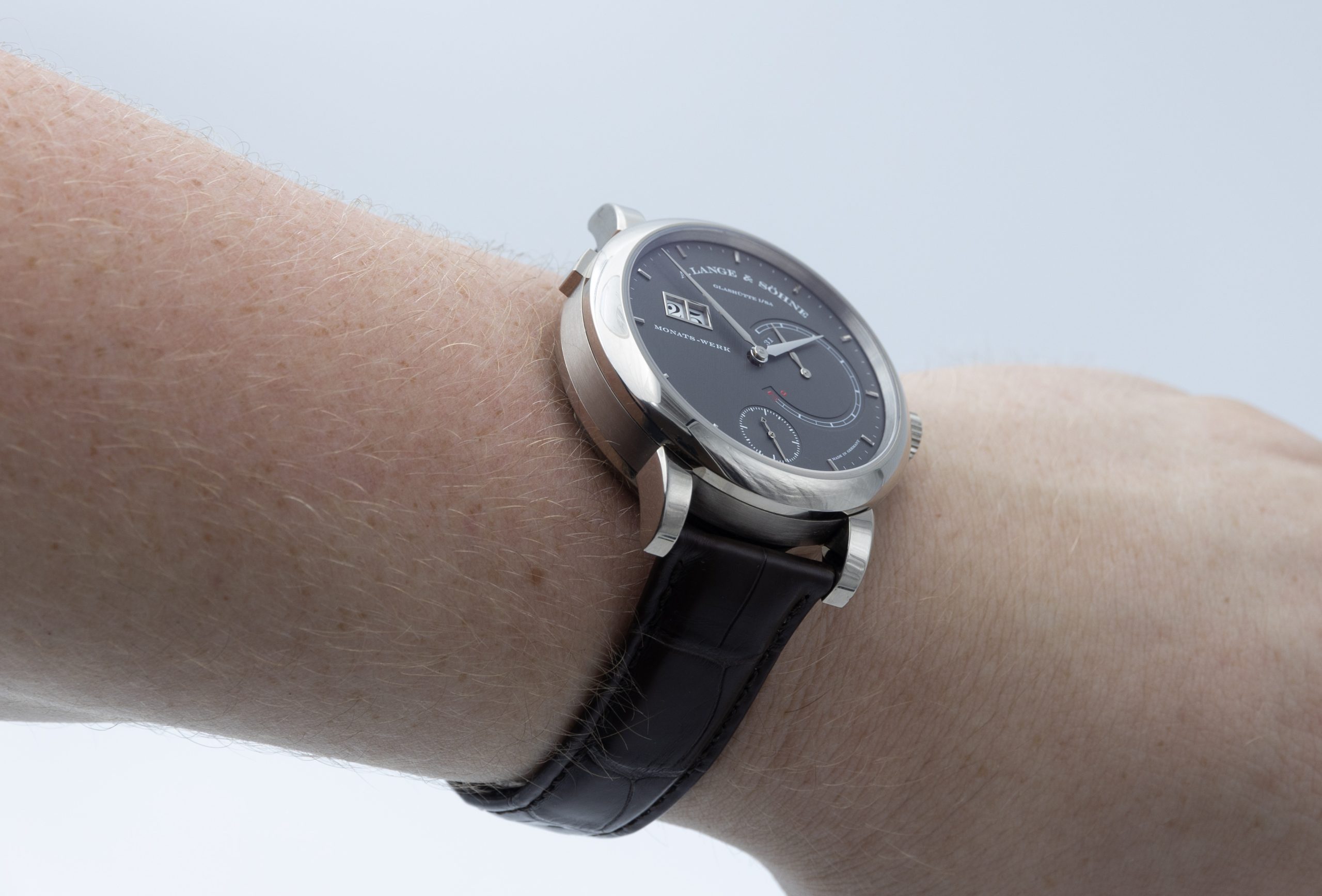 A watch that makes you do that is special and deserves to be respected for it. You need to at least try one of these out just for the fun of it, but if you have a lot of money lying around (and A. Lange & Söhne has any left, this is a 2017 model limited to 100 examples), then go ahead and buy it, you'll thank me later. So, to answer the question I put in this article's subtitle: Is it worth meeting your heroes? Yes, it is.