Crikey, I'm just trying to think of the last time I covered an Angelus watch. I remember doing a piece on their revival watch, a cool rectangular tourbillon thing (a quick search reveals it was the Angelus U10 Tourbillon Lumière watch, which was also featured in our lighthearted tourbillon-comparison series, the Tourbillon Trials). Given that it's been a while since I've had anything to do with the brand, and roughly two years since we've covered them, let's take a little look back into the history books of this fascinating name.
The brand's story begins in 1891 with two brothers, Gustav and Albert Stolz, who established their workshop in Le Locle, which is still a hub of watchmaking to this day. In 1904, the financial success of the brothers' work allowed them to employ 15 people to make ébauches; movement blanks that could be used to assemble watches without needing to know how to build the entire watch from start to finish (think ETA, Sellita or Vaucher, it's the same principle).
The most well-known of the brand's customers is Panerai, which used the Angelus 8-day calibre SF240 in its Luminor watches made for the Italian Navy in 1955. Angelus would have much success for the next few decades, both supplying ébauches and developing its own Angelus-branded creations. The company had already won several awards for its work, starting with a gold medal at the National Exposition in Paris in 1902. Unfortunately, its prizes and varied clientele could not save it from its fate at the time. Angelus was another victim of the quartz crisis of the late 1970s and early 1980s. It would not reappear until Manufacture La Joux Perret revived it starting in 2012, launching its first new watch in decades, the U10 Tourbillon Lumière, in 2015).
For 2021, the brand introduces the U30 Black Titanium, a super sporty tourbillon watch with a rattrapante chronograph and super futuristic appearance. The case measures in a hefty 47mm x 15mm, but I wouldn't be put off by that as the lightweight case and rubber strap combination mean it will probably be suitable for you if you can afford it, of course.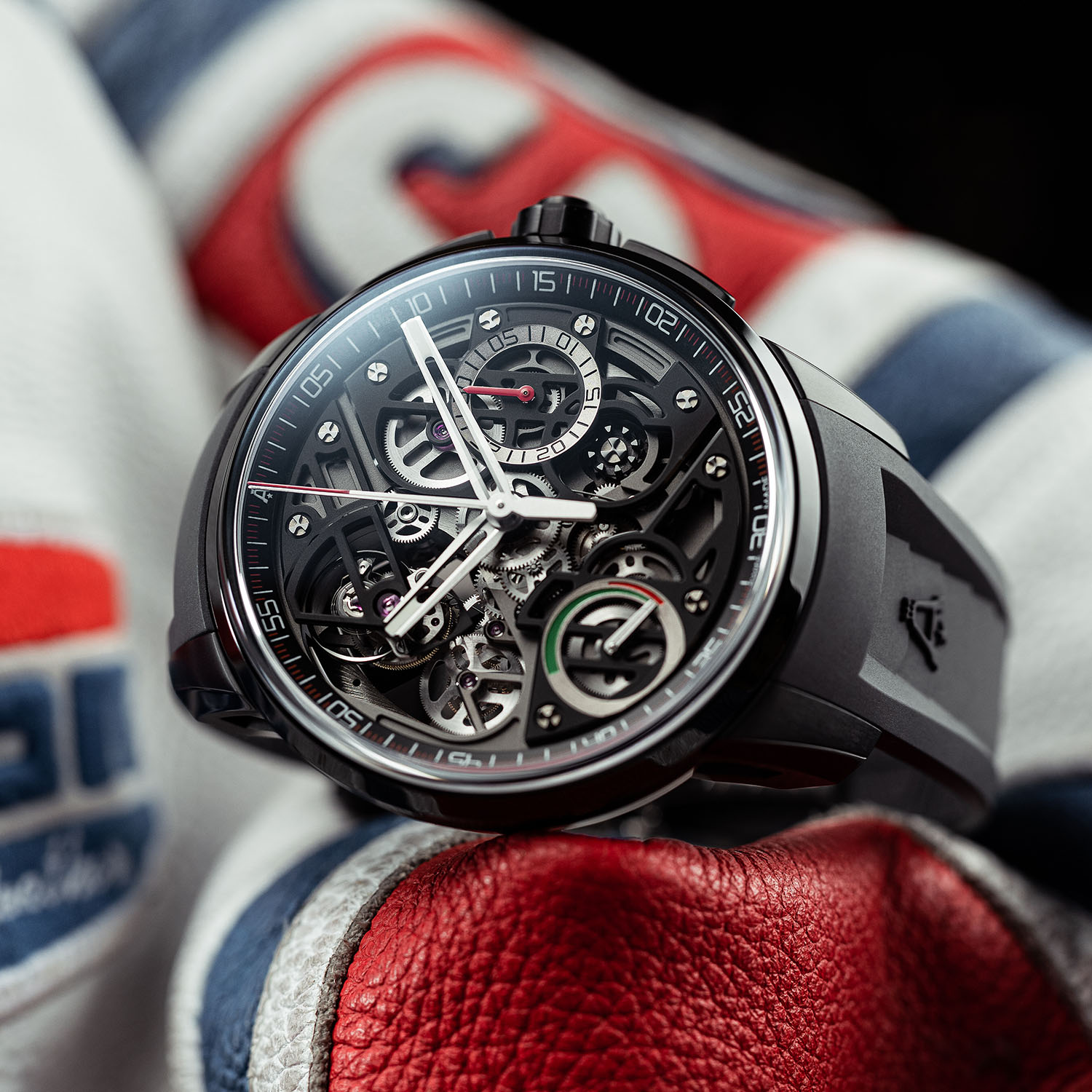 The movement of this watch is exquisite and on display, for the world to see. Angelus hasn't hidden it away or disguised it as something else, like most watches in this ultra-expensive sports watch category, the movement sits front and centre. And what a piece of art it is, but the mechanical appearance of the calibre A-150 is only half the story; the real fun begins with its complications. As mentioned, it features a split-seconds (rattrapante) chronograph, allowing it to time two separate events up to 59 seconds in length. It's also a flyback chronograph, controlled by two column wheels, one for each seconds counter. Finally, it's an integrated chronograph, meaning Angelus has gone to the trouble of building the movement around the chronograph complication, rather than adding a chronograph module to a base movement. The days of making ébauches are over, it seems.
Oh yeah, and there's a tourbillon and a power reserve indicator too. It even has a 4Hz beat rate and a 45-hour power reserve, but if that's a deal-breaker for you, then chances are you weren't going to buy it anyway.
If you asked Richard Mille to make you a watch with these complications, it would undoubtedly cost you your home, your children and the family pet. Angelus will only charge you CHF66,700 before taxes, a relative bargain. They're only making 5 of them, so good luck finding one.