Historical revival watches have been a popular theme for watchmakers in the past few years. Just like carmakers and all of Hollywood, it seems watchmakers are keen to relive the glory days, times when life was simpler, more straightforward and had fewer underhandedly nasty things like in today's world. No one was trying to "cancel" you for a dumb tweet or because your views didn't align entirely with someone else's.
Doctor's watches are an odd little niche of watchmaking. They use a chronograph as a tool to calculate heart rate and breathing rate in some cases. They're not in demand any more; medical science far outstripped the accuracy of these watches decades ago, but there's charm to be enjoyed about using an old-style watch to perform such a basic function as taking your pulse. Lots of watchmakers at the time made these, and Angelus introduced their watch designed for doctors in 1960. The Chronographe Médical x Massena LAB draws on this.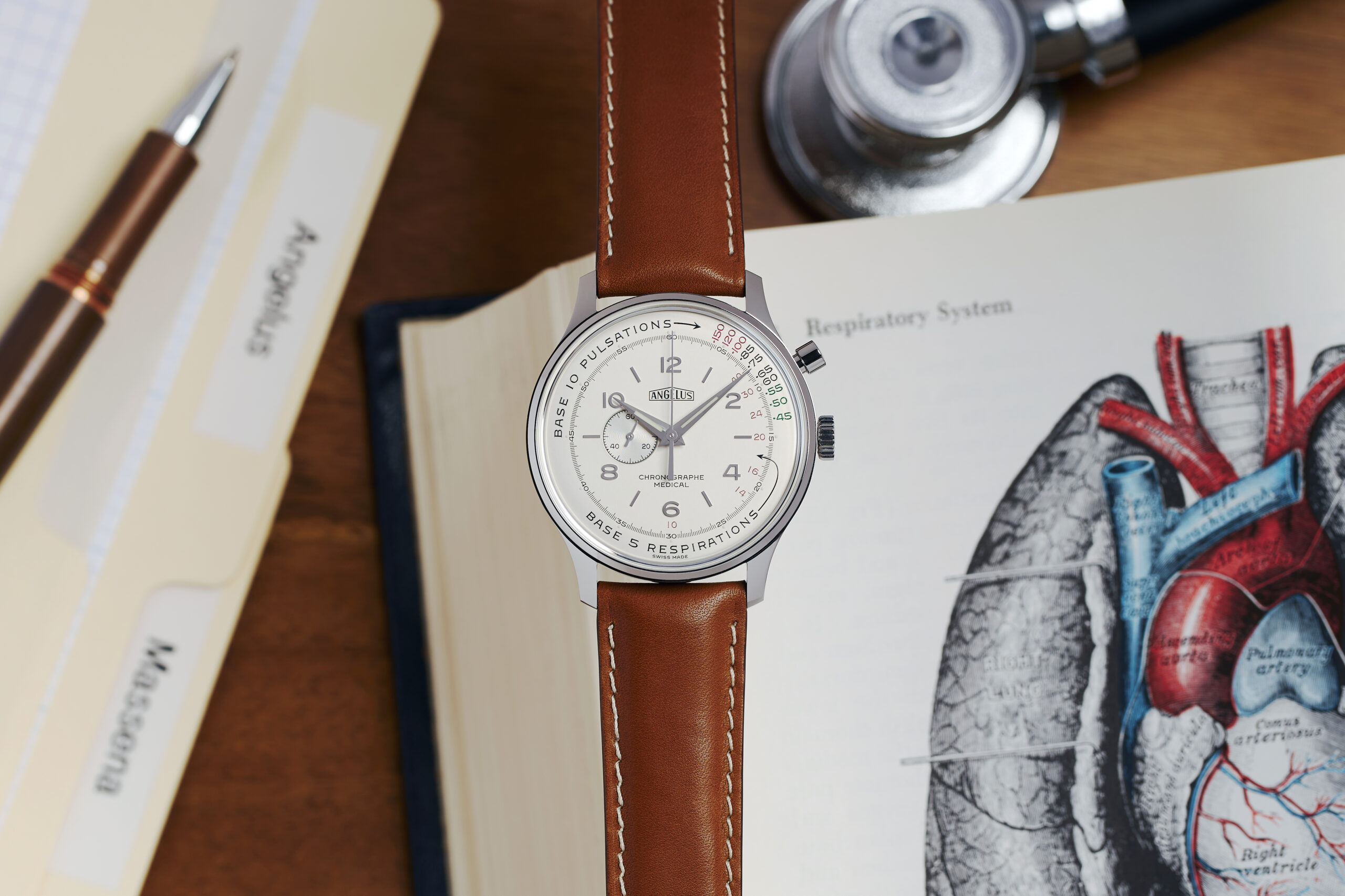 The watch is made of stainless steel and measures 39.00mm x 9.22mm, a comfortable balance between the watches of old and those of today. The size is larger than it was when Angelus made its Doctor's watch initially, but not overly so. Doing things without going mental with it is the theme of this watch. The case is water resistant to 30m and has a strap made from Novonappa calfskin.
The dial has indications for heartbeat and breathing rate. The pulsometer is around the outer edge of the dial, to use it the chronograph is started, and you count out ten heartbeats, stopping the chronograph at the tenth beat. The seconds hand will point to the BPM. There's also an asthmometer which is inside the minutes track and works similarly to the pulsometer but only counting to five. 
It's clear that this chronograph watch is designed for this purpose only. Other doctor's watches feature chronograph subdials for some regular usage, but the subdial on this watch is the running seconds. It's good that Angelus left out the date window.
Inside the watch is the hand-wound A5000 movement, with a 3Hz beat rate and a 42-hour power reserve. It also has an integrated monopusher chronograph, which means that the chronograph function is built into the movement rather than being an add-on module, and it's controlled by one pusher which cycles through start-stop-reset.
You might be wondering where the Massena LAB connection comes in here and, to be honest, so do I. It seems that the project was kicked off by William Massena, owner of Massena Lab, having a conversation with the folks of Angelus, but they seemed to forget to do anything to the watch to remind you of it. You can buy this from Angelus authorised dealers or Massena LAB for $19,000, not including tax.