"What the heck is that?" I hear you ask. "I've literally never heard of this company before in my life" Well, don't worry, you're not alone, Ateliers deMonaco was set up back in 2008 but since then hasn't really done very much. This may be because the company shares owners with Frederique Constant which has been doing so much in terms of manufacturing advancement. Don't think though that this could be just another watch manufacturer making pseudo high-end stuff that captures those aspiring for something expensive but really wanting a watch immediately. Ateliers deMonaco is a serious high-end company producing tourbillon watches, perpetual calendars, and Geneva Seal movements.
The new watch builds on one of the company's already existent models, but it does so in a way that we as self-proclaimed horologists adore. The subtlety in the update can be noticed in the silver sapphire crystal dial. While not being able to show off the movement at its best like with a skeleton dial the benefits of using a translucent sapphire dial come in the form of legibility and everyday ease of use. Some skeleton watches are so well made and complicated that the hands can simply get lost on the dial or seemingly disappear from view altogether. A problem fixed by the addition of the sapphire dial as we can still see the lovely in-house made chronograph movement but the hands, indices, and subdials stand out well here.
This watch runs at the most common of frequencies today, 28,800vph or 4 Hertz. This means that the balance wheel on the watch makes 4 oscillations a second, which accounts to 8 semi-oscillations a second, better known as 8 vibrations a second. Because 8 is the magic number with a 4Hz movement we can work out that the chronograph on this watch is pretty accurate. Because the chronograph module is not independent, but rather attached to the balance wheel assembly that means that it runs at the same pace as the seconds hand and because 8 is the special number in this watch (remember the watch vibrates 8 times a second) we now know that the flyback chronograph inside this watch can time things down to 1/8th of a second. This is because that's the speed the balance wheel runs at, so a bigger Hertz factor (such as 5Hz or maybe even 10Hz like in the Breguet Type XXII) would make a more accurate chronograph. While a 10Hz chronograph would be extremely accurate the speed of the movement means that the chronograph seconds hand would have to make two rotations of the dial to indicate one-minute passing as the hand is simply moving too fast, creating all kinds of legibility issues.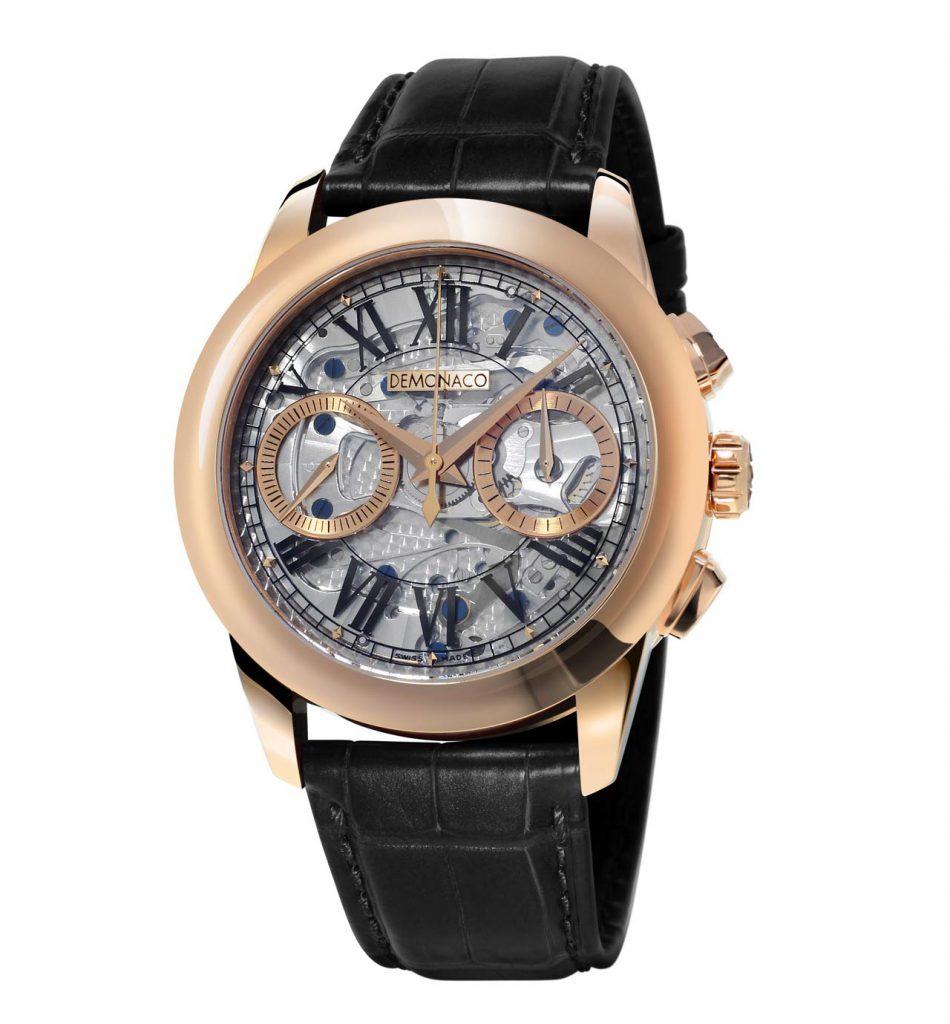 The automatic winding movement can be seen through the back showing off its flashy automatic rotor made of 22K gold. The hand polished 42mm case is available in either 18K rose gold or 18K white gold. Remember that this watch is more complex than it appears, not only have we mentioned that it's a flyback chronograph (meaning you can reset the chronograph while it's running) but also the sapphire dial presents a complex problem too. To fix everything to it they had to drill over 50 holes into it, whilst making sure not to shatter the crystal as while it's very hard and scratch resistant like ceramic it's also very brittle. I think they pulled it off marvellously, don't you agree? If you have lots of cash lying around and can find one of the total 176 watches that's being made (that's 88 in rose and 88 in white gold) maybe you can write in and tell us about it! For more info, please visit ateliers-demonaco.com