For Watches & Wonders 2023, Oris invited us to take a look at some of their new novelties. To warn you in advance, we're not able to share all of Oris' novelties just yet, as some of the watches we saw are due to be debuted later this year (all the more reason to follow WristReview if you haven't done so already).
ProPilot x Kermit
The newest and most talked about the watch from the brand is the ProPilot x Kermit watch, which is made of titanium. The watch has a 39mm case with a thin-yet-solid titanium bracelet and in-house self-winding caliber 400 movement with a display back, 5-day power reserve and a 10-year warranty.
But, let's be honest, that's not the draw of this piece, which is the bright green dial. No, Kermit wasn't thrown into a blender to make this colour, but it's very accurate. As well as this, the first day of every month features an image of Kermit.
Oris is calling the first day of every month "Kermit Day", to remind us not to take life too seriously and to enjoy ourselves, I think a few people here at the show could learn that. The price is CHF 4,400.
ProPilot Altimeter
The other piece we can show you is the new second-generation ProPilot Altimeter, the only watch currently which combines mechanical movement with a mechanical altimeter in a wristwatch. The watch is much improved over the first generation, thanks to a new case made of a blend of carbon fibre and PEKK (Polyetherketoneketone). Using a process similar to 3D printing called "additive manufacturing and moulding", the 47mm case is 70 grams lighter than the previous watch at 98 grams, it's also 1mm thinner but Oris doesn't say how thick it is.
Also, the altimeter can go to a higher level, detecting altitudes of up to 19,700 feet. The watch wears smaller on my wrist than the 47mm diameter suggests, probably thanks to the fitting textile strap and the light mass. Despite the altimeter, the watch is still water-resistant to 100m and costs CHF 6,200.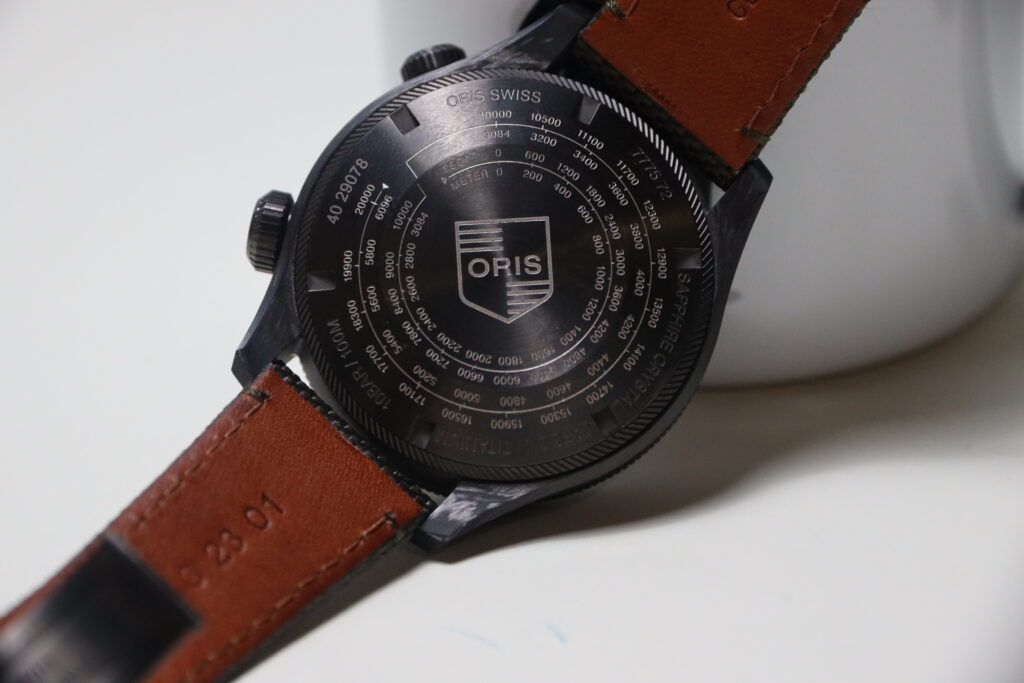 Oris has impressed so far this year, their lighthearted approach should be taken on by more people. It's strange that the further up the price range you go the less fun most watches seem to be, until you get to Richard Mille of course.