RJ-Romain Jerome pays tribute to the Industrial Revolution and to the artistic movement that followed by introducing a new addition to the Steampunk collection: The Steampunk Tourbillon Gunmetal.
Romain Jerome has always been about bold crazy cool looking timepieces that provide people like me with more nostalgia than watching old episodes of He-Man and Transformers G1. At Baselworld 2015 they brought the game and provided a lot of smiles by onlookers who immediately connected with the timepieces on display. There's one thing in haute horology that's just as important as telling the time accurately and that's connecting with your fans on various levels. This is why it is with great delight to see Romain Jerome introducing a number of new innovations at Baselworld. The first is the beautiful new Steampunk Tourbillon that embraces the brands bold innovative approach to watch making with some sizzle thrown in for good measure.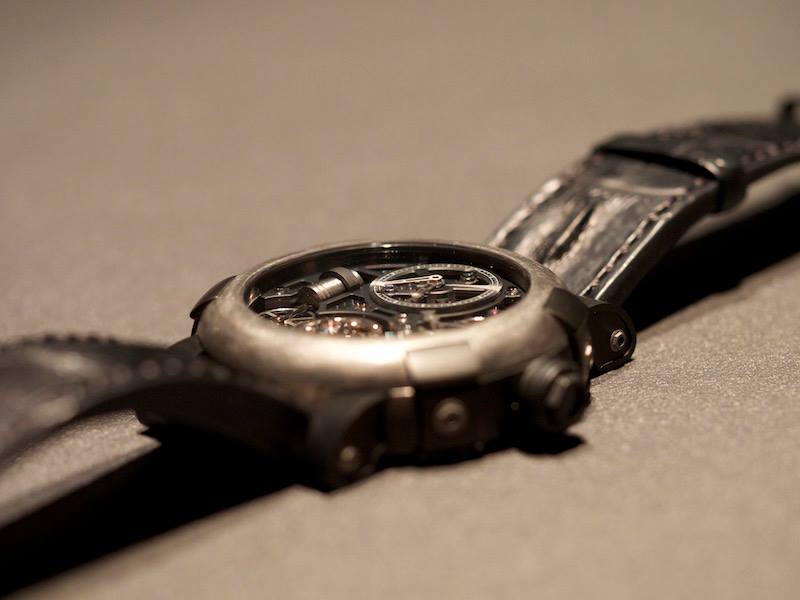 The Steampunk Tourbillon is finished in a black-PVD case with a monstrous 50mm steel bezel that has been brushed by hand giving it a unique finish. Hidden within the case is where all the goodness lies and really gives this piece some serious cool factor. Each detail of the dial has been included to tell a story: at 12o'cock, you can discover the off-centred minutes and hours indicator, while the satin brushed hands highlight the mechanics of the movement. At 3 o'clock, the "machine room" (as it's described by Romain Jerome) reveals 2 "tooth wheels" that turn to the rhythm of the movement. The power reserve indicator resembles the lever that regulates the speed on a steamboat and unveils the delicate perlage where you can find the Romain Jerome logo neatly hidden away. At 9 o'clock, we have the real highlight of the Steampunk Tourbillon,
At 6 o'clock you will find a mechanical flying tourbillon that has been designed in the shape of an anchor. The tourbillon cage has been slightly raised to allow a wonderful view of the intricate cage system in full swing. At 9 o'clock, the real beauty comes out of the piece. A large titanium piston has been included into the dial and is connected to the movement, allowing it to move up and down at 30 seconds per direction adding up to 1 minute overall for one pump.
The caseback also hides more design characteristics including an anchor shaped component with "Cotes de Genève decorations. It not only serves an aesthetic function but also a practical one as well. It is used to hold the tourbillon cage together.
There's so much old school cool in the Steampunk Tourbillon that it has to be seen in the metal to be believed. The Steampunk Tourbillon is a great addition to the Romain Jerome stable and one that we can't wait to share in a more hands-on perspective later this year. For more info, please visit romainjerome.ch 


Osheen Arakelian – Contributing Editor
Drawing on a lifelong love of horology and a more recent introduction to appreciation of fine whisky, Osheen brought the two together with watch & whisky. He is proprietor of the site, which covers everything related to watches and whisky. In between completing a degree in commercial law and supporting a rich social life, he is out and about attending all the latest watch and whisky events Sydney has to offer. His passion has also taken him around Australia attending a number of events and he hopes to continue his career in the watch industry on a more serious level after he graduates. Read his articles here.