So much for Swiss brands folks, let us talk about Sinn instead which is celebrating its 55th anniversary this 2016. For this event, the hardworking German brand has released various watch series including the Sinn 910 Anniversary chronograph taken from the Frankfurt Financial District collection. I like the 900 series but there are more reasons to be excited for this Sinn 910 Anniversary Split-Seconds Chronograph Watch particularly because of its rarity these days. It is indeed suitable for the brand's celebration since as a commemorative piece, it houses the horology world's most intricate technologies that is the very special split-seconds chronograph incorporating a ratchet or column wheel lever for its actuation. We see the intermediate split times recorded with the actuation by a pusher at 8 o'clock. Normally we only see this complexity on vintage Swiss watches equipped with column wheel chronographs. They are really hard to manufacture so yeah I am excited for the Sinn 910 Anniversary.
The Sinn brand is well respected for its affordability and beautiful vintage-inspired design aesthetics. This can be seen on the mechanics of the Sinn 910 Anniversary watches particularly the one we are talking about the Sinn 910 Anniversary Split-Seconds Chronograph Watch. I like its classic 41.5 mm case and the way it snags from lug to lug. The finishing is metallic yet very smooth and sharp particularly the bold pushers at 2, 4, and 7 o'clock. The crown has that Sinn signature feel and it blends in perfectly with the whole design ethos of the watchmaker. It is very neat and the continuity of the design to the steel bracelet is very much pleasurable to its wearer. The caseback is made of sapphire crystal to show parts of its movement which is also very nice for this caliber.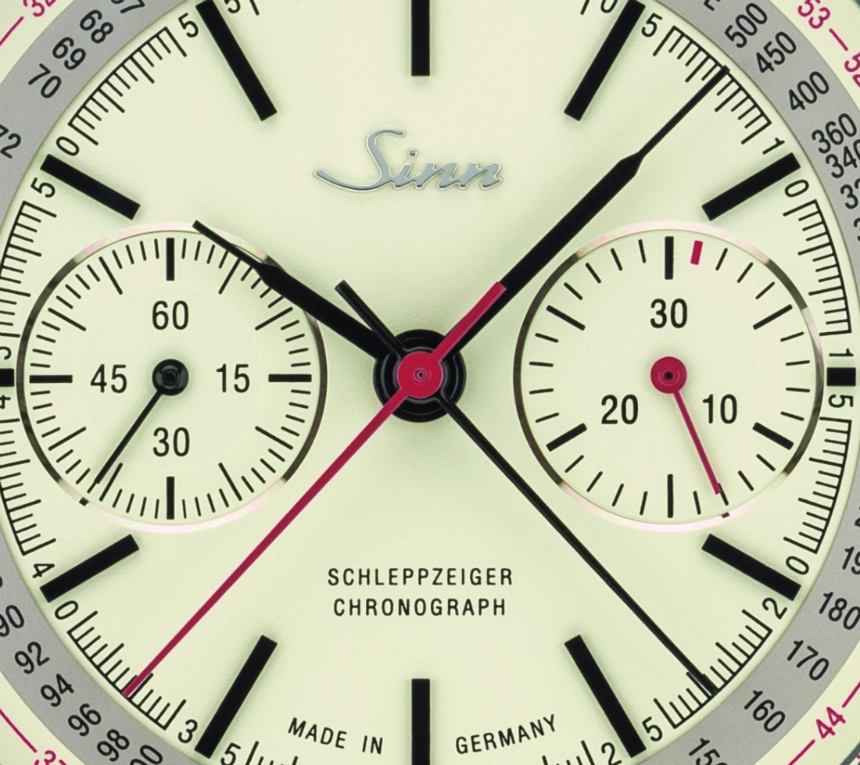 As for its dial adorned in cream-colored accent with some red highlights particularly on the seconds hand and the running chronograph labels, all I can say is that this is really classy. The vintage inspirations are there combined with the more austere design language found on the Sinn Frankfurt Financial District collection. This collection pertains to the pioneering technical innovations that Sinn has become very popular with. The combination of cream colors and dark indices with a splash of red simply invokes vintage feel – I love it.
Note that the Sinn 910 Anniversary watches don't get oil-free escapement or dehumidifying technology but it is based on the Valjoux 7750 specially modified to mimic the behaviors of early split-second timers. The split-second hand remains in sync with the main chronograph seconds hand until it gets stopped by the pusher at 8. With the adjustment of the pusher again the split-second hand races to catch back up until both are moving in sync with each other again – pretty much neat and stable. Furthermore, the column wheel adds to the chronograph's actuation that is very accurate and with buttery smooth operation.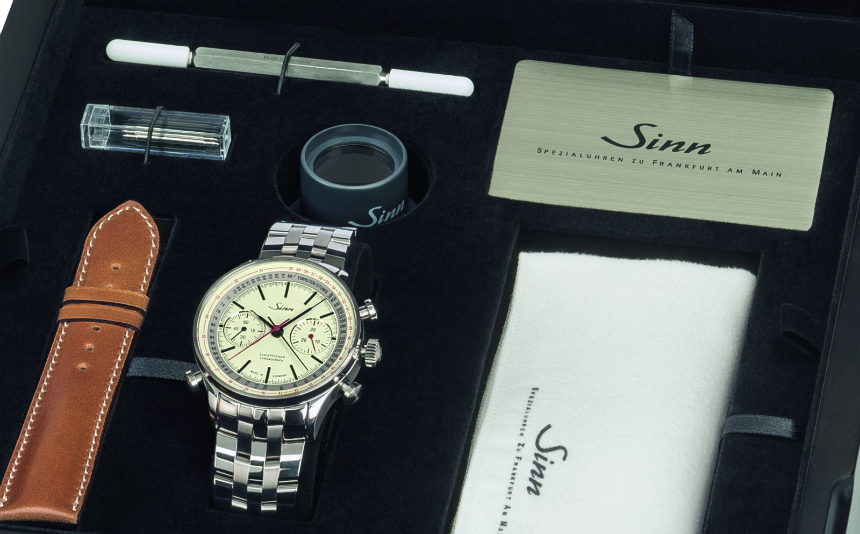 If you are like me, I think it's good to have one of these limited pieces since the price is right at $5,940. With only 300 units upon availability, I think most collectors will be after this commemorative timepiece. For more info, please visit sinn.de
JOVAN KRSTEVSKI – FOUNDER, PROPRIETOR & EXECUTIVE EDITOR
Jovan Krstevski has been collecting watches every since his father bought him an Omega Seamaster back when he was just a teenager. He launched Watchgeek back in 2011, which is now known as WristReview and is one of the most widely read watch blogs on the Web. He quotes 'WristReview is a site to help people find, explore, discover and enjoy wristwatches.' Besides WristReview, he also writes for a number of publications. Read his articles here