Fueled by the creative brains of Maximilian Büsser and a few other highly talented watchmaking professionals, MB&F is well known for making some really fascinating idiosyncratic timepieces. From the jellyfish inspired Aquapod to the aviation/automotive inspired HM9 all MB&F watches are a seamless blend of innovative technology and unconventional design and can be easily considered as an artistic masterpiece in themselves. To kick off 2019, the brand is adding yet another stunning watch to its popular Legacy collection. Inspired by the important women in Max Büsser's life the new Legacy Machine Flying Tourbillon unravels the feminine side of MB&F. It features an elegant looking diamond studded/lacquer dial with a tall flying tourbillon sitting at center, packed inside a sleek looking case covered with diamonds.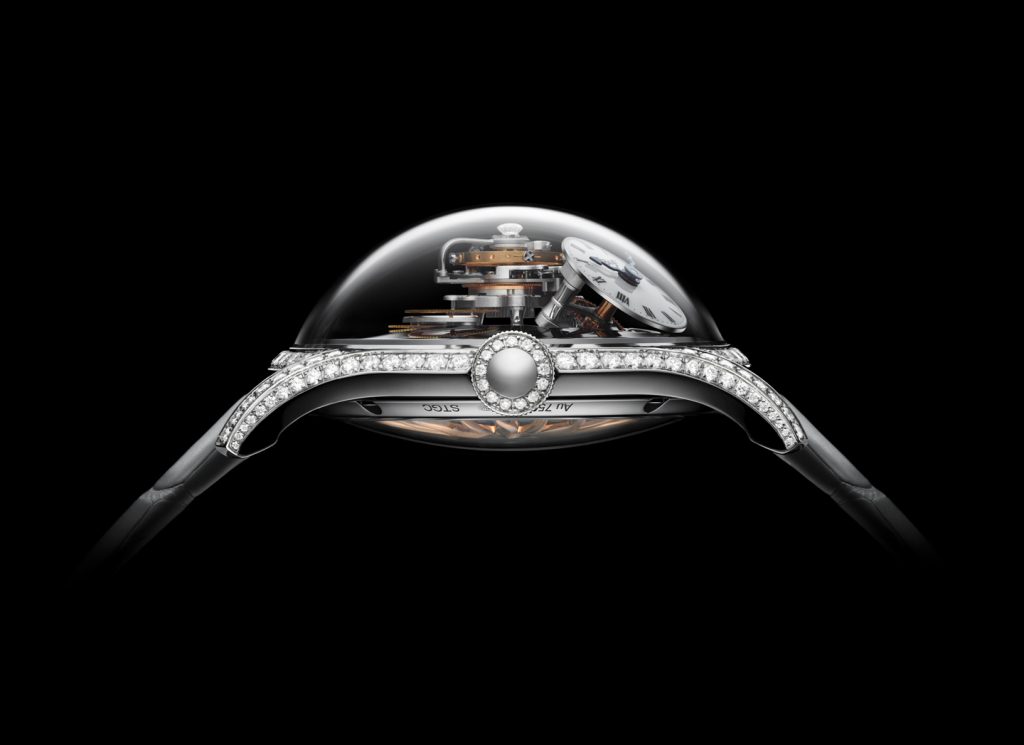 Let's begin by talking about the case. Oriented towards women the case on this watch has a nice curvaceous design and is made out of 18kt white gold. It has a diameter of 38.5 mm which is certainly on the larger side for a lady's wrist but it does sound apt given the experimental nature of this watch and the slender downwards curved lugs should ensure that the watch sits comfortably on the wrist. Further to that, in a bid to strictly target the women audience MB&F has covered a substantial part of the case including the bezel, the sides, the top of the lugs and even the crown with diamonds giving the watch a luxurious and delicate appeal. Sitting on top of the watch is a dramatic super domed sapphire crystal and there is also a domed exhibition glass on the case back giving a nice view of the sun-shaped rotor. The case is water resistant to 30 meters which is good enough for a watch of this type.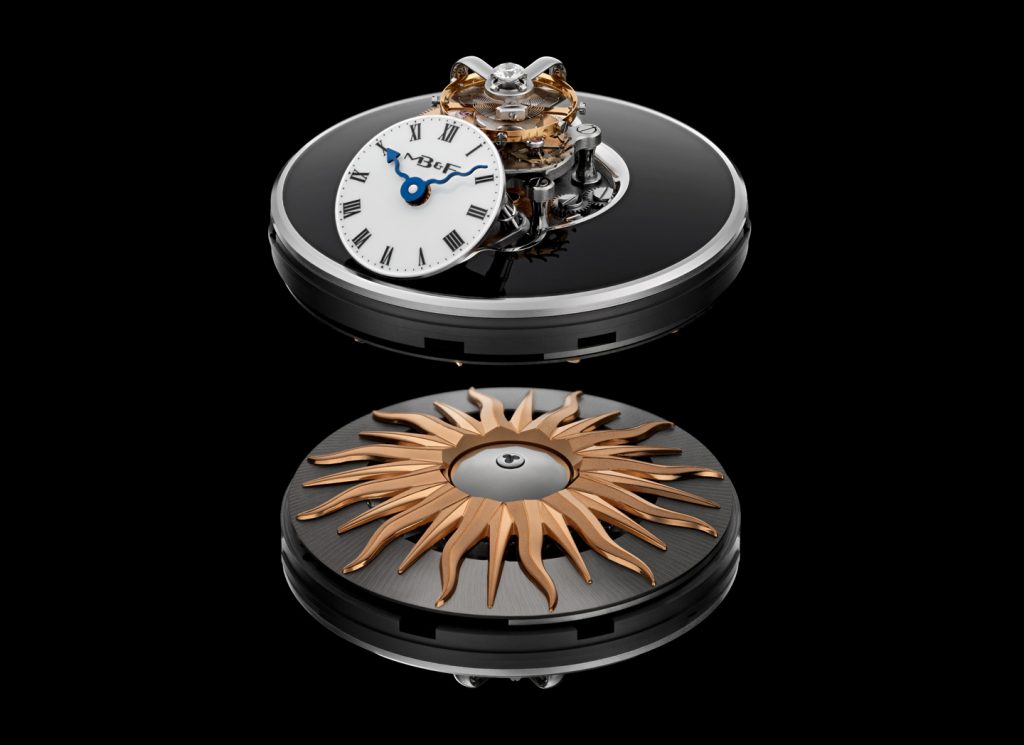 The face of the MB&F Legacy Machine Flying Tourbillon is visually striking and in typical MB&F fashion is an amalgam of horology and art. At the bottom is a subtly curved dial plate which is either painted with layers of deep black lacquer or is filled with glittering white diamonds. Rising from the center is a three-dimensional vertical architecture based automatic movement which culminates into a 60-second flying tourbillon at the top. The movement comprises 280 components, operates at a frequency of 2.5Hz and offers a massive power reserve of 100 hours. Finally to read the time there is a small circular subdial at 7 which has been thoughtfully inclined at an angle of 50 degrees to make it easier for the wearer to read the time.
To conclude, the Legacy Machine Flying Tourbillon is another stunning wildcard watch from MB&F, which has been designed to embellish a women's wrist. The watch would come attached to a leather strap and would be available in three different variations; Legacy Machine Flying Tourbillon Black Lacquer (diamond studded case with a black lacquer base plate) priced at $115,000, Legacy Machine Flying Tourbillon Pavée (dial plate and case fully studded with diamonds) priced at $145,000 and the Legacy Machine Flying Tourbillon Baguette (case and dial plate fully set with baguette diamonds) priced at $315,000.
Visit MB&F here.