Moritz Grossmann has finally delved into the world of rectangular watches, and in this case shape, you have to present something exquisite.  I suspect that this watch is not aimed at the ever famous Jaeger-LeCoultre Reverso, but instead at watches which are considered the next level up, i.e. Patek Philippe's Gondolo, Lang & Heyne's Anton and my absolute favourite, A. Lange & Söhne's Cabaret. These non-reversing rectangular dress watches all made their name in a different way, by being either exceptional, the brand's first tourbillon or now discontinued.
The new collection takes an Art Deco approach to traditional German watchmaking. With rectangular cases it's hard not to go Art Deco, so Moritz Grossmann went all the way on this one. The dial has an exciting choice of markers, as there are numbers for 1, 5, 7, 11 and 12, but the rest of them are angled stick markers. The hands are made in-house and are a deep violet colour that resonates with the dial. The seconds is relegated to a small box at the 6 O'clock position, with markers angled outwards from the centre like a little explosion. It reminds me a lot of a vintage Girard Perregaux from the 1940s I'm currently looking after. The references for these are MG-002144 for the silver dial white gold, and MG-002145 for the rose gold.
That's the case for the full production models at least, as Moritz Grossmann is also showing us two limited edition versions of the Cornerstone collection which are slightly different. These two watches, available in rose gold (ref.MG-001950) or white gold(ref.MG-002142), are limited to 25 examples each and feature enamel Grand Feu dials, a rounded sub-seconds dial and full numbers around the dial. There is one black dial watch (ref.MG-001910) which features this layout but is not limited.
Though these watches harken back to a more classical style of wristwatch, don't worry, they are thoroughly modern and sport an open caseback to view the rectangular movements. Which is just as well, as we get to see the hand finished calibres in all their glory. Even though they are not in a round watch, they still conform to the traditional Glashütte construction style with three-quarters of the movement hidden behind a baseplate but the balance assembly exposed. As expected from Moritz Grossmann, the balance cock has been exquisitely decorated with engravings that have been entirely done by hand. The rest of the movement minus the exposed gears has a Glashütte stripe pattern on it with waves that are exceptionally wide in this case.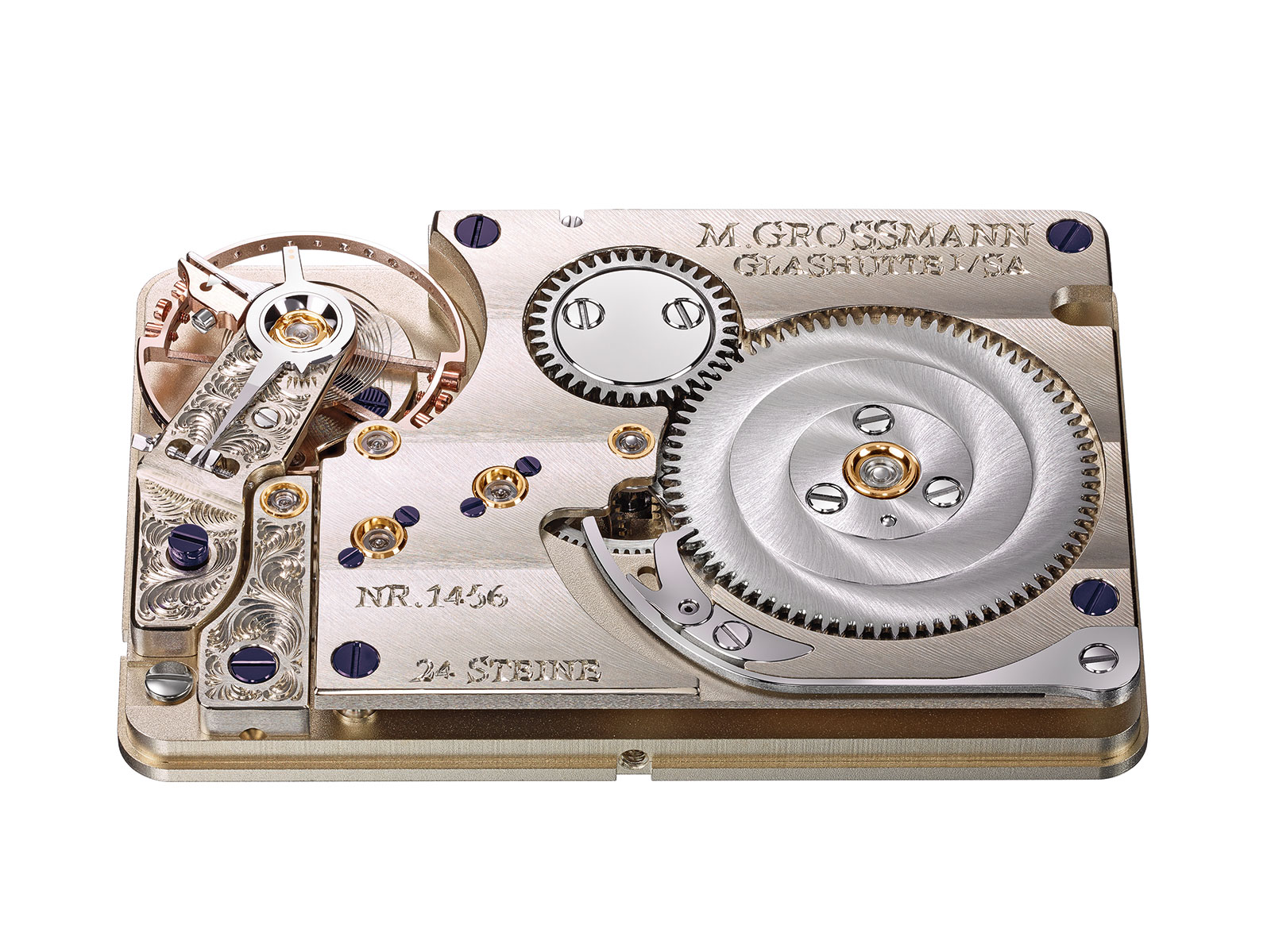 This is also probably the first Moritz Grossmann watch I've seen which doesn't feature a small pusher at 4 O'clock. On their round watches, this pusher stops the balance wheel elegantly so that the time can be accurately set. There is still a stop seconds mechanism, but on this, it's a little different. The calibre 102.3 features an angle lever, coupling rod and spring to bring the balance wheel to a safe halt. Presumably, this is all achieved by pulling the crown out.
All the rectangular cases measure 46.6mm x 29.5mm x 9.76mm with elegantly curved lugs to help conform to the natural curve of the wrist.
Pricing:
MG-002144 ~ Silver dial with white gold case – €29,900
MG-002145 ~ Silver dial with rose gold case – €29,900
MG-001910 ~ Black dial with a white gold case – €29,300
MG-001950 ~ Rose gold limited edition – €34,800
MG-002142 ~ White gold limited edition – €34,800
Visit Moritz Grossmann here.