The Navitimer has been a stunning piece in Breitling's collection for years now. The newest and latest interpretation of the piece is an evolution of the original piece released in 1952. The original Navitimer was created and purposed for anyone associated with the Aircraft Owners and Piolets Association, or the AOPA. The design of the piece was made for those who were flying, those who needed the perfect clash of navigation and a good timer. This watch was originally based on The Breiling Chronomat which was released in 1942 and intended for the use of The United States Air Force.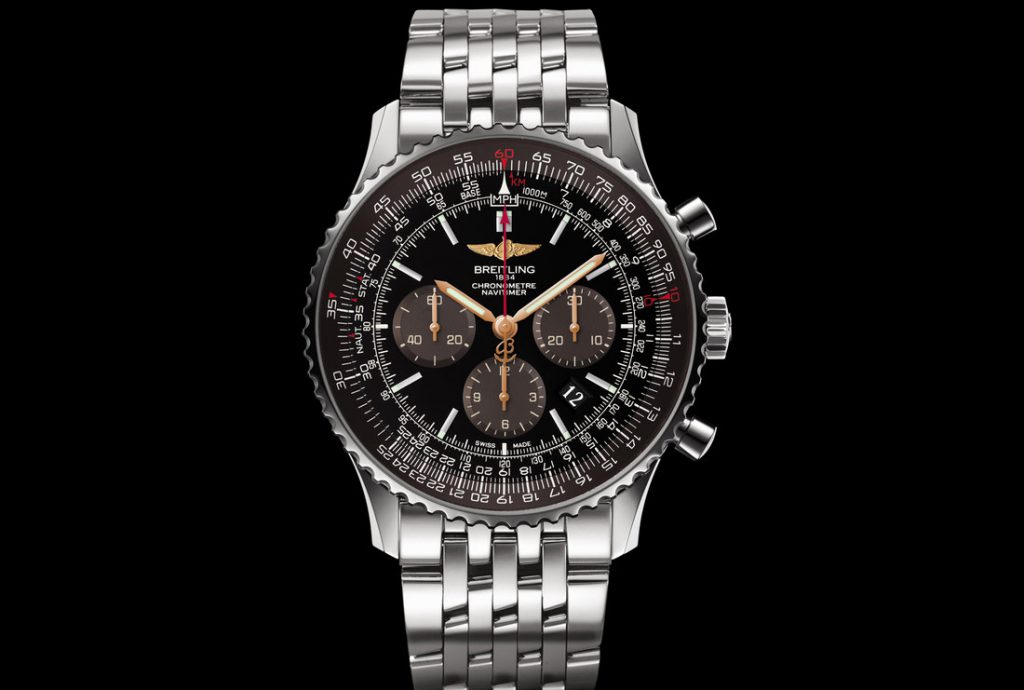 Today's latest interpretation is the pilot's cult model, which basically means that the watch maker added a black and brown dial with gold-toned hands. The case is completely silver in color, made of stainless steel. Three brown-colored timers, or counters can be found on the face of the watch, each one measuring either seconds, hours, and minutes. Each of the three dials has a gold-toned hand to match. The counters on the side of the watch are accented in that same gold color and have white colored lettering to match the piece. The Breitling logo, the word "Breitling," the origin year of the company (1884), and the words "Chronometre" and "Navitimer" can all be found on the face under the 12 'o clock marking.
This watch has multiple functions, starting with keeping the time for the user. The watch is also capable of being used as a timer with the seconds, minutes, and hours dials, can measure distance based on the time and timer, can be used for diving with the dial markings, and when used properly can also measure speed.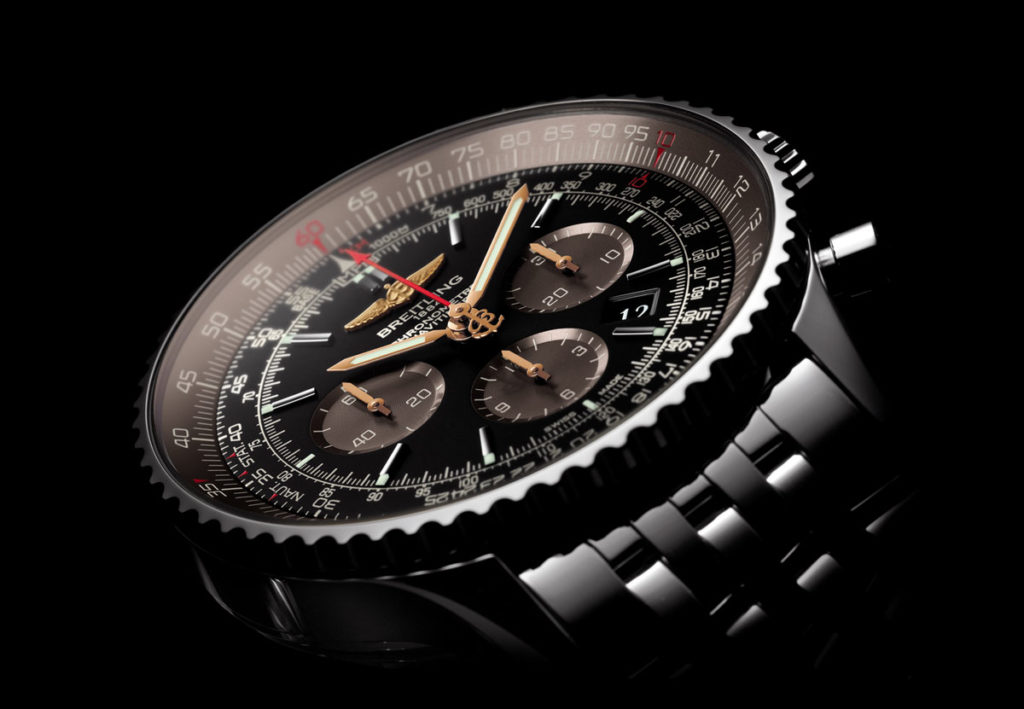 The watch is made with a self-winding Calibre 01 chronometer. This movement is visible through the transparent case back. The movement is rated at 28,800 vph and offers a power reserve of 70 hours. The piece is also water resistant up to 30 meters or 100 feet. The watch can be worn with either a steel bracelet, a leather strap, or a special rubber strap with an aircraft tire-tread profile. Which strap you choose is very dependent to the functionality of the piece. If you plan on using the piece as it is intended, as a tool where it may bet beat up here and there, then the steel strap not only matches best but is the best choice. The Special rubber strap would be acceptable to wear in the situation as well. If the user were to wear the piece for a formal night or as a dress piece, then the leather strap would be best.
There will be 1,000 of these pieces produced and released to the public. They will be on a limited edition basis, which means that they will not be around or available for purchase for very long. The price or the release date for the Breitling- Navitimer 01 (46mm) Limited Edition has yet to be released to the public. For more info, please visit breitling.com